morocco
,
safety
,
study abroad
— By
Julia
on June 17, 2010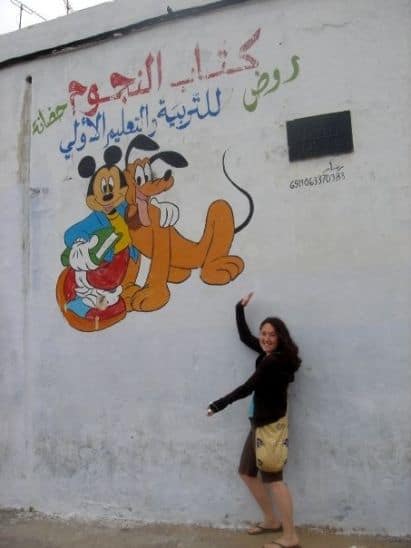 I studied abroad in Morocco for three months in the spring of 2008, and had a wonderful time there. I recommend Morocco to anyone who can get there. Morocco is home to an interesting intersection of cultures – Arab Islam from the Middle East, French cafes and fashion styles, and music and dance influenced by Sub-Saharan Africa, to name a few. The country is incredibly varied both geographically and historically, from Fez, the oldest existing medina in the entire world, to Casablanca, which has sky scrapers, discotheques, and french-style mansions. To me, Morocco is a sometimes contradictory amalgam of sights, sounds, and smells. It is the mountains and the Sahara, old-school belly dancing and techno clubs, towering mosques and European-style boulevards, and maybe most importantly, mint tea and steaming towers of cous-cous.
As a white woman, traveling abroad in Morocco could be frustrating, but was not really dangerous. Most women I know chose to wear shirts that covered their shoulders and skirts or pants below the knee. Many Moroccan women wear clothes that, while they cover their body, are super skin tight. Generally, Moroccan Islamic culture is more laid back than than of the Middle East. It all depends on how much (or how much more), you want to be noticed. Everyday on the street was an exercise in ignoring cat calls. While men often heckled women more for own personal machismo than about actually making any advances, it can be easy to feel threatened without a man to travel with. As always, ignoring it was the best practice, and if it got to be too much, one could always yell, "HShooma!" ("Shame on you!").
On the bright side, being a woman in Morocco means getting access to spaces that men can't see. Traditional hammams, or bath houses, offer a glimpse into a woman's world that we often don't have in more mixed-gender societies, as do belly dancing classes and community gatherings. Being a woman also means that you have access to the world of Moroccan cooking, and can learn secrets from women who have had recipes passed down to them from generation to generation. Conversely, there are distinct men's spaces as well in Morocco, so be careful to check out the vibe before heading into a cafe, bar, or club.
Tags: belly-dancing, casablanca, cat-calls, cooking, cous-cous, fashion, fez, french-cafes, hammams, heckling, hshooma, islam, medina, middle east, modesty, safety, sahara, study-abroad, sub-saharan-africa, tea, travel, women