italy
,
men
,
study abroad
— By
jenebecca
on August 21, 2010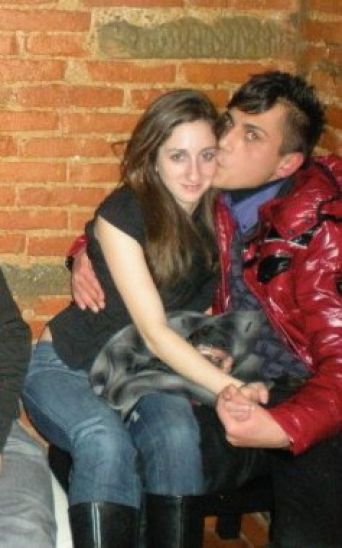 This past fall semester I went abroad to Italy. Our first stop on "the boot" was Florence, where we stayed for two weeks. Florence is an incredibly beautiful city filled with Renaissance masterpieces, leather goods, wine, gelati, cigarette smoke, scooters, bridges, tourists and of course, Italian boys.
If you've seen the recent film "Eat Pray Love" you should be familiar with the word used to describe Italy in the movie which is "sex." (If you're planning on going to Italy the book is a must read!) After spending the semester in Italy I have to agree that this word seems to be on at least every male's mind. The girls in Italy are known for being prude and resistant to male attention whereas foreigners, especially American girls are known for being fun, wild, and easy to get in the sack (or at least that is how we're often depicted in movies such as "La Dolce Vita"). Due to this stereotype when traveling to Italy be prepared to get a lot of male attention. The picture above depicts a typical night out on the town. While I wasn't thrilled to have this particular Italian boy kissing my cheek, sometimes after hearing "bellla, bella, oh you so beautiful" in that Italian accent it's hard not to give in. On the other hand most times a stern "Vai! Vai!" meaning "go! go!" will get them off your back.
Other things you MUST DO while in Florence..
1. Make sure you thoroughly sort through the leather market. The leather is beautiful! Just make sure before buying that you compare prices and do a little bargaining. I purchased a leather jacket that I argued down to 90 euros. Not bad.
2. Climb the stairs to the Duomo (the church in the center of town). It's a bit of a workout but the view is worth it.
2. Hike to the top of Piazzale Michelangelo (another beautiful view).
3. Visit the Uffizi Museum and the David by Michelangelo.
4. Go to Ponte Vecchio, a beautiful bridge crossing the Arno which is lined with shops and is absolutely gorgeous. Lovers write their names on locks which cover the bridge and is a pretty cool sight.
5. Eat lots of pizza and a try a peach Bellini (my favorite drink- peach champagne).
Tags: art, food, itlay, love of travel, love to travel, men, pink pangea, sex, shopping, study abroad, travel abroad, travel picture, wanderlust, wine, women love travel