culture
,
russia
,
study abroad
— By
wanderingJennifer
on August 9, 2010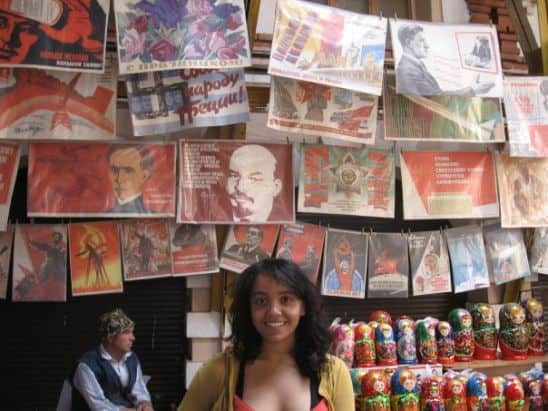 I went to Moscow with 20 other extremely nervous, extremely excited students to learn Russian and drink vodka. I decided to go to cold, gray, Soviet Moscow over colorful, Imperial, European St. Petersburg because I thought it'd give me more street cred. Note to reader: going anywhere in Russia will give you street cred. My friend Monica once described being in Russia to me as "living in an amazing amusement park where none of the rides have safety bars." It's sort of exactly like that. You never really know what's going to happen next, but it'll most likely be something you really like, unless it's food poisoning (but that can happen anywhere). That said, I'd say always travel in groups and guard your purse as you would a baby.
Moscow is actually not as gray as Cold War propaganda posters would have you believe. As you can see from my picture, in Moscow, colors abound! This photo of me is from Izmailovsky Park, an amazing market where you can buy all the skimpy outfits you'd ever need to go clubbing in Moscow as well as really incredible souvenirs. I bought a beautiful snow globe of St. Basil's Cathedral. It's my most favorite thing in the world. I passed on the see-through halter dress covered in glitter (Russians are like the least modest people when it comes fashion). I had a little bit of trouble finding the park, but fortunately, Russia is full of old ladies "babushki," who are extremely helpful in all matters (i.e. teaching me the difference between going north versus going south).
One more extremely important thing about Moscow (and Russia in general): the ice cream is so so so good. This is the best kept secret about Russia, but everyone who's been there will tell you that the ice cream is as good as the literature. It's all about the Mojito-flavored ice cream sandwich for 20 rubles.
Tags: love of travel, love to travel, pink pangea, travel abroad, travel picture, wanderlust, women love travel