activities
,
lesotho
,
vacation
— By
sinzeth
on August 13, 2010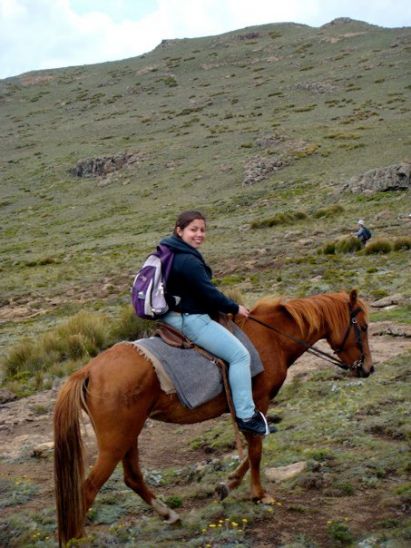 I had never ridden on a horse before and had no idea how I would make it up, but I got on the saddle and hoped for a nice ride. We hadn't even been riding for 5 minutes when one of the horses broke into a trot and all the other horses followed. Being the amateur rider that I was, I had no idea how I would manage to stay on and got even more nervous when I watched a friend get thrown off her horse, but I finally got my horse to stop. As the hours went by I became more and more comfortable on the saddle and gazed out at the beautiful scenery surrounding Sani Pass.
We were riding horses up Sani Pass and our goal was to reach the highest point in the southern part of Africa, but we didn't quite make it. We rode for four hours and finally stopped at the foot of the hill that was the highest point. By this time we were already 11,000 feet above sea level and my toes were freezing.
The ride back was a lot fun because I felt comfortable enough to allow my horse to gallop and we galloped through the prettiest meadows I have ever seen. That night, we ate at the highest pub in the world and slept in a hostel with no electricity.
As far as safety is concerned, Lesotho is a safe place because there aren't many people around besides tourists. The people who lead horses up the trail are good guides, but it's good to learn how to ride a horse well before going up. Lesotho is cold year-round and the locals always carry around blankets to stay warm.
The road up to Lesotho might seem like a bad idea for those who get motion-sickness, but if the right precautions are taken everything will turn out alright. Also, if you are planning on riding in the back of a truck like I did, take a rain jacket because it might rain while you are on the road.
Tags: activities, love of travel, love to travel, pink pangea, transportation, travel abroad, travel picture, vacation, wanderlust, weather, women love travel