culture
,
Indonesia
,
vacation
— By
jess0205
on September 10, 2010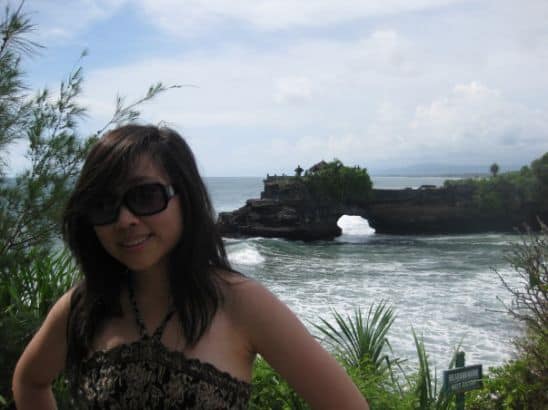 Bali may at first seem a generic vacation island with only miles of beaches to offer, but it actually bursts with a unique culture stemming from its Hindu roots and indigenous beliefs carried over from South and Southeast Asia. The eclectic religious beliefs in Bali color its fascinating culture. Religion is an integral part of Balinese life, so much so that Bali is known as the "Island of the Gods." Besides striking, well-known temples like Tanah Lot, shrines and golden statues of all shapes and sizes stand in the natives' backyards, and some natives house over twenty shrines for ancestral worship.
Art and music performances in Bali are almost always based on religious stories or well-known myths. In the play I attended, the actors and actresses wore elaborate, colorful full-length dresses and an astounding amount of make-up, especially around the eyes. The makeup applied is especially useful in helping audience members identify the nature of each character. Women were adorned with flower headpieces and gold jewelry. The "monster" in the play resembled a small Chinese New Year dragon, bright red and possessing hypnotizing yellow and red eyes, and the monkey wore gray face paint and a full-length monkey suit. The musicians sit on the side under a shaded area, but are visible to the audience members. They provide the occasional beat of the gong, followed by tinkering of chimes and the shrill song of the flutes, while the women dance with knees and arms half-bent, heads bobbing slowly from side to side, hands undulating in circular motions.
Balinese music, I believe, is most representative of the distinctive culture of Bali. It is the same music that played as I relaxed during my massages. The Balinese see massage as a part of their culture and place much emphasis on its execution. One type of massage is characterized by the masseuse bending the person's body in various ways, like a pretzel. In another, one is to choose from an extremely wide variety of massage oils, with flavors such as avocado, grapefruit, jasmine or rose. My personal favorite massage was the hot stone massage, in which searing black stones, cooled by dipping briefly in water, are placed on the back and palms for a few minutes, then rolled over the body, producing a comfortable, warm sensation.
Of course, even though Bali brims with rich culture, one must not forget that it does house some of the most beautiful and romantic beaches in the world. On the last night of my stay, I visited Jimbaran in the late afternoon for a grilled seafood dinner. Hundreds of cafes and restaurants line the miles and miles of seashore. I was accompanied by a visit of a traveling band, which sang American, Chinese, and Indonesian classics. As the sky darkened and filled with stars, I looked around me and saw the entire stretch of beach lit up purely by thousands of tiny dots of candlelight.
The bottom line is this: don't go to Bali for just the beaches. Go instead to experience the intriguing, diverse culture that was inspired by the fusion of the art forms and religious beliefs of South and Southeast Asia.
Jessica is a contributor to Now!here, Columbia University's online travel magazine. To read more travel accounts, please visit: http://www.nowherecolumbia.com/.
Tags: bali, balinese-music, beaches, cultural-fusion, culture, eclectic, hindu, hot-stone-massage, island-of-the-gods, jimbaran, love of travel, love to travel, massage, performances, pink pangea, romantic, south-asia, southeast-asia, tanah-lot, travel abroad, travel picture, vacation, wanderlust, women love travel