culture
,
Indonesia
,
volunteer
— By
seesimi
on December 13, 2010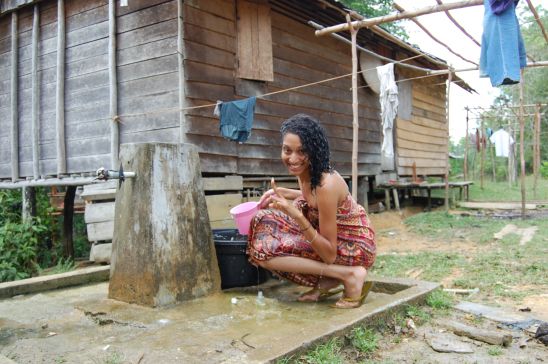 "Yes!" was the immediate answer that I gave with a smile and a nod, when I learned that I would be spending my first overnight night stay in a remote village near Sintang, West Kalimantan (Indonesian Borneo). I would be volunteering with women weavers in the area, helping to promote their handicrafts, for the next year.
"Practical things" was the only advice I was given when I asked what I should bring. To me this meant "practically" everything, especially since I am one to overpack on camping trips (and then hide in cars talking on my cell phone when the raccoons come… but that's a different story).
Emergency flashlight, helmet, sarong for river baths (which I had to run out and buy), tea biscuits and mosquito net in tow, I hopped onto the back of the motorbike, and settled in for the one hour ride to the village. Yes you read right, "practical things" to me means tea biscuits. Don't judge.
We were headed to the Dayak longhouse of Ensaid Panjang, one of the few remaining communal houses in the region. The government put a semi ban on them, ruling them unsanitary, only to realize that tourists love this kind of stuff, and then thought maybe they weren't that bad. Ensaid Panjang, however, is not a tourist site.
When the motorbike pulled up to the stilted complex, it wasn't the pigs or cows that grabbed my first attention, but the giant satellite dish in front of the door. I was curious what use a village with no electricity or running water would have for such technology. I later learned that it was powered by the generator, and only used for special occasions.
I climbed the makeshift wooden steps and observed the activity in the front gallery: women weaving, children running around, dogs dodging the children and men chopping wood. Welcome home. Life at the longhouse is nice and slow, if you are a visitor. My day's activities involved sitting around, making "sambal", a spicy paste, collecting water, and learning to bathe from a stand pipe. For this, everyone came out to watch, and insisted that they take photos of me, with my own camera.
My culinary skills are well below average, but preparing meals in the longhouse was great. Huge woks over open fire, washing the vegetables with water you get from the pump, and then throwing all the scraps through the cracks in the floor to the pigs below. Nothing goes to waste.
And then the sun set…
In a village with no electricity, the setting sun usually concludes the day. So it was at 7:30 pm, with the assistance of candlelight that I climbed into the mosquito-net-covered bed that I shared with one of the ladies, and slept in the fetal position as the cockroaches danced in the candlelight and the mice squeaked me softly to sleep.
Learn more about my travels at www.seesimi.com.
Photo credit: Simi Bhagwandass
Tags: communal-house, cooking, culture, handicrafts, indonesian-village, longhouse, love of travel, love to travel, mosquito-nets, pink pangea, sarong, travel abroad, travel picture, volunteer, volunteering, wanderlust, weavers, west-borneo, west-kalimantan, women love travel