asia
,
culture
,
India
,
vacation
— By
sallyc
on January 25, 2011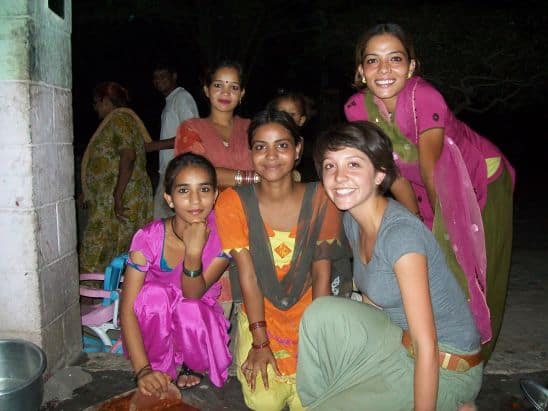 I went travelling because I felt I needed to redefine myself, to find the essence of my life. I use the term 'redefine' intentionally because I had spent the past four years flying high on a wave of confidence, driven by an ambition to succeed and immune to distraction. However, caught up within the insular world of a hall of residence that was a fifty-minute walk from the town centre, I had gradually lost hold of the sense of purpose, which had previously driven me.
I mention all of this because my greatest conviction today is that we exist in a psychological world. It is not the places we have literally been, but the mental state of mind we've been in, which shapes our perception of the world. When I left home to begin a three-month tour around India and South East Asia I felt nothing, not a spark of excitement, nor any apprehension. The night I arrived in Delhi I had nothing but the rucksack on my back–no acquaintances, no means of contacting anyone, no hotel reservation, no plan. Yet I still felt nothing.
It's often said that India is a country people visit in order to 'find themselves', implying that they arrive there lost. Well I'm going to counter that cliché because rather than find myself, I began to feel increasingly isolated in India, lifeless and lost. This has since made me question why, when we're feeling alone and want to despair, do we run away from everything that defines us, and everyone who has ever given us comfort? Its seems ludicrous, and only the other day one of my best friends asserted that the most mature action I'd ever taken was to go to him when I needed someone – not shut off all contact and barricade myself within the often irrational world of thought. But for better or worse, this was exactly what I did back in June of last year. Why? Because, as another friend put it (they seem to have known me better than I knew myself), when I begin to feel comfortable, I start worrying that I'm becoming dependent, in response to which I throw myself out of my comfort zone and fiercely reassert my independence. It's a matter of proving a point to myself.
It was only when the plane touched down in New Delhi airport that the grave implications of my naivety began to dawn on me. Life isn't all fun and games. It's as much about downs as it is about ups, and in fact without the downs, there would be no ups. It's all relative. But it was too late for this realisation – I had to deal with the situation I had gotten myself into, and carry on with the conviction that I would soon be swept away by the 'ultimate' experience known to backpackers.
From the blog I wrote up until my final couple of days in India I sound upbeat, and when I read this back just the other day for the first time, I was so uplifted. Though I didn't know it at the time, whilst I struggled in India, I was learning so much about life and, in turn, about myself. I'm tempted to write that, after all, I did 'find myself' in India, but it is not quite so simple. India was part of a long process – one that I guess you could call a lifelong process – but it was a significant part of it. I want to be able to go back and shout at myself, 'Pull yourself together and stick in there!' But I can't because I gave up.
I was in India for two weeks, only really because my flight to Malaysia went via the subcontinent and I thought it a shame to miss the opportunity to visit it. When I did finally arrive in Malaysia according to schedule, I felt no different from when I'd arrived in India. Where was this vibrant, exhilarating traveller-lifestyle the 'gap years' all bragged about? I hadn't found it and I felt I had persevered and was becoming anxious of wasting the summer on a 'project' from which I felt I wasn't gaining. I concluded, logically, so I thought, that travelling for travel's-sake just wasn't meant for me. I needed a greater sense of purpose than deciding which exotic cuisine I was going to sample that night for supper and where I would board a train the next day.
After just two nights of roaming about Kuala Lumpur and trying, but failing to meet other travellers, I flew home.
And now for the crème de la crème of the plot – two weeks later, after relentlessly beating myself up for 'giving up' and 'failing,' I broke the bank and flew back out to KL! So I write this now having spent another two months travelling from Malaysia to Thailand, Laos, Cambodia and then back into Thailand.
Ok, so I took the 'standard' route through South East Asia, but I did so on purpose, a) because I figured that there must be a reason for the popularity of this route and b) because, as I wrote earlier, I wanted to experience what it was like to be a 'typical backpacker' and here at least I could guarantee meeting other travellers. By the end of summer, I can't emphasise how seriously I considered staying on out there. The transformation was surreal.
It was a tremulous summer, in which some would say I made mistakes, but I don't believe in mistakes. As it says on my 'inspiration'-themed calendar, 'There is no such thing as a mistake if you can learn from it.'
In sum, travelling isn't necessarily fun, but the saying 'you get out of it what you put into it' stands as true for travel as it does everything else in life. Persist, no matter how miserable you are, but find solace in people. We need each other at some point or another whether we like it or not.
Tags: backpacking, culture, exotic-food, finding-myself, kuala-lumpur, love of travel, love to travel, new-delhi, pink pangea, redefine-myself, rucksack, solo-travel, south-east-asia, travel abroad, travel picture, travel writing, university, vacation, wanderlust, women love travel