ecuador
,
men
,
safety
,
volunteer
— By
CaitlinK
on June 6, 2011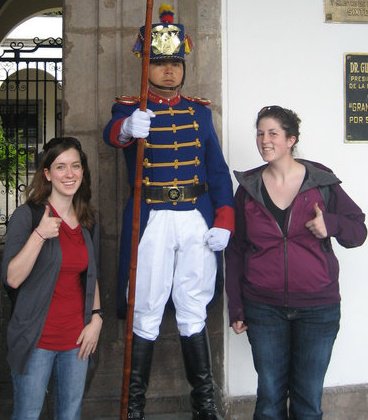 One thing that I knew I would run into while in Latin America was Latin American MEN. Let me reiterate…Latino men are obnoxious. Don't get me wrong, there are a lot of really good guys down here in Ecuador, but I can honestly say that I was sick of the catcalls from week 1. During my orientation they warned us that Latin men are aggressive and straightforward. As I adjusted Quito, I realized exactly what they meant. Ecuadorian men will go out of their way to be ridiculous. Just today as I was walking down the main drag in Ambato (my hometown in Ecuador), I was crossing the street when I was so rudely called back to reality from my own thoughts by a, "OYE!!!! Hiss, hiss, hiss" followed by kissing sounds from a nearby truck. "Oye" basically is like HEY! LISTEN AND LOOK AT ME! I always wonder what they are trying to get at because once they have your attention, the men just continue hissing, whistling, and catcalling. I wonder if women in Ecuador ever actually go up to the guys and give them their phone numbers. Does it work for any of them? I don't know if it is programmed into their genes, but just about every Ecuadorian man does this. Why is this?
I know I am a gringa walking down the streets in my sweatpants and 'just rolled out of bed look,' yet apparently this is the most attractive thing they can imagine. But really? Is it the gringa thing? Is it because I am tall and am incredibly white? On a regular basis I look around me and see many Ecuadorian women who are beautiful. They are dressed to a tee in their Ecuadorian fashion with full make-up and hair. Every woman is subject to catcalls in public in this country but gringas get a lot more attention. It is somewhat of an ego boost, but more than anything it is just obnoxious.
Another thing to be weary of is making eye contact with Ecuadorian men–in any context. More importantly if you are dancing with a guy and making eye contact, they will interpret this as encouragement and will try to kiss you. If you want to avoid this situation, you can dance with someone but don't look him in the eye. They see it as a green light to make a move. Expect this from every type of man; even old men are subject to stop you and tell you how beautiful you are. I don't know how many times I have walked by an Ecuadorian man and heard, "bella, bonita, preciosa, mi reina, princesa, hermosa" and so much more. It is almost too much to take. I have a friend who lives in Puerto Viejo on the coast and she happens to have blonde hair and blue eyes. A common nickname for people with light colored eyes in this country is gato/gata (cat). As my friend was walking through a main plaza a man actually stopped her and meowed at her. Yes, you heard me right, meowed. This just goes to show you that you can expect just about anything from Ecuadorian men.
The ugly truth is that machismo runs rampant in South America, wherever you are and catcalls are part of this problem. Machismo is the belief that men should be big, strong, domineering, and sexist. This can lead to catcalls, domestic abuse, and even rape. As a U.S. citizen it was a bit shocking when I first got here.
Personally, I think there is a strong tie between machismo and the Catholic Church. The Catholic Church pushes the macho stereotype. Have you ever thought about how women can never be priests and only nuns? They absolutely can't move up in the system and are supposed to accept it and not question anything. Another thing they don't permit is the use of contraception or condoms. Consequently, sexually transmitted infections are common, and there are tons of women and young girls with babies that they can't support and don't even want.
I have adjusted to the idea of machismo, however I will never accept it as a part of my life. Maybe it is because I am from another culture, maybe it is because I am a feminist, or maybe it was the way I was brought up. I encourage any woman traveler to ask Latina women about machismo and how they feel about it. Almost always, they don't like it and want to change things, but don't know how. Honestly, I don't think many women have ever thought about machismo and how it affects their lives.  This is a major problem and I challenge any foreign woman traveler to address the issue and make suggestions to struggling women in Latin America.
So the next time you are meowed at, whistled at, hissed at, or yelled at, keep your head up and ignore the comments. Don't give Ecuadorian men the satisfaction or fuel their machismo, because you are better than that. Be strong and brave.
Tags: catcalls, contraception, ecuadorian-men, harassment, latina women, love of travel, love to travel, machismo, pink pangea, rape, sex, sexual transmitted diseases, travel abroad, travel picture, travel writing, wanderlust, women love travel