culture
,
Foreign Correspondent
,
kenya
,
safety
,
working abroad
— By
Nadine_Ajaka
on September 7, 2011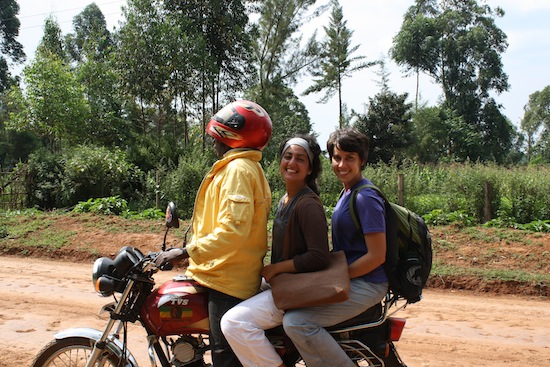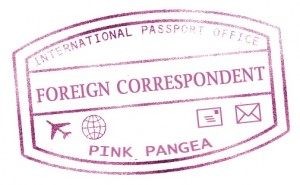 Hamjambo, Pink Pangea readers. Nadine again. Or, Nadine tena, I should say. Slowly but surely, my Swahili vocabulary is expanding. Anyways, school is out for a holiday this week and I'm relieved of my teaching duties in Kakamega. To celebrate my newfound freedom, I've traveled with some other interns to Mombasa. It is seriously beautiful, if you ever get the opportunity to journey to the coast of Kenya, I hope you take it. White sand beaches, the Indian ocean, amazing seafood—it doesn't get any better. Being away from the hustle and bustle of Kakamega, I've really enjoyed the opportunity to relax. Also, it's nice not being yelled at. The thing about Diani beach in Mombasa is that it is mzungu central up in here, so I don't constantly feel like a spectacle. It's both good and bad—good because I'm rarely harassed, bad because I feel like a total tourist. After becoming practically a local in my tiny town for the past eight weeks, being here among the mzungu vacationers makes me feel less legit. But, hakuna matata. I'm here to chat a little bit about the modes of transportation in this beautiful country, which are leaps and bounds different than what I'm used to in America. Because my personality is totally Type A, I'll outline them in a list for your reading pleasure, complete with descriptions and my humble take on each. Ahem, here I go.
Matatus—a very, very common form of transportation from city to city. These are small vans that can fit anywhere from six to eighteen passengers, and are seen rumbling along every major road in Kenya. If you have anywhere to go that is over two kilometers away, chances are you can just flag one down and they'll pick you up from the side of the street. Be wary, though–these are not for the faint of heart. Matatus are often packed well over capacity and you'll likely end up sitting in part of someone's lap. But, they are cheap and will get you to your destination. I pay 20 shillings, about 25 cents, to get from Kakamega town to the village where I live that's a little over two miles away. The final verdict: super affordable, not very comfortable.
Tuk tuk—within cities, these are pretty common. They almost look like big tricycles with an engine, and have a hood covering the long back seat for passengers. These are the most difficult to describe because I've never seen anything like them in the U.S. They kind of remind me of golf carts. Anyways, you'll find tuk tuks within cities—they usually don't travel very far because they are quite small and kind of slow, but they are lovely if you are carrying some luggage and need to get somewhere that is too far to walk. I usually like tuk tuks because they don't get as overcrowded as matatus. Kind of like the name suggests, they just putter along and pick up passengers along the way.
Piki piki—these are motorcycles that take you around town any distance that is too far to walk. I am always wary of piki pikis because, as a mzungu, they look for any opportunity to overcharge me; and because there are no other passengers to compare prices with, they usually succeed. Also, they are quite dangerous, often going over the speed limit and weaving in and out of traffic. If you decide to grab one, ask the driver if you can use his helmet. If he refuses, then hop right off. Your safety is the most important thing, and with the way Kenyans drive, it pays to be careful. If you want to take a piki piki somewhere, try your best to get a recommendation of a reliable driver from someone—it's shady business anywhere to jump on the back of a strange man's motorcycle.
Boda boda—this is a bicycle taxi, and they are everywhere in east Africa. Boda bodas are good when you don't really feel like walking. They operate within towns, and usually charge between 10 and 20 shillings, which is less than 25 American cents. A good deal for when you don't want to risk crossing roads and maneuvering through traffic on your own two feet.
Beyond these more local forms of transportation, flights from city to city in Kenya run as low as 50 American dollars. The bus system here is also pretty prolific and affordable. For example, I can get a bus seat to Nairobi, eight hours away, for about 12 dollars. Basically, wherever you want to go in Kenya, there will be a way to get there and it will be fairly cheap. As long as you aren't high maintenance and really value your personal space, you'll find the freedom to travel so cheaply very liberating—having been in Kenya for seven weeks now, I know I do. A final note: as a mzungu in Kenya, everyone will think you are going somewhere. For example, in Kakamega, people just assume I am passing through, so matatus will whiz by with their doors open and the driver shouting, Kisumu! Kisumu! Sister, are you going to Kisumu? In these instances, I just give them the hand and say, niko sawa, which means, "I'm okay" in Swahili. Maybe next time.
There is so much to see in Kenya, and a million ways to get there. Choose the one that is best for your budget and comfort level. Until next time, kwaherini marafiki yangu!
Tags: boda boda, buses, harassment, Kakamega, love of travel, love to travel, matatus, mombasa, mzungu, piki piki, pink pangea, swahili, transportation, travel abroad, travel picture, travel writing, tuk tuk, wanderlust, women love travel