activities
,
australia
,
vacation
— By
Sasha_Heseltine
on September 12, 2011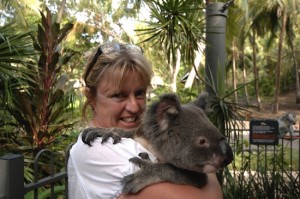 Navigating from Port Douglas to Brisbane was never going to be a massive issue. Luckily, there's only one road. Turn right on the Bruce Highway for north, left for south. Even I can grasp that.
I flew into Cairns ad stayed five minutes from the beach. Two days lying back in the sand in life-enhancing sunshine and I was ready to be off. First stop was north (turn left) up the rugged coastline to Port Douglas, which I loved at once.
Here there are just two streets, buzzing and packed full of restaurants, bars and up-market boutiques. I tried to get tickets for a dive trip to Agincort Reef or Low Isles at the north end of the Great Barrier Reef but the wind was running at 30 knots and I didn't fancy trying to clamber back on to a catamaran in that sort of swell.
Instead I kicked back on Six Mile Beach on Anzac Day. A certain amount of revelry was going on and the locals cheerfully drew me in to a game of 2-Up in the Verandah Bar before leading me to meet George, the 250 kg groper fish who pops into the On The Inlet for his daily feed at 5pm. Next day I took off to Daintree and remote Cape Tribulation, a manageable drive of a couple of hours northwards through rainforest. I spent an hour in the mangrove swamps on the Daintree river on Bob Belcher's Crocodile Cruise and spotted ancient salt-water crocs basking under the hibiscus trees and orioles flitting low across the water.
A turn to the south led to a happy day exploring the rolling winelands of the Atherton Tablelands. I took a steamer tour of volcanic Lake Barrine and picnicked at Lake Tinaroo, watching a family water skiing behind a boat named Glitoris. Later I was enthusiastically swept up into a wedding celebration in Yungaburra.
That afternoon I got a speeding ticket doing 120km in an 80km zone. I didn't know until weeks later the Qld police sent a photo of me zipping along the Kennedy Highway in my hired Hyundai. So be VERY careful. Stick to the speed limit or you'll be fined AUS$420 too!
A trip to the heritage markets at Kuranda disappointed, with the anticipated displays of indigenous paintings and crafts supplanted by imported tat and fast-food joints. There was a dead Eclectus parrot in Kuranda Birdworld, which sent a small girl sobbing for her mother, and it cost AUS$60 to have your picture taken with a sleepy koala. But I did love the awesome natural power of the dramatic falls at nearby Barron Gorge and the Skyrail cable car trip back down to sea level over the tops of the rainforest.
A couple of days later I washed up at Mission Beach. This is a gloriously eccentric little township straggling along a wonderful sweeping beach; Cyclone Yasi brought the community to its knees. Much of the rainforest hiking trails are currently closed, as is Dunk Island, but the welcome is still the warmest. A noisy and very late evening was spent hearing cyclone stories at Bernie's on the Beach while scoffing the tenderest of rump steaks – but that is the currently the only restaurant open in Mission Beach.
I over-nighted in Townsville, largely memorable for its ReefHQ Aquarium, a microcosm of life on the Barrier Reef, for the fact that I watched the Royal Wedding there and for the street brawl I witnessed the next morning between a mob of indigenous Australians.
Further south, charismatic Airlie Beach is a major springboard to the Great Barrier Reef and it's a mixture of sophisticated Mediterranean resort and backpacker village. By day it's calm and peaceful, with a pretty, shady horseshoe-shaped beach. Here I stayed at the extraordinary Airlie Waterfront B&B; I had a four-poster bed, an al fresco jacuzzi and a clutch of drunken neighbours who trashed their room and kept me up until 4am.
From neighbouring Shute Harbour I finally got to the Great Barrier Reef. I took an Air Whitsunday seaplane out to Hardy Reef and swam in majestic silence with six companions and one black-tip reef shark, who stalked me among the pink and green hues of lettuce, antelope and brain coral along with flashy regiments of sergeant majors and parrot fish.
The next day saw me back at Shute Harbour for the 40-minute trip out to Hamilton Island, the upmarket resort created by billionaire Robert Oatley. From my perch on the 16th floor of the Reef View Hotel, where raucous sulphur-crested cockatoos woke me at dawn, I had views over Catseye Beach and a couple of days of hedonism, re-energising with a magical massage at Wumurdaylin spa and cuddling koalas.
I also glimpsed how the other half lived in the magical enclave of qualia, a truly divine Balinese style resort secreted under an imported canopy of trees to the northeast of the island. There's plenty on Hamilton to keep everybody amused, from playing golf at Dent Island to snorkelling and catamaran trips to the Whitsundays Islands. The star of the clutch of eateries along the seafront has to be Bommie in the iconic harbour-side yacht club, constructed of angles resembling sails and serving top-quality Modern Australian cuisine.
Back on the mainland and aiming south again, the landscape changed abruptly from sugar cane to rainforest and on to flat grasslands grazed by cattle. Brahminy kites circled overhead, following the occasional plough. I stopped off overnight in Rockhampton, HQ of the Aussie beef industry, but found the town firmly closed. Around Hervey Bay I spotted signs of flood damage; roads still half closed and great potholes where the waters had rushed through. Here I stayed at the Quarterdeck Harbour Retreat and settled in with a Thai takeaway (AUS$70!!) and Love Actually.
Down on the Sunshine Coast I enjoyed a lingering trawl through the exclusive enclave of Noosa's Hastings Street. Later I drove through rush hour traffic to the Brisbane suburb of Cleveland and caught the Big Red Cat to North Stradbroke Island. Here I photographed grey kangaroos grazing, heard kookaburras in the pandanus palm trees and watched dolphins dancing off Point Lookout. The next day I was introduced to the restorative properties of Brown Lake, swimming in waters coloured by oil seeping from the surrounding tea trees.
In stark contrast to laid-back Straddie, Tangalooma Island Resort on Moreton was manicured, ordered and regimented. Even the stalks came in on time to be fed. A whole day's worth of activities are available here, from a Segway trip along the beach or snorkelling over a wreck to sand toboganning down a terrifyingly sheer dune –¬ but the main pull is the dolphins who swim up to the jetty each evening to be fed. On my day trip there, the resort had an end-of-season feel to it and the sea was rough and murky; although a couple of dolphins appeared, I didn't get close enough to feed them. Nevermind, though. I got my own private performance on the return journey up the Brisbane river when a pod of dolphins leapt out of the water alongside the ferry. From the port at Pinkenba it was a hop over the Gateway Bridge into Brisbane's high-rise skyline and the end of
a 3,300km trip in a straight line. And I didn't get lost once.
Factbox:
Route: From Cairns north to Port Douglas, island-hopped (Green, Hamilton, North Stradbroke and Moreton) and also stayed in Mission Beach, Townsville, Airlie Beach, Rockhampton, Hervey Bay and Caloundra. My longest driving day of 5.5 hours was from Airlie Beach to Rocky and the entire trip was 3,300km long.
Car hire: I paid £380 for 23 days rental of a Hyundai through Budget. Alternatively hire a Maui Motorhome camper; a four-berth Ultima costs £2,590 plus campsite fees and high petrol usage.
Tourist information: Queensland – www.visit-queensland.com
Tags: aussie, australian wildlife, brisbane, dolphins, great barrier reef, jacuzzi, love of travel, love to travel, pink pangea, port-douglas, roadtrip, travel abroad, travel picture, travel writing, verandah bar, wanderlust, women love travel