bangladesh
,
culture
,
volunteer
— By
Lauren_Villa
on October 11, 2011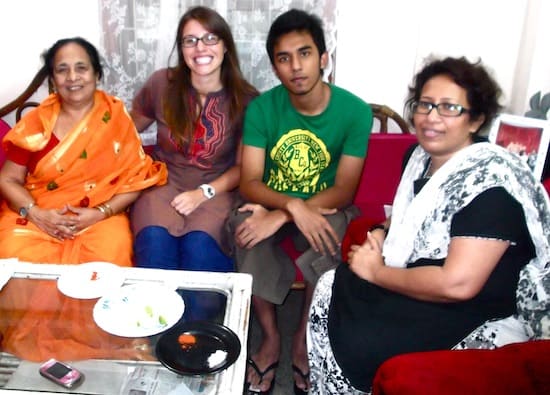 I hail a CNG (Compressed Natural Gas) in the pouring rain. I read off the scribbled writing I have on a legal pad to the driver. Blank stare. I repeat the name of the building again, this time attempting a Bangla accent. The driver gives a half-assuring nod. I figure that's good enough and I hop into the vehicle. My salwar kameez and rain jacket are dripping wet. I try my best to ask him again, in broken Bangla, if he knows where to go. Is this a mistake?  I anxiously survey buildings we pass (as if I would recognize them anyway) and hope that this ends positively. We weave in and out of the weekend traffic and by the twenty-second minute in I feel like I should have stayed in bed watching Mad Men.
This is one of those times when I ask myself, how did I get to this point in my life?
We drive on. He watches my eyes widen as we pass a famous mosque, cricket stadium, and soccer field. My driver kindly tries to explain in Bangla what each of these sites are. I nod and smile, hoping that I don't look like too much of a tourist. But in Bangladesh, it is hard not to.
After around thirty minutes we reach the apartment complex. My new Chittagong acquaintance (a friend of a friend back in the States) greets me at the gate and makes sure that I pay a fair fare (which is less than $1 USD) and I graciously step out of the CNG. Well that was easier than I thought.
My new Bangladeshi friend embraces me. She could not be a more gracious host. She ushers me into her home to meet her son.  She refers to me as her 'great friend' even though we have known each other for a total of two minutes. Her home is clean and cool. We sit cross-legged on the floor and talk about Bangladeshi politics and media.
Again, how did I get to this point in my life?
She then invites me downstairs to meet her mother, husband and other son. After introducing me again as her 'great friend,' we sit together at the kitchen table and serve ourselves rice, spicy dal, prawns (from their village pond), beef cakes, potatoes, eggplant, onions, and pickles. Thinking it would be impolite to use a fork, I dig in with my right hand.
I have officially won over my hosts.
They break out in laughter and we talk about the cultural similarities and differences I have encountered in the country. The food is unbelievable, and their company enhances each bite. I tell them how similar they are to my family back home and that they have made me feel like a member of their family. They are especially curious about my father, who is from Mexico, and I explain that Bangladeshis and Mexicans are similar in so many ways. The open doors and utter hospitality, mountains of food, and friendly disposition make the cultures practically sisters. I teach them the phrase, "Mi casa es tu casa." For the first time I have truly connected with the Chittagong community.
After lunch, we share guava with sprinkled chili powder on top and I tell them how I am surviving in my new teaching position at the Asian University for Women. They offer cultural pointers on connecting with students and faculty. I am grateful to meet someone outside of the university who can provide insight into the community and country. The women offer to take me to a local war cemetery after dessert (chocolate ice cream drizzled with strawberry syrup) and show me more of the city. I'm so happy I didn't stay and watch Mad Men…
The World War II Cemetery grounds are breathtaking. The grounds are very well kept and enclosed by large trees and flowers. We walk slowly through each plot, studying the headstones of young soldiers. My hosts make friends with the grounds keeper, who offers to give us a personal tour of the area. He even shows me where the lone American is buried. After snapping a few pictures, we head back to my apartment.
I realize how lucky I am to have spent a day with two such incredible women. Spending time with members of the community reminded me how refreshing it is to see a city through another's eyes. After I say goodbye to the women and thank them graciously for taking the time to show me around and welcome me into their home, I cannot help but thinking: how did I get to this point in my life?
Tags: asian-university-for-women, bangladeshi food, chittagong, hospitality, love of travel, love to travel, mexicans, mi casa es tu casa, pink pangea, prawns, travel abroad, travel picture, travel writing, wanderlust, women love travel, worldteach