culture
,
greece
,
men
,
vacation
— By
Natasha_Velez
on March 20, 2012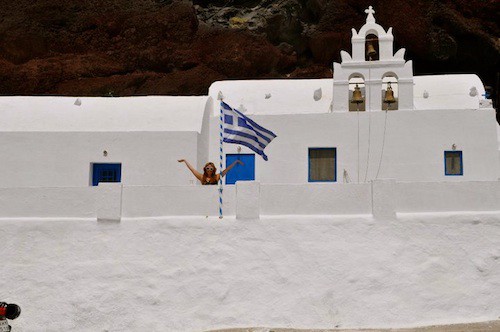 Over the summer I took a trip to the Island of Santorini. I was 23, alone, anxious but above all, extremely excited to take on a new adventure. Six months prior I decided to travel on my own and Greece was my destination of choice. I was fed up with people, fed up with New York, fed up with work.
I booked a flight for the 16th of May and found a lovely deal in Perivolos, a small town south of Perissa. I stayed for a month on that beautiful island and I loved it so much that I extended my stay. When it came time to leave, I purposely ditched my flight and hitched a ride back to Kiffisia- a suburb in Northern Greece. I'm not sure what possessed me to stay in Kiffisia, but I did.
It took approximately 36 hours to arrive at my destination between my connecting flight from Budapest, Hungary and a nine-and-a-half hour ferry boat ride from Piraeus to the island. As soon as I boarded that ferry, I felt butterflies in my stomach but after a couple of Mythos beers, I felt like a million bucks. While looking out into the ocean, a man in his mid-30s took a seat near me. The butterflies returned but I kept my composure and those two beers gave me the courage to start a conversation. I knew some Greek, but not enough to pass for a native. I'm a native New Yorker and he knew it–right away. Turns out, he was too!
His name was Nick. Thirty-six years old, tall, dark, handsome and Greek. "So where are you from, Queens?," he asked. How the hell did he know that?! The last thing I expected was to be approached by a handsome (did I mention single?) Greek man–who speaks English too!
"Yes, that's exactly where I'm from. How did you know?"
"Well, I'm originally from Brooklyn, but I moved to Karpathos after my mother passed away." I couldn't believe he was from Karpathos!  I had originally planned to stay there but for lack of vacant hotels and little knowledge of the island, I chickened out and decided Santorini is where I'd stay.
And yes, I understand this story would be a hell of a lot more exciting if I told you I abandoned all of my original plans and bypassed Santorini, making my way to Karp, but my apologies in advance for the buzz-kill. We spoke for over seven hours straight and when it came time to part ways, we exchanged numbers. He did however offer to come visit, but that didn't fall through either. Anyway, five beers later, I stumbled off the ferry, kicking myself in the ass for lack of spontaneity and awaited Mr. Roland. He was the owner of Meteora Restaurant and Studios. About 15 minutes later, I spotted a navy blue van that had the Meteora logo on it. Relieved, I approached the vehicle and introduced myself. He helped pack my belongings in the truck and before I knew it, we had finally arrived. Thirty-six hours of traveling, and I'd reached my final destination.
Santorini. The most beautiful sunset I've ever seen. The most beautiful, hospitable, generous, kind-hearted people I've ever met. The best food I ever ate and the list will inevitably go on. As I unpacked my belongings, reality started sinking in. "Am I really here alone?" I asked myself.  The silence was overwhelming. But after realizing I had a month of no work, no headaches and no stress, a calmness I'd never felt before took over my mind and body. I got into my PJs and climbed in my new bed.
The next afteroon, Mr. Roland knocked on my door. "It's three in the afternoon; I wanted to make sure you are alright. You can come down to the restaurant and get something to eat and if you need anything, don't hesitate to ask." I felt extremely welcomed. "Oh, thank you so much! I'm just jet-lagged. I need to catch up on Greece time! I'll come by in a few! I'm getting hungry." He left, I went back into bed and started thinking. "OK Natasha, get out of bed! You're in GREECE for Christ's sake!" I quickly jumped in the shower, got into my bathing suit and headed down to the strip of Perivolos.
Perivolos. What a rich town. Full of culture, life, food, wine, souvenirs, honeymooners, honeymooners and did I mention honeymooners? Couples holding hands on every corner, kissing, cuddling and all that mushy goodness. I walked into the Meteora Restaurant and was greeted by Irene, my hostess. She also happens to be a princess, too. Princess Irene. One of the most energetic, lively souls I've ever met. "Welcome to Meteora, my name is Irene and I will be serving you today."
Reflecting on my recent travels to Greece, I've come to one conclusion. The two most memorable moments I will forever hold dear to me, are the people I met and the meals we shared together. I guess I wasn't solo after all!
Tags: greek island, kiffisia, love of travel, love to travel, mythos beers, perissa, perivolos, pink pangea, piraeus, santorini, travel abroad, travel picture, travel writing, wanderlust, women love travel