activities
,
vacation
,
vietnam
— By
SilkandStones
on April 30, 2012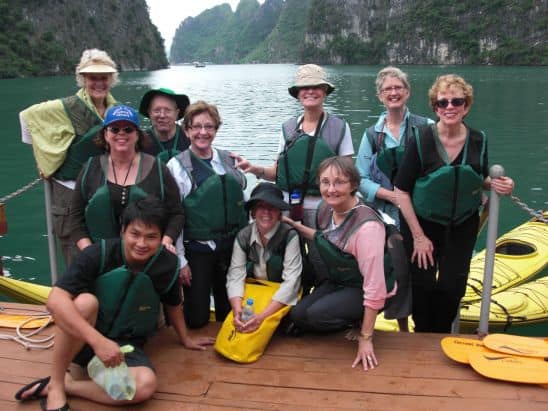 I'm in the back row in the blue shirt. This is a group of friends and clients on a trip that I designed and led to Singapore, Vietnam, Cambodia, and Laos a few years ago. I've been traveling extensively in Southeast Asia, and delight in helping others travel successfully and learn about these countries. Ha Long Bay is a favorite spot–mystical, unreal, and with the most lovely small temple on a karst in the outer bay.
I turned this expertise into a business several years ago: Silk and Stones Travel, designing and leading trips to Vietnam, Cambodia, Laos, Myanmar, Thailand and Singapore. I also blog about my travel and my work with teachers in Cambodia.
I'm looking forward to learning and listening to all of you.
Tags: blog, cambodia, ha-long-bay, karst, kayaking, laos, love of travel, love to travel, myanmar, pink pangea, southeast-asia, temple, tours, travel abroad, travel picture, travel writing, vietnam, wanderlust, women love travel