activities
,
gap year
,
shopping
,
singapore
— By
MonikaLutz
on April 4, 2012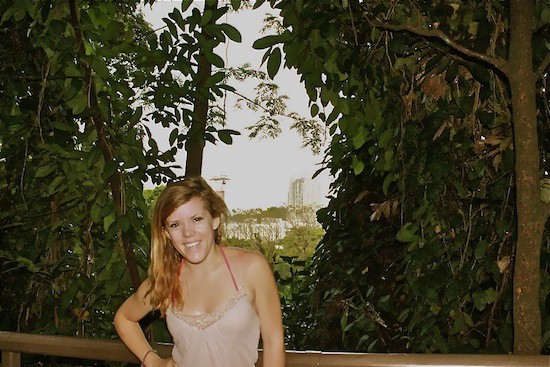 If you're looking for an excursion-style vacation that fits within the categories of rugged, subsistence, isolated, or untouched by the invasive fingers of the first world, I suggest you fly over the 275 square miles of Singapore to one of its many neighbors. But if you're keen to enjoy developed world comforts in a tropical climate with streets that are cleaner than San Francisco and transportation as punctual as Munich, Singapore is well worth the trip.
For a tropical island that boasts hardly a handful of seashores, life in Singapore is quite the beach. Comprehensive shopping malls speckle every neighborhood area. Maseratis prowl over perfectly kept roadways. And everyone speaks English, plus another two or three languages on the side. After a day of wandering through the nation's world-class architecture and state-of-the-art rail transit, you may feel the need to check a world map. Could this really be South East Asia?
It is now. Thanks to the leadership of Lee Kwan Yew, the former Prime Minister that instigated the nation's sprinted-to-developed nation status. Yet, it has also found ways to solve many problems other developed nations have not been so successful at. With some of the lowest crime levels in the world, locals and tourists can feel at ease almost around the clock. Just strokes past ten at night, runners pound the pavement and locals delight in one another's subdued company from plastic chairs that speckle sidewalks and outdoor restaurants.
Which brings up the topic of national hobbies. To make up for a humble Olympic record, Singaporeans retreat to an alternative national past time: shopping and eating. Laksa. Poh pia. Bubble tea. Sting ray. Carrot cake that contains no actual carrots. And chicken rice. These are just a sprinkling of what local Singaporeans may nibble on in a given day. They capitalize on their geographic location to offer foods from nearly any nation prepared differently at every corner.  So forget restaurants. Hawker centers –outdoor cafeteria-style eateries– provide better selection and taste with relatively equal sanitation methods for typically less than a five-dollar bill.
But Singapore's surge ahead of its neighbors is also visible in the exchange rate. Hovering around .8 SD to 1 USD, don't expect to buy out the store. Also, while Hawker Center meals come cheap, hefty tariffs on liquor means drinks more than make up the difference.
As for looks, if you want to fit in, arrive with the national clothing staple: a cardigan. This will serve as your secret weapon to dispel the quiet yet omnipresent climate duel: hot humid exteriors with air-conditioned indoor chill chambers.
Tourist activities (Volcano Island theme parks, botanical gardens, zoos, and architecture) come by the dozens, but for those looking for a tranquil Asian garden walk experience on the government's dime, I suggest the Chinese and Japanese gardens (Green line, "Chinese Garden" stop). Meticulously groomed and fiercely authentic, you will be reminded that you're still in Asia. And unlike the USA, the equally competent Singaporean government has almost never tapped into their bank reserves. So don't feel bad soaking up a day there.
Even if you can't break out your Patagonia expedition strength tent or tramp about in North Face explorer gear while looking like an archeologist, Singapore offers Western travelers in South East Asia a break from the culture shock and a taste of what high class living is like on a tropical island. From casinos to shopping malls and scenic spots Singapore is the epitome of world class.
Follow Monika on Twitter @monikalutz.
Tags: bubble tea, chinese garden, english, love of travel, love to travel, pink pangea, shopping malls, transportation, travel abroad, travel picture, travel writing, volcano island, wanderlust, women love travel