costa rica
,
culture
,
living abroad
— By
Emily Shea
on October 3, 2013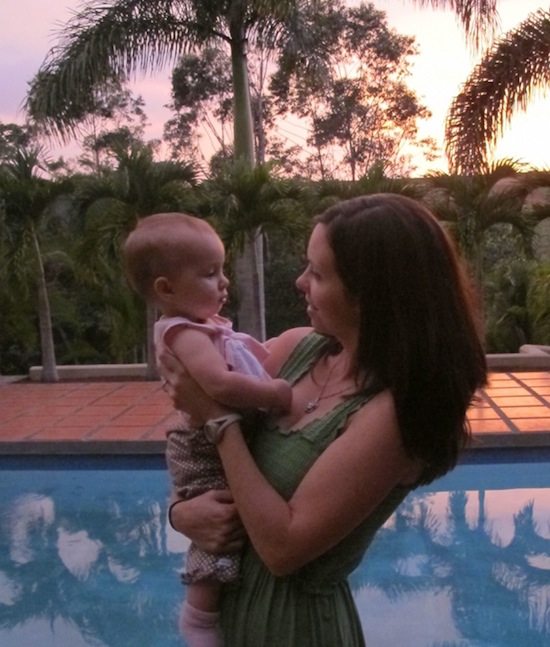 "The world is a book, and those who do not travel read only a page." -Saint Augustine
We decided to move away from North America.  We pulled our very young children from the only place that we had ever lived.  We deserted the idea and the comfort of "home" and forced our future wide open to anything and anywhere.  Without a set-in-stone agenda, we truly rolled the dice with our first country of choice.  It was between Costa Rica and Chilé, and the coin chose Costa Rica.
Traveling with small children adds excitement, laughter and difficulty to any vacation, but moving to an unfamiliar country with small children adds real adventure.  Actually staying in a new place long enough to absorb the culture is a special gift few families get the option to achieve.  Throwing children into the mix speeds up the exposure to a new culture, in my experience.  Within weeks of our arrival, we were warmly accepted into the hearts and homes of the Ticos, and the sudden change in human interactions, treatment towards animals, and pace of living united together to thoroughly give us a much needed shock.
We hail from the northeastern United States.  We grew up in your average modern town, equipped with several shopping and dining locations in close proximity, and a few public parks.  When out and about in our area, we of course came into contact with fellow citizens, but even when standing in the same lingering line or sitting in a crowded waiting room, it was rare to have a conversation with a stranger.  We wandered around in our own little bubbles, noses in our phones and attention on our children.  We avoided eye contact with others without even realizing it–we never even looked at the people around us.  What a lonely world that really was.  In Costa Rica, ignoring the person next to you is considered severely rude.  The first time I mounted our local bus, the rows of passengers echoed, "Buenos dias" and smiled at me like I was family.  The ladies around my seat didn't stop with that quick pleasantry, but inquired about my children's names and ages, and strongly complimented their cuteness.  Over the months, I came to expect any woman in a twenty foot radius to steer herself right towards us and lavish my cherubs with praise.  "Que hermosa, que guapo, que preciosos niños!" would be heard on a daily basis.  If someone did look at them without showing unbridled adoration, I would be highly offended–but I can't recall that absurdity ever happening.
Acquaintances embrace you like you're old friends.  They kiss your cheek when saying goodbye, and then continue to talk and kiss you once or twice more.  They stroke your child's hair and cheeks and hold their hands.  Some passengers have held my infant's palm while riding into town without me even noticing at first.  This would be seriously inappropriate in the States!  What a change, a change that I absolutely love.  Believe it or not, I once was an introverted germophobe, and now I've converted to find pleasure in a stranger kissing my children's faces.
My views have changed in regards to animals as well–dogs in particular.  Arriving in a country with thousands upon thousands of homeless street dogs would be overwhelming for an animal lover, to say the least.  I wanted to bring them all home where they could be sheltered, fed and safe from vehicles.  I wouldn't know where to begin though, as I'd see thirty or more dogs walking the streets on the twenty minute bus ride to town.  I had to turn my eyes away from the problem at first, but soon I veritably opened my eyes to the realization that these dogs were happier than most dogs in the States!  No leashes, kennels or boundaries.  They had complete freedom and many generous friends.  It was a rare thing to see a starving homeless dog, as those were sure to be taken in and cared for.  For the most part, pups would go on their rounds in pairs, sporting wagging tails and catching up with their doggy pals in an array of beautiful, non-breed-specific coats.  Only once did I let my home-based ethics interfere to scoop up a puppy and take him home, as he was in a busy bus station–no doubt dropped there to find a sucker like me.
I have since learned that each town usually has a dog rescue group, and the locals are very active in helping out when an animal is in need.  For the dogs that are healthy, they get to bask in a life of limitless wandering and garbage can exploration.  What a way to spend their days.  This is something I now like to refer to as "Perro Vida." ("Pura Vida" is the common salutation for Costa Ricans, which means "Pure Life.")
Our adaption to a thing called "Tico Time" has probably been the healthiest benefit to us from our new culture.  It's a slower pace here, and we were in desperate need of slowing down our engines.  The whole society in Costa Rica runs off this timing.  If the maintenance man shows up three days or even a week late–don't expect an apology.  It's been a month and your package still hasn't arrived–what's new?  Your guests show up three hours after the party was to begin–nothing unusual.  No one expects immediate service from anyone, and that makes for lighter-hearted people.  Looking back, I find it so silly that I put myself into a rush all the time.  I was in a hurry to get nowhere, and fast.  I would dash through washing dishes or laundry, when rushing really wasn't necessary.  If I was on time for work, it was after a dreadful commute of watching each minute tick forward.  What is the rush, anyway?  Why can't fifteen minutes late be considered on time?  (Only slightly kidding.)
It's a total mind shift when you arrive in Costa Rica and step off the plane.  Everything is tranquila–which loosely means everything is cool.  And it should be, right?  Even though I don't feel the pressure to get anything done at this very moment, it miraculously still is completed with lackadaisical ease at the end of the day, or next morning, without anything lost but a heap of stress and its accompanying muscular knots.  It has been an adjustment to force myself to stop and smell the pineapples, but I am grateful for it.
These cultural lessons would never have been gleaned in a lifetime of staying in the same place.  Travel forces us out of our comfort zone and into an unknown land of new ways of thinking, feeling, and interacting with others.  We are being offered other suggestions on how to act and be on this diverse planet, one country-full of teachers at a time.  Our instructors in Costa Rica are patient, kind, and earnestly helpful.  I look forward to studying the courses in our future, but this year, I am thoroughly reveling in this classroom.
Read more about Emily's travels at www.travelmother.com.
Tags: costa rican buses, culture-shock, dog rescue group, living abroad with children, love to travel, mother, new culture, perro vida, pink pangea, pura vida, relaxing, rushing, stray dogs, talking to strangers, tico time, tranquila, travel picture, traveling with children, wanderlust, woman-traveler, women travel solo, women travel writer