The Isle of Man: an Unexpected Pearl in the UK
The feeling left in my soul after the visit was nothing else but confusion. After spending one year in the UK, its miracles stop capturing your spirit: all castles are equally gorgeous, lawns equally green, inhabitants equally polite, catharsis stops striking. Regularity. And when I decided to make a guest visit to an island in the middle of the-Irish-sea-nowhere, I would not expect any difference.
Tranquility, coziness and incredible friendliness of the locals were the first things to attract my attention after messy London. Raining every 15 minutes? British rules. As I found out later, May is the sunniest and friendliest month over there. During approximately two weeks in May, the sun is hospitable to the islanders, though with regular breaks for rain. During the remaining 11 months, it rains like cats and dogs in this kingdom of humidity and tranquility.
My personal superstition about the island is, "Thee, tourist, can never avoid meeting a motor racer, if the sun is amicable to thyself." The interpretation is that those two sunny weeks in May are carefully predicted, selected and, after all, used to organize the TT motor race, which attracts so many moto-tourists, that the profits received are sufficient for the islanders to live the rest of the year carelessly.
"Can it be a name for an island? And where is it?"
This state is located between the biggest islands of the UK – Great Britain and Ireland. Yes, it is a state. The Isle of Man has its own parliament (one of the most ancient!), constitution and state symbols, though belonging to the British Isles and being subordinated to the Queen. Just as the Channel Islands, the Isle of Man did not enter the European Union. While Europeans do not need a visa to enter the island, citizens of other countries outside the European Economic Area and Switzerland require the British visa to cross the border.
British currency is accepted in the Manx country. However, the Isle also has a different kind of pounds in circulation, which differ a lot from the British ones. Check them out: besides the Queen's portrait, there is a national symbol – the Triskelion – representing three running legs emerging from a single center. It's the ancient symbol of stability, which can be referred to lots of different cultures starting with Greeks and finishing with Celts.
By the way, do not forget to spend all Manx pounds on the island; British shops will not accept them!
Douglas is the island's capital, an extremely picturesque town on the seacoast, enchanting with its romantic sunsets and promenade walk. Quite a cold capital! Despite the fact that my nationality (or better to say citizenship) made me frost-proof in the eyes of the foreign public opinion, I cannot help noticing that the Island's May is colder than Kazan's (my native city) April, which is snowy sometimes. Indeed, it feels more comfortable in the Russian -20 C° than in the British +2 C°, the reason for that being humidity which penetrates your skin and cuts into your bones. The Isle of Man is situated not just in the open sea, but also in the North, that is why woolen sweaters and socks are vitally prescribed, even if it is May outside, thermometer indicates +18, and the pictures below show palms.
Therefore, dear readers, especially the ones from the Southern countries, your wardrobe is the first thing you should think over if you have chosen the Isle of Man or Great Britain as your next destination.
Miracles of the Island
Probably because constant nasty weather scares away 90 percent of curious individuals and attracts 10 percent of persistently curious individuals, crowds of foreigners do not bother the islanders.
This charming place can hardly be called Barcelona in respect of the amount of tourists, though there is a period when the Manx country gathers more visitors than the Spanish touristic capital during the summer. It is TT (Tourist Trophy) Race. This is a special period when it is almost impossible to find any decent accommodation in Douglas: all hotel rooms with sea view are sold half a year before the high season.
And as we planned this trip just one month before the actual event, we had to invest much of our efforts into hotel hunting! Therefore, we called every hotel suggesting an adequate price per night (no more than 50 pounds) and asked them to notify us in case some traveler canceled his or her booking. And after a couple of days of working at our home call center – success! – we found a modest and cozy room for two in a three-star hotel with a sea view.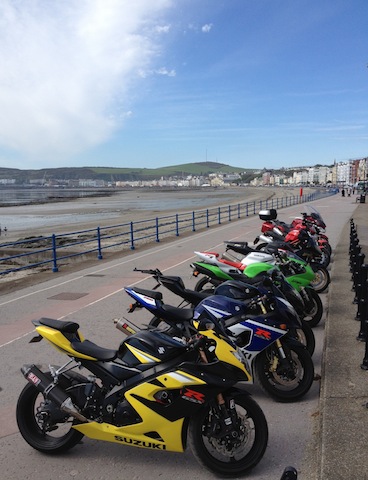 Coming back to the race, this event can be called the most authoritative in the world among racers since 1907. From 1977 til 1990, it used to be part of Formula 1, and now it is traditionally conducted during the festival organized by the Department of Tourism and Leisure of the Isle of Man, which is cheerfully visited by fans of various ages and nationalities. Meeting a 70-year-old granny in a leather outfit of a motor racer standing by her own bike and telling you about the freshest news from the world of racing can happen only here. The island's infrastructure, specific landscape together with monstrous speed of the participants creates the necessary effect: noise, unexpectedness, danger, and adrenalin. The spectacle is curious.
However, it can be only called so if you observe it from a positive perspective. In fact, the race is terrific: roads are narrow, winding, with unexpected rises and falls, which are surrounded by either hills or high stone buildings. Maneuvering at insane speed is extremely hard, and this race has brought a lot of deaths: in the period from 1907 until 2013 around 250 participants died, and during 2013, there were eleven spectators injured, because one rider lost control and ran into the fence protecting viewers from the race. The TT is dangerous for both participants and spectators.
Besides the motor race, there are other intriguing peculiarities in the inlet. The Isle of Man is a place where the industrial revolution is still in action. The islanders, having started using steam machines at the beginning of the XXth century, are still hesitating to change them in the XXIst one.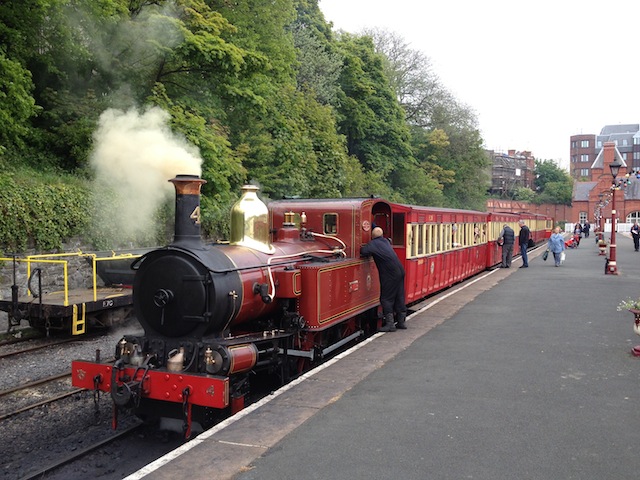 A 1-way steam train ticket from Douglas to the terminal station Part Erin costs 6.20 pounds for adults, though it goes a way longer than a bus. Smell of coal, green hilly panorama, grazing horses at the pastures, heavy grey sky with sudden glimpses of the sun and a couple of sandwiches – more than enough for the unhurried students whom we used to be.
Speaking of horses, their main occupation on the island is not just grazing and listening to steam trains pass. They actively participate in the big city daily life and even are a part of the island infrastructure: besides cars, double deckers and motorbikes the Manx transport includes horse tramways! Just imagine huge double deckers maneuvering in the narrow winding streets while round the corner, on the highway there are horses carrying three tons of iron and human cargo.
Besides it all, the Manx Island is the motherland of gorgeous Manx cats, tailless creatures with hind legs being longer than the front ones. Half an hour away from Douglas, the Cats Sanctuary is a volunteer organization helping injured and abandoned cats. The entrance fee is only 5 pounds, though you will have more chances to make furry friends if you come over with some packs of Whiskas.
In general, this island keeps its memories and authenticity, in a truly British way: a number of museums, history and memory houses like Railway Museum and Manx Museum. It is hard to imagine that this plot of land in the Irish sea can contain as many museums as London and its suburbs.
If you are a connoisseur of antiquity and coziness, British character at its best, seafood with traditional fish and chips, green lanes, narrow streets, ebbs and flows, endless sea and the feeling of endless calmness, motorbikes in a good weather and rain in a bad weather – this trip is for you.
Useful information:
You can fly directly to Ronaldsway Airport from 10 cities (it takes 20 minutes to get to Douglas from the airport by bus). Three air companies perform flights from London: British Airways, EasyJet and FlyBE.
It is also possible to reach Douglas from Belfast, Birmingham, Blackpool, Gloucester, Liverpool, Manchester, Newcastle-upon-Tyne, as well as from Dublin and Geneva. Flying from London is not a cheap pleasure, while you can say the opposite about flying from Liverpool. EasyJet company ticket costs only 20 pounds and the whole way is only 40 minutes.
Therefore, if you're think of visiting Liverpool, better drop this idea and go directly to the Manx country. There is nothing in Liverpool besides the Beatles' heritage. The city is not beautiful and people are unfriendly. However, Liverpool, along with Heysham, Birkenhead, Larne, Belfast and Dublin, provides ferry rides to the island, very long ones (around three hours one way), but extremely comfortable. One ferry ticket for an adult costs around 25 pounds if you book it one month before your trip.
For more information, visit the Isle of Man's website.
P.S. And do not forget to bring woolen socks!