Delayed Delivery: A Love Letter from Sydney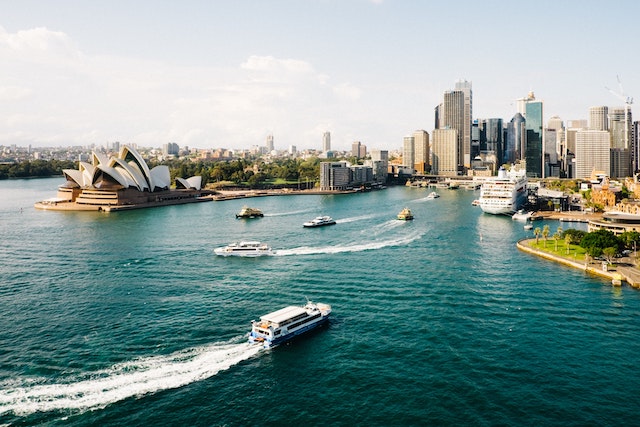 Over and Beyond the Pacific Ocean
Karachi to Dubai
EK607 KHI-DXB
Dubai to Sydney
EK414 DXB-SYD
Sydney to London
EK413 SYD-LHR
Distance Travelled: 28036 kilometres
Transcending the barriers of saltish and sweet seas: Timor, Andaman, Caspian
Dear London,
Cheers to another failed attempt to write to you. Although, I am not living in Sydney anymore, I do not know when this incessant cycle of sending and receiving unopened envelopes will stop. It has been a while since I last visited, 2013. In retrospect, I have changed so much. Now I pretend to be a simpleton; I am the one in those black boots, losing her way yet again in Sydney meadows, instead of your city, with children who are not even hers.
I twirl my hair, a twig between my teeth, waiting for my Darling to Harbour me in his arms. Only if he can anchor my deep amber blues, I would not need to Hyde them in the green mazes of London parks
I'm the one who is faithless, trying to fit in here, despite my heart belonging to you.
The Paramatta River glistens on a warm Sunday like the Thames.
Later we walked down to Secret Garden. We pretended to be the characters of Lee's poem, Persimmons: "face up, face down."
The sun rays glisten the Parramatta River and I just wonder whether Big Ben still plays the rhythmic tick-tock along with the ebb and flow of Thames. I see the Cockatoos, feeding the only bread I have in hand, the white glory with the neon green crown.
I'm the one who is faithless, trying to fit in here, despite my heart belonging to you. But, Sydney did you not do the same? You took me to your highs of Bondi waves to reveal the lows in your 'Blue' Mountains. I can still hear the kookaburras laughing out loud, and I wonder if they get tired of laughing when they want to cry just once.
Sydney, your voice echoes through the walls of the Opera House. I am swaying to your rhythm. Let's dance, just the two of us, this time I can hum.
I would run down the Bridge from Sydney to London, shrieking your name, falling straight into your warm embrace.
"A failed attempt," the postman says.
Eight years have passed by, and now I am now back in Karachi.
But let me clarify, eight years have passed by, and now I back in Karachi. Where do I begin, my love; and where do I end my resentment? They laughed at me like a "gilded butterfly," waiting for gold to wear off and lead to emerge. But I say it with pride, like Portia , "Who chooseth me must give and hazard all he hath." (Shakespeare, Merchant of Venice); like the misunderstood Elizabeth Bennet, I remind myself , " The distance is nothing when one has motive." (Jane Austen, Pride and Prejudice)
Travelling in the crowded trains and confusing Opal cards with an old student Oyster in my purse, I think of you: A 62 A , Opal 4, Tufnell Park, N70EG, London. What are they called here "tube" or "train" or "subway"? The interlaced stations with intertwining tracks going back and forth between Charing Cross & Kings Cross perplex me. What am I even doing in this desolated continent? Am I even happy?
Am I even happy?
I sketch a silly map, thinking our paths meet again:
Listen, if this makes any sense, I don't think we have time to be fake with each other. Perhaps, we might Cross our ways as those Kings did back then, perhaps a Queen was with them too.
If that's not enough, we can walk down the shore, hand in hand on a long distance, away from the crowd to Palm beach.
With Love,
Afshan