Do you want to break away from the usual hustle and bustle and have a life-enriching solo vacation experience? If you are a passionate traveler and solo adventure is on the top of your bucket list, you've come to the right place. Solo trips might initially seem daunting, but they can uplift your spirits and make you look at the world from a different perspective. The best part about going on a solo holiday is that you don't have to accommodate other people's interests.
Finding a great place for solo exploration can be somewhat difficult for people who are new to traveling. To avoid last-minute booking hassles, you can simply take your next travel pick from a wide range of exciting solo escapes at Vacayou and gear up for some real adventure. In this article, you'll find 10 vacation ideas for solo travelers in the US to help you find the perfect travel experience in as little time as possible.
1. Add to the thrill by indulging in white-water rafting adventures in British Columbia
British Columbia is indeed a fantastic destination for solo travelers who love to indulge in white-water rafting adventures. You would be surprised to know that the pristine beauty of British Columbia attracts multitudes of vacationers each year from around the world. Here, you can enjoy the wild side of Canada and take delight in the sight of ravishing waters while rafting against the waves. And once you are successfully done with your rafting adventure, you can explore the nearby attractions in British Columbia for more fun.
2. Relax & rejuvenate your senses at Eupepsia Wellness Resort
Situated in Virginia, the Eupepsia wellness resort has been established for the purpose of providing travelers with a rejuvenating experience and helping them reconnect with their own selves on a spiritual level. From personalized spa programs and beautiful relaxation spaces to delicious organic meals cooked to perfection, Eupepsia boasts everything a traveler could ask for. Whether you want to rejuvenate your inner self or enjoy the unparalleled beauty of nature, the Eupepsia wellness resort is a great place to visit.
3. Practice a little bit of mindfulness, meditation & yoga with Tracey Delfs
Travelers looking to find happiness and inner peace must head to Lake Louise and practice serenity-inducing activities with Tracey Delfs, who specializes in mindfulness, meditation, and yoga. Boasting picturesque settings and majestically beautiful mountains, Lake Louise is a true delight for solo travelers. Ensure that you pay a visit to Lake Louise to get away from the grind and achieve mindfulness in the wink of an eye.
4. Go on wonderful day walks via Tuscany's charming Mountains
Known for its diverse natural landscape and Renaissance art, Tuscany is central Italy's most beautiful region that is frequented by hundreds and thousands of tourists all around the year. Tuscany's mountainous region is perfect for walking holidays thanks to the scenic views it offers. You can expect to see several ravishing lakeside villages on your tour.
5. Try out spa & holistic healing in Luxurious Resort
Located in Cambodia, the luxurious Navutu Dreams Resort is a must-visit place for both solo vacationers and wellness enthusiasts who are fond of meditation and yoga. The nicest thing about this place is that it offers all the necessary amenities and boasts lush gardens that are full of stunning flowers and palm trees. If you seriously want to escape your fast-paced lifestyle for a while and immerse in deep thoughts, you cannot afford to miss out on this luxurious resort at any cost.
6. Hike the Mont Blanc Circuit and admire picturesque views
Mont Blanc is another superb destination that can cater to your unique hiking needs. But before you head out to the Mont Blanc Circuit, do not forget to bring sturdy walking boots with yourself. Here, you may choose to stay in any hotel of your choice and enjoy the breathtaking scenery that this place has to offer. Furthermore, you can simply move all the way up to the surrounding trails and admire picturesque views that will never fail to mesmerize you.
7. Climb the iconic Mount Kilimanjaro to get some adrenaline rush
Ideal for both amateur and experienced climbers, the world-famous Mount Kilimanjaro is situated in Tanzania and you can climb it via various routes. Just bear in mind that you will only be able to carry your backpack during the climb and hence, make sure that you pack all the essentials in advance.
Therefore, if you are looking to take part in thrilling climbing opportunities, trekking up the iconic Mount Kilimanjaro would be your best bet.
8. Visit Hilton Head Island for a healthy vacation
Hilton Head Island is the ultimate destination for solo travelers as it features several walking paths surrounded by ravishing moss-draped trees. With dozens of fitness programs and wellness services available, you are sure to have a purposeful vacay. Above all, the delicacies served at the restaurant there are cooked with natural ingredients and thus, they offer the highest nutritious value.
9. Partake in a variety of amazing water-based activities at Lake Austin Resort
Lake Austin Resort is a great destination where you can participate in a variety of water activities like kayaking, sculling, hydrobiking etc. This resort also comprises spaces in which you can meditate in silence and boost your mood. Moreover, you can also access the spa facilities and partake in as many as 20 fitness activities to stay in shape. What is noteworthy about Lake Austin Resort is that it is considered a foodie hotspot as the meals served here are locally sourced from the chef's garden. So, just spend the night in one of the lake-facing rooms of this resort and you will indubitably have a good night's sleep.
10. Go on a wellness retreat in the Blue Ridge Mountains for a mind-calming experience
Going on a wellness retreat in the Blue Ridge Mountains is the best thing you can do as a solo traveler to move forward in your wellness journey. All you have to do is set aside your obligations and reinvigorate your lifestyle by indulging in activities meant for person enrichment. Apart from all this, the Blue Ridge Mountains boast stunning scenery and this is what draws so many travel enthusiasts to this remarkable destination.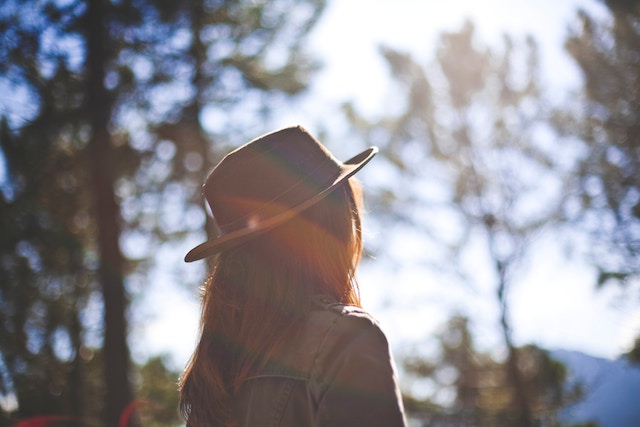 There is no doubt that traveling with your loved ones can be quite rewarding but the special benefits that come with solo travel cannot be ignored. Owing to the fast-changing travel interests worldwide, it can be seen that an increasing number of travelers in the US are now opting for solo holidays so that they can have some me-time. And with so many amazing destinations to visit, the modern solo traveler has plenty of choices. So, before you pack your bags and embark on your next solo adventure, see to it that you invest in a quality travel backpack along with other essentials to enjoy maximum convenience during your trip and ensure a memorable experience.