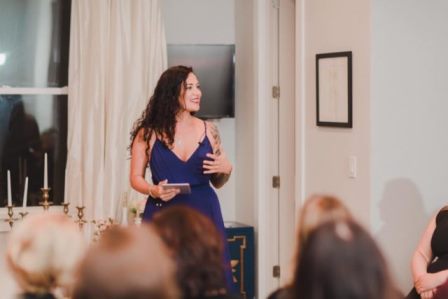 Embrace Your Narrative Workshop
A Transformative Workshop to Unleash Your Business Potential
There is remarkable power in telling our personal stories. When we share our narratives with our clients, partners, and potential customers, we have a powerful opportunity to enroll them — but when we share our stories in a fragmented and chaotic way, we loose an ample opportunity.
This workshop is designed for business owners + those dreaming of a business (travelers, bloggers, entrepreneurs, artists, yogis, healers , etc.) who are ready to share your personal story, amp up your content, and feel proud of your work.
During the Embrace Your Narrative workshop we will:
Discover your ability to communicate your narrative and leave others inspired

Participate in two activities designed to uncover your personal narratives
Devise a plan to focus, prioritize, and share your stories
Learn how to tell + market your story in a way that feels true + authentic to you
Discuss how to start building your brand through storytelling
Share your narrative and receive feedback
This workshop will be facilitated by Life & Marketing Coach Shannon Whaley and Pink Pangea Co-founder Jaclyn Mishal.
Cost: $29
Location: Online
To purchase the pre-recorded online Embrace Your Narrative Workshop, pay in the PayPal link below. Once you submit your payment, we will send you the workshop's link and password. You'll have access to view the workshop from anywhere in the world.
Embrace Your Narrative Online Workshop
About the facilitators
Shannon Whaley

Shannon Whaley has built her brand, Traveling Wild Woman, by baring all and sharing her journey to sobriety, travels around the world, and her life as an immigrant in the Cayman Islands.  She hopes that by sharing her story she will help others release the shame and guilt around their own stories.  As a coach, Shannon helps entrepreneurs build businesses that feel authentic + aligned with their soul's purpose.  
As a Pink Pangea Venice Writer's Retreat Alum, Shannon has gone on to be published in the Huffington Post Blog, elephant journal, Recovery Experts and numerous other online publications.  You can read more about her story and sign up for her FREE business guide at www.travelingwildwoman.com/dreambizguide
Jaclyn Mishal

Jaclyn Mishal is a co-founder of Pink Pangea.  Since 2006, Jaclyn has worked in the travel industry, connecting thousands of individuals with international academic, volunteer, and internship opportunities. In addition to her work devoted to making the "gap year" mainstream, Jaclyn played an integral role in developing international service learning programs.
An entrepreneur, writing teacher and an inspirational public speaker, Jaclyn's speciality is guiding people to express themselves fully. Her creative guided writing activities help even the most seasoned writers break out of their habits and expand their abilities.
Jaclyn has led writing and Fearless Living workshops internationally in partnership with colleges and companies, including Google, Barnard College, Mount Holyoke College, Smith College, Wellesley College, Wagner College, REI, Global Yoga Journeys and Hostelling International. Each year, Jaclyn leads writing retreats in Costa Rica, Italy, Switzerland, Spain, Greece and Israel. According to Jaclyn, writing enables us to access parts of ourselves that we may have trouble expressing otherwise.
Jaclyn holds a B.S. from Binghamton University. She is a certified yoga instructor, whose travels have taken her through the Middle East, Europe, North America Central America and Southeast Asia.
Jaclyn's maternal grandmother survived the Holocaust and her paternal grandmother fled Baghdad, Iraq. To them, Jaclyn dedicates her work to providing a space for women to share their stories.
Read testimonials from past workshop participants here. Questions? Email us at [email protected]