Journalism Retreat in Rhodes, Greece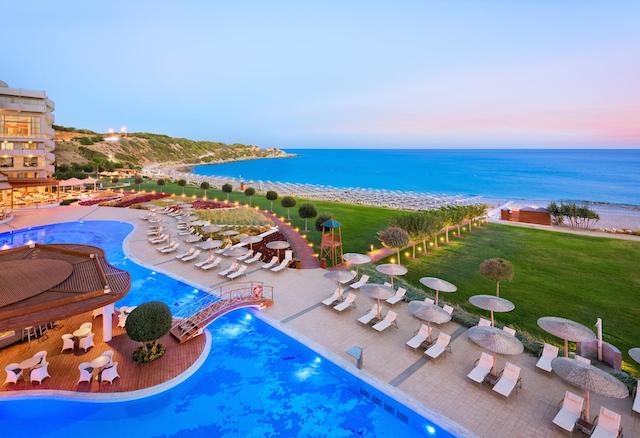 Fill out this form to receive more information.
Journalism Retreat in Rhodes, Greece with Award Winning Journalist Yardena Schwartz
6 Spots Available
Join us for an intensive 7-day writing retreat with award-winning freelance journalist and Emmy-nominated producer Yardena Schwartz, who has written for dozens of publications, including National Geographic, The New York Times, Newsweek, Time, Foreign Policy, Rolling Stone, USA Today, and more. Based in Tel Aviv, Yardena has successfully pitched and published stories from around the world, filing stories from New York, Nepal, Ukraine, Morocco, Germany, Israel, and elsewhere.
Whether you're a young journalist beginning your career, an aspiring writer who wants to break into journalism, or a veteran journalist navigating a transforming media landscape, this week will be a transformative one.
Throughout these seven days in blissful Rhodes, Yardena will guide us through the storytelling process from start to finish, with a special emphasis on pitching, sharing valuable lessons she has learned from over a decade of reporting around the world for some of the most prestigious publications.
Over the course of this retreat you will learn:
The difference between a topic and a story, and how to craft an angle

How to constantly find new story ideas

How to assemble the essential elements of a story: an alluring lede, a clear and concise nut graph, compelling facts and characters, strong quotes and a powerful kicker

How to craft narrative stories that are driven by heart and humanity

How to find sources and characters

Everything you need to know to successfully pitch a story

How to expand your network of publications
What's included in Pink Pangea's Journalism Retreat in Rhodes:
Accommodations at the

Elysium Rhodes Resort & Spa

Daily writing workshops

Detailed training on how to write a pitch letter and get your work published in diverse publications

Publication opportunities

Daily breakfast and dinner at the hotel

Day trips to Lindos and the beautiful Old City of Rhodes

Evening entertainment

Optional yoga and pilates classes (free of charge) and access to the hotel gym and pool
Yardena will facilitate interactive writing and pitching exercises and provide thorough feedback to help you strengthen your storytelling muscles, and enhance your ability to successfully pitch and publish your work.
Through daily workshops and writing exercises, you will come away from this week with a deeper understanding of the articles you wish to write, a closer connection to your own voice, and most of all, the motivation and confidence to pursue and achieve your dreams as a writer. You will spend this incredible week of writing and exploring the beautiful island of Rhodes with other like-minded female journalists.
| | | |
| --- | --- | --- |
| Room | Cost | Status |
| Single | $2,290 | 3 Spots Available |
SOLD OUT
Our retreats sell out fast so be sure to reserve your spot now! We close registration as soon as rooms sell out. Questions? Email us at [email protected]pinkpangea.com
Facilitator
Yardena Schwartz
Yardena Schwartz is an award-winning freelance journalist and Emmy-nominated producer based in Tel Aviv. Her work has appeared in National Geographic, The New York Times, Newsweek, Time, Rolling Stone, and elsewhere. Previously Yardena was a producer at NBC News in New York, where she worked for The Today Show, Nightly News, and Andrea Mitchell Reports. Yardena graduated with honors from Columbia Journalism School and is a recipient of the 2016 RNA award for magazine reporting.
In 2013 she earned an Emmy nomination for her work with NBC's Andrea Mitchell.
Journalism Retreat in Rhodes, Greece

What's Included
6-night accommodations at the Elysium Resort & Spa

An intimate group of 10-18 women from all over the world

Delicious Greek breakfast and dinner each day

Daily writing workshops, training and guidance from Yardena

Tours to the Old City of Rhodes and Lindos

Evening entertainment

Free yoga & pilates classes
Journalism Retreat in Rhodes, Greece
What's Not Included
Airfare to Greece
Lunches
Itinerary
Sample Schedule
After a delicious Greek breakfast, we'll get to work! Our daily writing workshops are made up of traditional writing activities, as well as innovative exercises designed to open up our imaginations. Our afternoons will be spent lounging by the crystal blue waves of the Mediterranean Sea. Our dinner will feature the best of Greek cuisine: fish, olives, feta cheese, and more. We'll also enjoy two day trips in Rhodes.
Reviews
I now have the motivation and confidence to write and publish, which previously seemed more like a faraway fantasy. I learned that reality is what you create and build for yourself, not something you should wait for or leave for chance to decide.
– Nechama Winston
I appreciated meeting every woman in my group. We were all so different, coming from very different backgrounds and places, but we all shared our love of writing and traveling in common.
– Elayne Sanchez
I finally remembered what I really need, and who I really am.
— Alex Pendleton
The trip did everything for me. Planned by the amazing team behind Pink Pangea, I can officially say the trip changed my life for the better. I not only practiced my writing in ways that expanded my passion and skill, but I also made friends of all different ages from all over the world that I now consider some of the greatest people I've ever met.
– Kathryn Cardin
I stumbled upon Pink Pangea's writing retreat. I only had to read through the page once to know that this was the right time and the right opportunity to finally take that risk. I signed up in a heartbeat, and I am so glad that I did.
– Julianne Kanter
The only reason I submitted an article and was accepted was because I went to the writing retreat and gained the confidence needed as a writer to think my writing was even good enough to submit to a major online publication.
— Shannon Whaley
Read more Pink Pangea retreat reviews here. | Journalism Retreat in Rhodes, Greece
Who Participates
Pink Pangea retreats bring together women of all ages who:
Want to gain new skills and tools that will improve their writing and publishing potential
Have an itch to write
Are ready to sharpen their unique voice
Want to receive feedback and gain confidence in their writing
Love to explore new places
Enjoy sharing their stories with other travelers
First timers to Rhodes, as well as frequent travelers
Pre-Trip
Pink Pangea's staff will provide all of the information and support that you need to make this experience exceptional.
Trip Resources
Before the retreat, Pink Pangea will send you details about arriving in and departing from Rhodes; as well as packing information.
Check out some great articles featured on Pink Pangea about traveling to Greece here:
7 Things to Know Before Traveling to Greece
Why I Trashed My Return Ticket from Greece
Journalism Retreat in Rhodes, Greece
FAQ
I'm new to writing workshops. Will I fit in?
Absolutely! The Pink Pangea community is encouraging, and all writers are welcome.
I'm a seasoned writer who has been published in a various media outlets. What will I get out of this retreat?
Yardena is an expert at working with writers and helping them achieve their writing goals. She will work with you one on one, teach you new tools and help you to expand your career as a journalist.
How old are the women who attend the retreat?
Women of all ages attend Pink Pangea retreats.