Have you been writing a book and feel ready to take it to the next step? The pitching process can be daunting — but it doesn't have to be. Join us as we speak with novelist Jaclyn Goldis and learn how to best pitch our book, and get it into the right hands.
Jaclyn is the author of When We Were Young (Hachette/Grand Central Publishing), in which three generations of women come together in a page-turning debut full of family secrets, heart-wrenching drama, and the promise of second chances. It has been named one of the twenty best forthcoming winter 2021 novels by Frolic Media, and New York Times bestselling author Kristin Harmel has called it "an illuminating contemporary novel celebrating love and family with three generations of women tested by secrets from the past."
During the workshop you'll learn:
How to effectively pitch and choose a literary agent (participants will have the opportunity to read the original pitch letter for When We Were Young)
What to expect when working with a publisher
What Jaclyn wishes she knew early on in her writing career
How to clarify your goals and strategy through two writing activities
At the end of the session there will be an opportunity to ask questions
If you're ready to take your writing to the next level and share your stories with the world, then this workshop is for you. Whether you've been published before, or are looking to pitch your first book, you won't want to miss this. Each participant will receive a recording of the workshop.
Time: 1.5 hours
Location: Online
Cost: $29 USD
Buy now:
Purchase the workshop in the link above and we will send you the workshop within 24 hours, to your PayPal email address. You'll have access to view the workshop from anywhere in the world. Questions? Email us at [email protected]

About the Facilitators
Jaclyn Goldis
Jaclyn has a BA in Economics from the University of Michigan-Ann Arbor and a JD from NYU School of Law. She practiced estate planning law at Sidley Austin LLP in Chicago for seven years before leaving her job to travel the world and write novels. After culling her possessions into only what would fit in a backpack, she traveled for over a year until settling in Tel Aviv, where she can often be found writing from cafés near the beach.
Her debut novel will be published by Hachette/Grand Central in February 2021. She teaches workshops worldwide on memoir and fiction writing and the ins and outs of the publishing industry. She is represented by Rachel Ekstrom Courage of Folio Literary Management.
Jaclyn Mishal
Jaclyn Mishal is a co-founder of Pink Pangea. Since 2006, Jaclyn has worked in the travel industry, connecting thousands of individuals with international academic, volunteer, and internship opportunities. In addition to her work devoted to making the "gap year" mainstream, Jaclyn played an integral role in developing international service learning programs.
An entrepreneur, writing teacher and an inspirational public speaker, Jaclyn's speciality is guiding people to express themselves fully. Her creative guided writing activities help even the most seasoned writers break out of their habits and expand their abilities.
Jaclyn has led writing and Fearless Living workshops internationally in partnership with colleges and companies, including Google, Barnard College, Mount Holyoke College, Smith College, Wellesley College, Wagner College, REI, Global Yoga Journeys and Hostelling International. Each year, Jaclyn leads writing retreats in Costa Rica, Italy, Switzerland, Spain, Greece and Israel. According to Jaclyn, writing enables us to access parts of ourselves that we may have trouble expressing otherwise.
Jaclyn holds a B.S. from Binghamton University. She is a certified yoga instructor, whose travels have taken her through the Middle East, Europe, North America Central America and Southeast Asia.
Jaclyn's maternal grandmother survived the Holocaust and her paternal grandmother fled Baghdad, Iraq. To them, Jaclyn dedicates her work to providing a space for women to share their stories.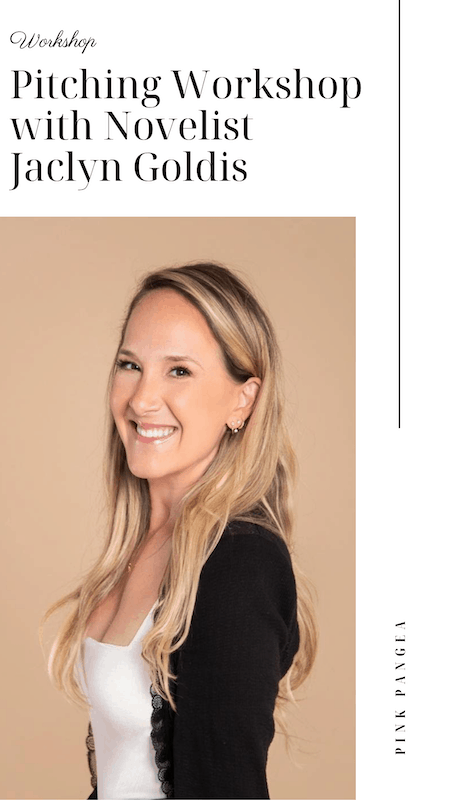 Questions? Email us at [email protected] To read reviews from Pink Pangea workshops, visit us here.