Find everything women travelers in Spain need to know about health, romance, women's rights and safety.
All the information below is provided by Pink Pangea community members based on their experiences abroad. Get involved and add your voice now!
Tips for Women Travelers in Spain
Feminine Hygienic Products

Prithika says: All supermarkets, pharmacies and corner stores have feminine hygienic products. You can buy sanitary towels and tampons in all locations. You can buy the menstrual cup in some pharmacies.
Joanna says: In Spain you can find all kinds of hygienic products. You can buy them in pharmacies or most of the supermarkets.
Birth Control
Prithika says: Condoms are available in most shops, supermarkets, and pharmacies as well as dispensing machines in bars, clubs and on the street outside pharmacies. They are also available from the hospital. The pill is available from the doctor or over the counter. Some pharmacies also provide the morning after pill.
Joanna says: You can buy birth control pills (or patches, rings) without a prescription in most of the pharmacies. You can also find condoms in most of the stores. You also won't have any problem finding other birth control products like creams, female condoms etc.
Gynecologists
Joanna says: You can go to any health care center, and depending on your health insurance program you'll get treatment for free or a small fee. The visits are the same as in most European countries.
Breastfeeding
Prithika says: Breastfeeding is acceptable in public although it's not common. The Spanish in general are not body shy.
Joanna says: It is acceptable to breastfeed in public. You can also find special places for it- check in the shopping malls.
Romance
Photo by Pixabay.
Dating Locals
Prithika says: Flirting is very common, but men are generally respectful. If you say no firmly your wishes are almost always respected. If you get a persistent admirer a firm 'con respecte por favor' (with respect please), will usually make the person leave you alone immediately.
Sex is often casual and doesn't indicate anything more. Both sides may or may not contact each other after a night together. It could develop into a relationship or not. Women and men treat each other as equals.
Joanna says: Spanish guys are very eager to date foreigners. You can have a lot of fun with them but remember that they are not taking you seriously. You will have to pay your bill and the guy will insist on you going home with him on the first date. Many times they misunderstand you being a nice person with a desire to sleep with them right away. Don't be too nice if you don't wish to give them more than a friendly kiss!

Tips for Women Travelers in Spain
Men

Prithika says: I think women should approach their travels with an open mind. You can form your own opinions.
Joanna says: Typical men are self-confident, don't speak good English and will give you a lot of compliments right away. They will stop you on the street and invite you to have a drink. Additionally, they will try to talk to you especially if you are blond. They can be a bit rude and very straightforward. Depending on where you come from, you may feel uncomfortable with their way of flirting. If he is single he is probably living with his parents. And if you stay at his place for a night, don't be surprised when his mom serves you breakfast in the morning!
LGBTQ Friendly
Prithika says: Barcelona is one of the best cities to be in if you are gay or lesbian.
Joanna says: Yes! Barcelona is one of the friendliest places in Europe. You can find a lot of lesbian/gay events. People are completely cool with it. It's a heaven for gays and lesbians.
Women's Place in Society
Women's Rights
Prithika says: Hotel staff, etc. never speak to the man in the group or the older person in the group by default. They will not simply assume that the man is in charge. Women go everywhere and do everything that men do, without harassment or comment.
Joanna says: It's Europe so of course women have all kind of rights but the family model is still a bit patriarchal. So men expect women to do all the house work and in many cases to stay at home after giving birth.

Local Women
Prithika says: Women are strong, loud, vocal, and not afraid to get involved. They don't back down and they don't let people push them around. They are also very passionate.
Standing in line for the toilet at a concert last night, a man came to the women's toilet and cut the line to the front. The girl behind him wouldn't let him close the toilet door. He pushed her away but she pulled him out of toilet and threw him out!
Joanna says: Again, it depends from where you come from. I come from Europe so I didn't really see any big cultural differences.

Perception of Foreign Women
Prithika says: Generally people react with curiosity and interest. Sometimes they may ask you about the situation of violence against women in India (or your country), sexual freedom and gender equality.
Joanna says: Catalan women are a bit closed and they don't really like to hang out with foreign girls (opposite of Catalan men). I lived 3 years in Barcelona but I didn't manage to make even one pure Catalan friend.
Safety
Transportation
Prithika says: All public transport is completely safe in Barcelona.
Joanna says: Barcelona or Spain in general is a safe place to travel. Lot of girls from all over the world travel alone. Girls can feel comfortable traveling across the country. It's just really helpful to know some Spanish. People there still don't speak English that well.
Shady Areas for Women
Prithika says: Barcelona is extremely safe, but use common sense. Avoid walking alone in quiet industrialised areas at night. If a street makes you hesitate, follow your instinct and don't walk down it.
I've only had issues with men following me three times and they were all Indian or Pakistani men. If this happens, turn around and shout at them loudly. There are people in houses in every street, and making a loud noise is the best way to keep yourself safe.
Joanna says: There is one area in Barcelona called El Raval that is maybe a bit less safe at night. Basically the center of the city is pretty safe but there are a lot of pickpockets so the biggest danger in that city is to get robbed.
Clothing
Prithika says: Wear whatever you want. Barcelona is a casual city and you generally don't have to dress up to go to bars and clubs.
The city is made for walking and you may end up walking a lot on a night out. Very high heels may not be practical for this.
Joanna says: Like in most of Europe, you can wear anything. People won't really care.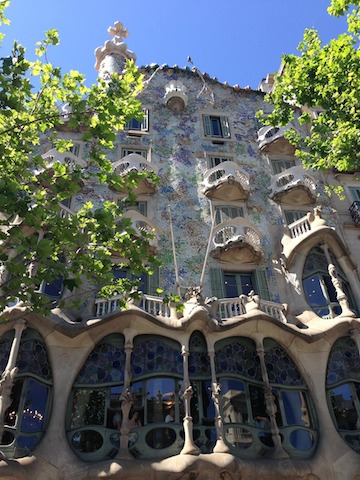 When you travel Spain, many often think of Barcelona and Madrid. However, often overlooked are some of the greatest cities and areas this country has to offer. Here are five of my favorite towns and cities I visited while on exchange in Spain, working in Spain, and most importantly, while being a tourist in Spain.
Tips for Women Travelers in Spain
1. Salamanca
I spent an entire month near Salamanca, working at a golf resort teaching Spanish children English. Salamanca wasn't necessarily a place I had even heard of until being stationed there for my summer job, but I was thrilled once I saw how beautiful and enchanting the city really is. Located only about 2 hours from Madrid, Salamanca is filled with gorgeous architecture such as the plaza mayor, a beautiful university and several beautiful cathedrals, so there's no doubt as to why this city is a World Heritage Site.
As a university town, Salamanca provides something for everyone, from the rich history to the great nightlife. Try to pay a visit to the University of Salamanca, which has existed since around 1134 and is the third oldest university in the world. Attempt to spot the frog on the façade of the university. It was an old superstition that if you were unable to spot the frog carving, you wouldn't graduate as a doctor.
2. Toledo
Many people that visit Madrid take a bus and go on a day trip to Toledo. It's located just under an hour from Madrid and can easily be seen in a day (but I would strongly recommend staying longer, if you can). Toledo's historic quarter was declared a UNESCO World Heritage Site and seems as if it is stuck in time. Tour companies like Viator offer day trips to Toledo for a reasonable price, however it's also easy to book your own bus ticket and do the trip on your own.
When visiting, don't miss the Santa Cruz Museum, which is the old Hospital de Santa Cruz and the Santa Fe Convent, which has since been converted to a museum that hosts major exhibitions. Have a coffee or tea at the Alcazar Fortress, which is a historical building located at the highest point in Toledo, giving you an excellent view that overlooks the city. Make sure to also check out the old cathedral, the Jewish quarter, and end your day trip watching the sun set over this beautiful city.
3. Segovia
Only located 1 hour from Madrid, Segovia is a popular day trip, but if you have the time, make sure to stay longer as [email protected] When you arrive in Segovia you won't want to leave. Segovia is another UNESCO World Heritage Site and is a medieval city with an indescribable charm that you won't find anywhere else in Spain. Add a visit to see the aqueduct to your must-do list while in Segovia, which was built in the first century, and don't miss the Cathedral, which will make you question if Disney was inspired by more then one landmark in this city.
4. Pyrenees Mountains
For some reason the Pyrenees Mountains, which form a border between Spain and France, are commonly forgotten about by tourists visiting Spain. Despite the fact that these mountains are the most beautiful you'll find in Europe, travelers often overlook them to visit the more popular neighboring destinations like Barcelona.
I had the chance to live in the Pyrenees for 6 weeks one summer in a ski resort called Boí Taüll. Throughout my time living and visiting the very small villages amongst the Pyrenees, I was absolutely in awe every single day I saw those mountains.
As we would drive up the windy roads in our bus and view the pure turquoise waters, it's pretty hard to not instantly fall in love with the scenery and tranquility here. Looking for some adventure sports? The Pyrenees are perfect for not only skiing in the winter but canoeing, kayaking, trekking and rafting.

5. Cantabria
I realize Cantabria is an entire province in Spain and not just a specific town or city, but to visit any area in Cantabria would truly be better then skipping it all together. Cantabria is another destination in Spain that I spent almost 2 months living in, and one that I fell head over heels for.
I was located in a tiny rural town in this province, but I had easy access to the neighbouring city of Torrelavega, an important hub for this province and a cute city filled with history, close to the beach and close to beautiful neighboring villages. Don't miss the cute church in the city centre, the great shopping, and the unique street with overarching trees, Avenida de Espana.
Another neighbouring beach town that I spent lots of my time in was Suances, a surfing hub, with gorgeous beaches, and a great place to just chill out and soak up the sun. Accessible by bus from Torrelavega or Santander, this town is known for its most popular surfing beach, Los Locos and the whole town is developed around the series of beaches grouped at Dichoso point, a natural harbor lined with breathtaking cliffs.
Don't go here with expectations of having a jam packed schedule as Suances is a small town, but if you're looking to spend some time on the Spanish beaches in the north of Spain, add Suances to your list.
Tips for Women Travelers in Spain
Related Reading
Do you have tips for women travelers in Spain? What were your impressions of the country? Email us at [email protected] for information about sharing your experience and advice with the Pink Pangea community. We can't wait to hear from you.
Tips for Women Travelers in Spain photo credits: Jessica Shen, Pixabay and Unsplash.