Madrid Travel Tips: Marisa's Take on Health, Safety and Romance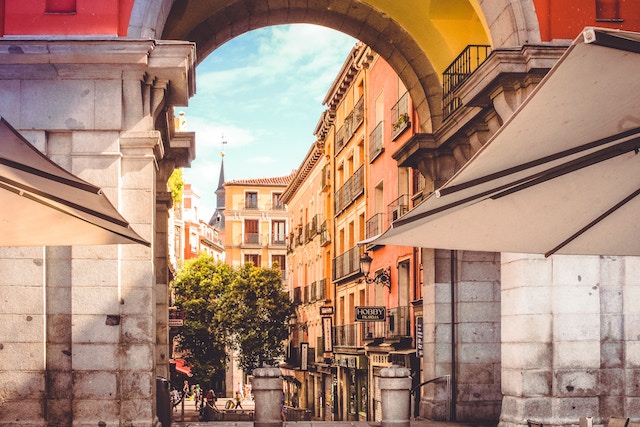 Traveling to Madrid? Marisa Mansueto presents her travel tips about health, romance, women's rights and safety:
Madrid Travel Tips: Travel Health Information
Feminine Hygienic Products in Madrid: What's available/what's legal/where to buy them?
Pads, tampons, and menstrual cups are available in grocery stores throughout the city. It's easy and convenient to find what you're looking for.
Birth Control in Madrid: What's available/what's legal/where to buy them?
Condoms can be found in grocery stores, pharmacies, and, for 1 euro, in metro station dispensers. Birth control pills can be purchased, without a prescription, in pharmacies.
Gynecologists in Madrid: Are there any that you recommend? How, if at all, is a visit different from at home?
Visits to gynecologists in Spain are quite similar to those in the United States. You discuss your reasons for the visit, get an external/internal exam if necessary, and discuss the next steps as far as medicine and/or future visits.
I've felt very comfortable with the gynecologists I've been to, although I wish they would have communicated step-by-step what they were doing during the exam. I've only been to Spanish-speaking gynecologists, but English-speaking ones are also present throughout Madrid.
Breastfeeding in Madrid: What are accepted places for women to breastfeed? Is it accepted to do so in public?
From what I've seen, breastfeeding is accepted in public. I have seen women breastfeeding on the metro, in parks, and in restaurants. I have never seen any animosity toward them, and no one seemed to mind or care that they were breastfeeding.
Madrid Travel Tips: Romance
Dating Locals in Madrid: What are the norms and traditions? What should women look out for?
Dating in Spain is quite similar to dating in English-speaking countries. Going out for drinks and tapas is common for first dates. I've gone out with some Spanish men who've paid for me, and others who haven't, and it's not seen as a negative if the men don't pay. Men are pretty forward, friendly and outgoing and tend to make the first move communicatively and physically.
Many men live with their family until they marry, so finding private spaces for alone time can be tricky. Women should be wary of men they meet at dance clubs, because many go to these clubs with the intent of finding foreign women. Most of them are harmless, but some may intend to take advantage of a solo woman traveler.
Types of Men in Madrid: Describe a few "typical" types of men.
Spanish Hipsters are similar to those in the US. They tend to wear tight pants and flannel shirts, and they frequent quirky bars and cafés. Gandia Shore men are similar to Jersey Shore men. They spend time in dance clubs and can be seen wearing tight, v-neck shirts. Pijo, or posh, men dress impeccably, are well-manicured, have good jobs, and spend time at more upscale bars and clubs.
Is Madrid LGBTQ-friendly?
Spain is interesting because it is rich in tradition and Catholicism, but welcomes change and a variety of lifestyles. I can't speak for small towns, but Spain's cities are LGBTQ-friendly. In Madrid, there is a neighborhood called Chueca that is known for being LGBTQ-friendly and has many gay bars and clubs. Within the city, one sees a variety of couples, all free to show affection to one another without major problems.
Madrid Travel Tips: Women's Place in Society
Women's Rights in Madrid: Do women have the same position in society as men? How can you tell?
Spain recognizes the independence and rights of women, and the Spanish women I've met and befriended are strong, outspoken, kind, and powerful. Not all women wear wedding rings, and it is typical in Hispanic culture for a child to take both his/her mother's and father's family names.
There remains, however, a machismo culture in Spain. Domestic abuse and controlling behavior toward women is a major social issue. Similar to the US, children are also taught gender roles from birth, although this is less prevalent in Spain than in the US.
Local Women in Madrid: What are some clear cultural differences between you and them?
I've noticed that local women seem more mature for their ages. At first I was too intimidated to befriend Spanish women because they appeared to be more serious and aloof. But once I actually made an effort to approach and talk to them, I realized how incredibly warm, easy to talk to, generous, and kind they are.
Women-Specific Environments in Madrid: Are there places where only women are or are not allowed?
In Spain, women are allowed anywhere and are not restricted from entering any establishment.
Perception of Foreign Women in Madrid: How do local men/women react to you when you say where you're from?
When I say I'm from the United States, I receive positive reactions. I've never felt uncomfortable disclosing my North American roots, although I've noticed that Spanish people have the perception that all young Americans live similarly to those in typical American movies.
They think we eat hamburgers and fries all the time, that we have insane movie-level parties, and that we work constantly and have little time for relaxation. The last one may be true, and more than once Spaniards have told me to relax, slow down, and enjoy the moment.
Madrid Travel Tips: Safety
Transportation in Madrid: Any that are safer/less safe for women to take?
I've been pleased with all forms of transportation in Spain. I've never had a problem traveling by train or plane throughout the country, and in Madrid, I usually stick to taking the metro or walking. The metro is extremely efficient, clean, and safe. It closes around 1:30 AM and even at that hour, I've never felt uncomfortable. Buses are also a good and safe option, although they tend to be slower because of the city traffic.
If all else fails, take a taxi. You can find one practically anywhere throughout Madrid, even at 5 AM. If you feel nervous or unsure about walking, there most likely will be a taxi close by. The taxi drivers I've ridden with have been friendly and professional.
Dangerous area/s in Madrid: Any specifically for women?
In cities, pickpocketing is a prevalent petty crime. It's important for any traveler to be aware of her surroundings and to keep her belongings close at all times.
In general, Spain is a safe country. I have walked home alone late at night numerous times and have rarely felt nervous. At night, be on the watch for anything/anyone that you deem suspicious, and try to keep close to couples or groups if you feel uncomfortable.
If there's a man you know and trust, ask him to walk you home. Male friends are very protective and will not hesitate to accompany you, even if you don't ask. It's also very easy to hop in a taxi at any time if you feel unsafe.
Clothing in Madrid: What to wear/what not to wear?
Spaniards tend to dress quite literally for the current season. If it's winter but the temperature is 50 degrees Fahrenheit, you will still see people in scarves and heavy winter coats. I've gotten numerous comments for even wearing a dress with tights during warm weather in March!
I've noticed distinct Spanish styles, from 90's grunge to sleek and polished. Wearing sweats or pajamas in public is not socially acceptable, and people tend to stare if one wears shorts without tights underneath. Fashionable scarves and boots are also very popular. My style has definitely improved since moving to Spain, and I'm more conscious of how I present myself because so many Spaniards are well-dressed.
Madrid Travel Tips: Marisa's Take on Health, Safety and Romance
Related Reading
Siesta and Fiesta: Acclimating to Spanish Culture
Do you have tips for women travelers in Spain? What were your impressions of the country? Email us at [email protected]pinkpangea.com for information about sharing your experience and advice with the Pink Pangea community. We can't wait to hear from you.
Madrid Travel Tips: Marisa's Take on Health, Safety and Romance photography credit: www.unsplash.com.