9 Puerto Rican Dishes You'll Definitely Want to Try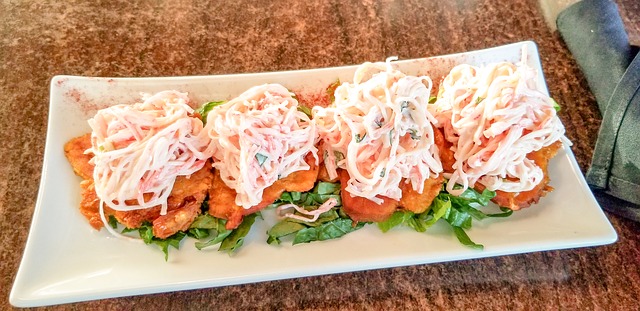 Being born in another country (or U.S. territory in this case) can have its many perks. I was born in Fajardo, Puerto Rico and lived there for eight years before my dad joined the military and got stationed in Panama City, Florida. Every year I have the chance to visit Puerto Rico at least once and my favorite part is, of course, the food!
Locals tend to refer to our delicious cuisine as Cocina Criolla. We thrive on a diet of plantains, tropical fruits, and a variety of seafood. I want to share some of my favorite Puerto Rican dishes with you! If you ever have the chance to make it out to Puerto Rico, don't miss out on these. If not, I have good news–many of these fruits and ingredients get imported to the U.S. and are very easy to find!
9 Puerto Rican Dishes You'll Definitely Want to Try
1. Quenepas
Quenepas are a tropical fruit that typically grow no bigger than a quarter. They can be either sweet or sour and have a hard skin that you'll have to bite open. Inside, you'll find a sweet (or sour) fruit with a jelly-like consistency. We usually eat it fresh by sucking on the seed.
One summer, when I was in the sixth grade, we took a family vacation to Puerto Rico and I knew I had to savor these delicacies. The problem was that they weren't in season so they would be a little tricky to find. One afternoon, I convinced my cousin to go outside with me, help me move the ladder from her pool to her neighbor's fence, climb over to the quenepa tree, and steal a branch or two. I'll do anything to get my hand on these. They're just that good!
2. Mofongo
My favorite! Mofongo is fried plantain dish that is usually served as a side dish. The plantains are mashed together with garlic, olive oil, and cracklings or bits of bacon. They can be made into simple balls or filled with ground beef, shrimp, or chicken.
What you'll need: 3 plantains or green bananas, 3 gloves or garlic, 1 tablespoon of olive oil
Directions: Peel the plantains and cut diagonally into round slices about 1 inch wide. Soak the slices in 4 cups of water with 1 tablespoon of salt for about 15 minutes. Drain. Place vegetable oil on the stove to cook. Add the slices and fry slowly at a moderated temperature for another 15 minutes or until cooked without actually roasting them. Remove and drain. In a mortar, grind the garlic and mix with olive oil. Remove. Grind in the same mortar, 3 slices of the fried plantains. Add crackling and continue to grind. Add garlic with oil and mix. Form balls and serve hot.
Dipping sauce: ½ of mayonnaise, ½ of ketchup, and vinegar to taste. Mix until well blended.
3. Bacalaito
I am a big fan of seafood, but it wasn't until about two years ago that I actually tried these and fell madly in love. Bacalaito is basically a cod pancake. It's thin and rounded like a pancake, but salty and crispy. You will usually find these around beaches with small restaurants.
What you'll need: ¼ pound of cod fillet (dry), ¾ cup of flour, ½ teaspoon of baking powder, 1/3 cup of water, 2 grains of pepper, 1 garlic clove, 2 leaves of cilantro, vegetable oil for frying
Directions: Cut the cod into pieces. Cover with water and place in a saucepan over high heat for 15 minutes. Remove and drain. Remove skin and bones and rinse. Squeeze and shred. In a bowl, combine the flour, salt, and baking powder. Slowly pour the water in and mix to form yeast. Grind in the mortar grains of pepper, garlic and coriander and mix with yeast. Add the shredded cod and mix well. Heat the vegetable oil in which the bacalaitos will be fried over high heat. Pour into the oil using a spoon. Fry all that fits into the container until golden. Makes 15 bacalaitos.
4. Arepas rellenas de pulpo
This is my favorite beach dish. Arepas are flaky and crispy fried dough. They can be eaten plain or cut in half and filled with chicken, ground beef, or seafood–I always go with the octopus-filled ones. My mom likes to make the plain ones as snacks. I'll be giving you the recipe for those and then it would be up to you if you want to fill them with something. I recommend that you try them plain first.
What you'll need: 8 ounces of salted water, ½ pound of all purpose flour, vegetable oil for frying
Directions: In a small bowl, mix the water and salt. Stir until salt has dissolved. Put the flour in a medium bowl. Pour a little bit of the water into the flour. Mix with your hands. You want to add water until you have dough that does not stick to your hands or breaks apart. If the dough gets too wet, add a little flour to dry it out. Pull off a small portion of the dough and form into discs about 1/2 inch thick. Pour vegetable oil into a pan and place over medium-high heat. Fry the arepas flipping occasionally until both sides are golden. Remove and place on a paper towel to drain excess oil.
5. Arroz con gandules
Arroz con gandules is rice with pigeon peas–a traditional holiday dish usually served with a side of pork, some type of pasta salad, or our version of mashed potatoes.
What you'll need: 2 cups of grain rice (rinsed), 4 to 5 cups of hot water, ½ cup of sofrito, 16 ounce can of pigeon peas, 2 tablespoons of capers and olives mixed together, 1 packet of sazon with achiote, 1 can of tomato sauce, 3 tablespoons of oil
Directions: In a medium size cauldron, add the oil, tomato sauce, capers, sofrito and sazon. Cook over medium heat for 4 minutes. Add all other ingredients and enough water to cover the rice 1 inch above the rice line. Stir in 1 teaspoon of salt. Keep adding and stirring to taste. Bring to a boil and cook over high heat until the water is absorbed. Stir gently from bottom to top and pile rice into a small mountain in the center of the cauldron–this will keep the rice from sticking to the sides of the cauldron. Cover and turn the heat down to low. Cook for 30 minutes or until the rice is tender. Stir.
6. Guayabas (Guavas)
Guavas are a small, rounded yellow fruit with a pink and seeded inside. They are a sweet fruit and many times you can find them at your local grocery store as a whole fruit, jelly, and even a paste.
I remember growing up in Puerto Rico and eating at least one of these a day. My grandpa used to have a guava tree in his backyard and he made sure to always pick one for me.
Nowadays, I usually buy the guava paste. When I do, I cut the paste into small squares and eat it with squares of Colby Jack cheese and Ritz Crackers–the perfect sweet and salty combo.
7. Tostones
Usually served as a side, tostones also make for a great snack. My mom makes these all the time, and although I'm sharing the recipe with you, know that Wal-Mart carries these frozen and ready for frying.
What you'll need: 1-3 plantains, salt, vegetable oil for frying
Directions: Peel plantains and cut into wheels about an inch wide. In a pan, heat vegetable oil over moderate heat. Fry plantains in batches until tender and golden. Transfer plantains to towel to drain. Remove oil and reserve for later. With your choice of metal can, saucepan, and metal spatula, flatten. Reheat oil over moderate heat and fry flatten plantains once again in batches for about 3 minutes or until golden. When finished, move on a paper towel to drain. Season with salt (or adobo as my mom would do it).
Dipping sauce: ½ of mayonnaise, ½ of ketchup, and vinegar to taste. Mix until well blended.
8. Tembleque
I know most people will visit the Caribbean during the summer months, but if you ever go for winter vacation you'll see tembleque everywhere–it's very popular during the holiday months. Tembleque is a coconut pudding-like dessert topped off with sprinkled cinnamon.
What you'll need: 7 ounces of cream of coconut, 2 ½ cups of milk, ½ cornstarch, 4 tablespoons of sugar, 1 teaspoon of vanilla
Directions: In a saucepan, combine milk, cream of coconut, corn starch, vanilla, and sugar. Stir constantly on medium high until mixture begins to boil and gets thick. Let boil a couple more minutes while stirring. Pour into individual dessert cups or mold. Let cool on tabletop, then refrigerate. Top with grounded cinnamon.
9. Pinchos
Pinchos are what Americans have come to know as a kebab. Pinchos are usually made from chicken or pork and are topped off with a piece of barbecued bread or tostones. The meat is seasoned, skewered, and grilled and then eaten straight off the skewer. If you ever visit Puerto Rico, you'll see a lot of people selling these just off the side of the road. They're also very popular for a day on the beach or a family get-together.
I hope you enjoyed these recipes and learning a little about my culture! What are your favorite Puerto Rican dishes?
9 Puerto Rican Dishes You'll Definitely Want to Try
Related Reading
Off the Beaten Path in Puerto Rico
Have you traveled to Puerto Rico? How was your trip? Email us at [email protected] for information about sharing your experience and advice with the Pink Pangea community. We can't wait to hear from you.
9 Puerto Rican Dishes You'll Definitely Want to Try photo credits: pixabay.