Fill out this form to receive more information.
Description
Rhodes, Greece is a relaxing and beautiful destination filled with olive groves, gorgeous beaches and incredible views. Here, we will spend one week getting up close and personal with our writing and exploring the beautiful Island. Through transformative writing workshops, we'll strengthen our creativity, express what we really want to say, and connect with a community of international women writers.
During Pink Pangea's Writer's Retreat in Rhodes we will:
Take part in guided exercises to elicit each writer's unique voice
Participate in interactive writing activities to get our creative juices flowing
Indulge in writing assignments to put the new tools into practice
Enjoy ample opportunities to share your writing and receive feedback
What's included in Pink Pangea's Writer's Retreat in Rhodes:

Accommodations at the Elysium Rhodes Resort & Spa
Daily writing workshops
Detailed training on how to write a pitch letter and get your work published in diverse publications
Publication opportunities
Breakfast and dinner each day
Day trips to Lindos and the beautiful Old City of Rhodes
Evening entertainment
Optional yoga and pilates classes (free of charge)
Dates: August 31 – September 6, 2020
Location: Elysium Rhodes Resort & Spa
Cost: $1790 (single room)
Registration is closed.
Our retreats in Greece sell out fast, so be sure to reserve your spot now. We close registration as soon as rooms sell out. Questions? Email us at [email protected]pinkpangea.com.
What's Included
6-night accommodations at the Elysium Resort & Spa
An intimate group of 10-18 women from all over the world
Delicious Greek breakfast and dinner each day
Daily writing workshops
Tours to the Old City of Rhodes and Lindos
Evening entertainment
Optional Yoga & Pilates classes
Writers Retreat in Rhodes, Greece
What's Not Included
Airfare to Greece
Transportation tickets within Rhodes
Lunches
Itinerary
Sample Schedule
After a delicious Greek breakfast, we'll get to work! Our daily writing workshops are made up of traditional writing activities, as well as innovative exercises designed to open up our imaginations. Our afternoons will be spent lounging by the crystal blue waves of the Mediterranean Sea. Our dinner will feature the best of Greek cuisine: olives, feta cheese, and more.
Reviews
Under Jaclyn's guidance, I found new direction for my writing and tackled topics that I haven't been able to put down on paper until now. I shared my work and became part of a community of writers, whose feedback was invaluable to me. I dove into my fears and created new dreams for what I might do with my writing in the future. I cannot recommend this course highly enough. I'm already sad that it's over.

– Katie Kindle

I now have the motivation and confidence to write and publish, which previously seemed more like a faraway fantasy. I learned that reality is what you create and build for yourself, not something you should wait for or leave for chance to decide.

– Nechama Winston

I appreciated meeting every woman in my group. We were all so different, coming from very different backgrounds and places, but we all shared our love of writing and traveling in common.

– Elayne Sanchez

I came out of it a different person than I went in…[Jaclyn] made us linger in our discomfort long enough to compel us to make a change. In fact, she had to relinquish control in order for it to be a catalyst. That's a mark of a great teacher.

– Stephen Elliot

I finally remembered what I really need, and who I really am.

— Alex Pendleton

The trip did everything for me. Planned by the amazing team behind Pink Pangea, I can officially say the trip changed my life for the better. I not only practiced my writing in ways that expanded my passion and skill, but I also made friends of all different ages from all over the world that I now consider some of the greatest people I've ever met.

– Kathryn Cardin

I stumbled upon Pink Pangea's writing retreat. I only had to read through the page once to know that this was the right time and the right opportunity to finally take that risk. I signed up in a heartbeat, and I am so glad that I did.

– Julianne Kanter

The only reason I submitted an article and was accepted was because I went to the writing retreat and gained the confidence needed as a writer to think my writing was even good enough to submit to a major online publication.

— Shannon Whaley
Writer's Retreat in Rhodes, Greece
Who Participates
Pink Pangea retreats bring together women of all ages who:
Want to gain new skills and tools that will improve their writing and publishing potential
Have an itch to write
Are ready to sharpen their unique voice
Want to receive feedback and gain confidence in their writing
Love to explore new places
Enjoy sharing their stories with other travelers
First timers to Rhodes, as well as frequent travelers
Facilitator
Jaclyn Mishal
Jaclyn Mishal is a co-founder of Pink Pangea. Since 2006, Jaclyn has worked in the travel industry, connecting thousands of individuals with international academic, volunteer, and internship opportunities. In addition to her work devoted to making the "gap year" mainstream, Jaclyn played an integral role in developing international service learning programs.
An entrepreneur, writing teacher and an inspirational public speaker, Jaclyn's speciality is guiding people to express themselves fully. Her creative guided writing activities help even the most seasoned writers break out of their habits and expand their abilities. Jaclyn has led writing and Fearless Living workshops internationally in partnership with colleges and companies, including Google, Barnard College, Mount Holyoke College, Smith College, Wellesley College, Wagner College, REI, Global Yoga Journeys and Hostelling International. According to Jaclyn, writing enables us to access parts of ourselves that we may have trouble expressing otherwise.
Jaclyn is a certified yoga instructor, whose travels have taken her through the Middle East, Europe, North America and Central America. She holds a B.S. from Binghamton University.
Jaclyn's maternal grandmother survived the Holocaust and her paternal grandmother fled Baghdad, Iraq. To them, Jaclyn dedicates her work to providing a space for women to share their stories.
Writer's Retreat in Rhodes, Greece
Pre-Trip
Pink Pangea's staff will provide all of the information and support that you need to make this experience exceptional.
Trip Resources
Before the retreat, Pink Pangea will send you details about arriving in and departing from Rhodes; as well as packing information.
Check out some great articles featured on Pink Pangea about traveling to Greece here:
7 Things to Know Before Traveling to Greece
Why I Trashed My Return Ticket from Greece
Writer's Retreat in Rhodes, Greece
FAQ
I'm new to writing workshops. Will I fit in?
Absolutely! Jaclyn's unique writing prompts and exercises benefit both new and experienced writers. The Pink Pangea community is encouraging, and all writers are welcome.
I'm a seasoned writer who has been published in a various media outlets. What will I get out of this retreat?
Jaclyn's speciality is guiding people to express themselves fully. Her creative guided writing activities help even the most seasoned writers break out of their habits and expand their abilities.
How old are the women who attend the retreat?
Women of all ages attend Pink Pangea retreats.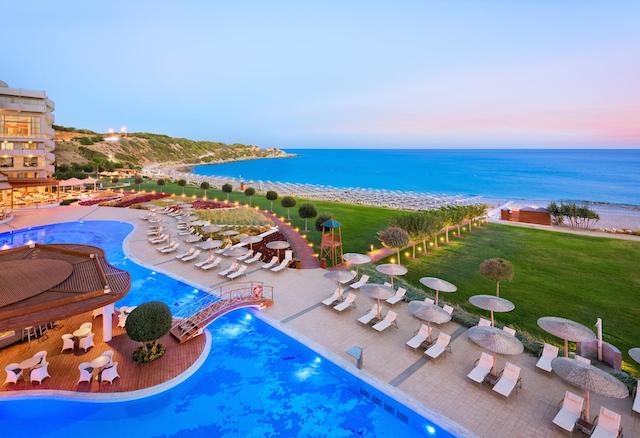 "I appreciated meeting every woman in my group. We were all so different, coming from very different backgrounds and places, but we all shared our love of writing and traveling in common." – Elayne Sanchez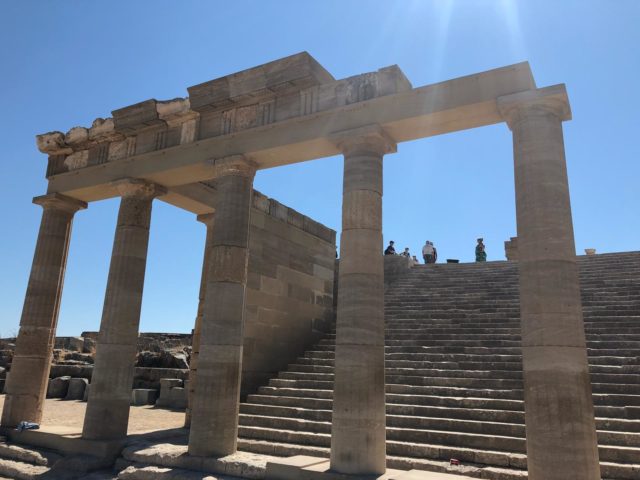 "I finally remembered what I really need, and who I really am." — Alex Pendleton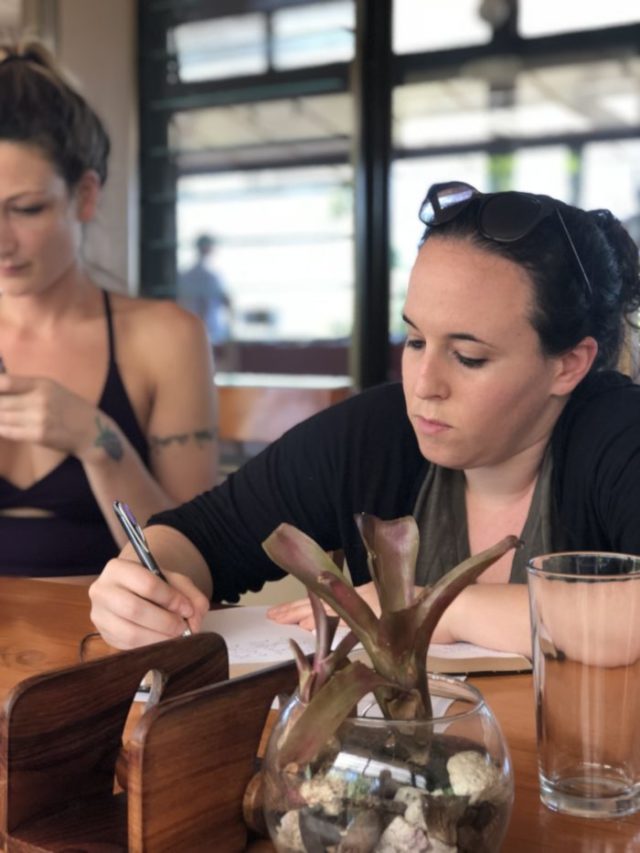 "The women I met on the retreat were so talented and inspiring – I love keeping in touch with them and seeing what they're pursuing after our shared retreat experiences. I recommend the Pink Pangea travel writing retreat to any woman of any age who has a penchant for exploration and a willingness to try something new!"
-Morgan Fletcher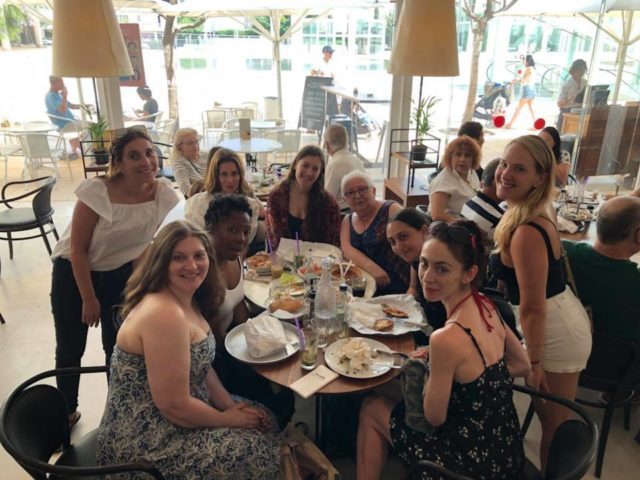 "If I can say anything about our writing course leader Jaclyn, she is an amazing facilitator. Not only did she encourage every single person from day one, but she discovered how to nurture our creativity and confidence."
— Liz Sundin (Read Liz's full review here)