Find everything women travelers in France need to know about health, safety, romance, and women's rights.
All the information below is provided by Pink Pangea community members based on their experiences abroad. Get involved and add your voice now!
Health
Feminine Hygienic Products
Nicole says: Tampons and pads are easily available at small and large grocery stores and pharmacies.
Felicity says: Feminine hygienic products are the same type and variety you would find in the US. I have found them at even small grocery stores. Smaller versions of the large chain stores are likely to carry an assortment of tampons, pads, and panty-liners. Pharmacies also sometimes carry them, but you usually have to ask at the counter.

Birth Control
Nicole says: Most women I know take the pill, which is available with a prescription from a doctor. It is very cheap (from 7 to 35 euros for a pack of 3 months), and you get reimbursed if you are part of the health insurance system. Condoms are only available at pharmacies, but there also street dispensers for when they are closed.
Felicity says: Birth control is similar to the US. You need a prescription from your doctor, which is pretty easy to get. But US prescriptions are unlikely to be filled with an equivalent in France. The formulations here tend to the "low dose" versions in the US, and may not have the same hormones in the same doses as you are used to. Also, for the non-pill forms of birth controls – there are condom dispensers outside most pharmacies, in metro stations, and on campuses. For the low, low price of 2 euro, you can get a packet of 3 condoms!

Gynecologists
Nicole says: I've found that most doctors have a more minimalist approach than in the U.S., and may also seem less warm and comforting but simply get straight to business. They are still very competent.
Felicity says: I don't have any recommendations for this one yet, as I'm still trying to find one myself! I've been talking to the American hospital and they've been pretty helpful getting all my insurance paperwork filled out. From what they tell me, it's pretty well the same as visiting the gynecologist at home.
Breastfeeding
Felicity says: Breast feeding is not something I have seen a lot of in central Paris. I saw one woman breastfeeding and she'd thrown a shawl over herself and the baby. No one around her seemed to mind.
Romance

Dating Locals

Nicole says: It used to be that the American style of dating was not practiced here, but that seems to be changing a bit. Usually people don't meet strangers in bars though, but rather through friends at parties or out. A date can involve getting a drink or meal or going to a cultural experience like an exhibit.
Felicity says: The locals seem to date in groups. It's more similar to English dating practices than US. Women should not worry if he invites his friends along. They will likely leave you to your date. However, if he is taking you out on dates by yourself make sure he's not the kind that is so controlling that he can't deal with you talking to other people.
It has happened to more than one of my friends in their Tinder adventures. Tinder is less of a hook-up app here, and more of a legit dating app.
Men

Nicole says: Men who have gone to one of the business "grandes écoles" or studied private practice type of law, generally very well dressed and metrosexual and pay attention to dress and appearance; more hipster, artsy and intellectual types; and more "roots" types who are into sustainable development, etc. Paris is a big city, though, and I think you can probably find a "type" for almost everyone.
Felicity says: There are a lot of foreign men in central Paris because of all the tourist attractions. So, finding a "typical" man here is a strange experience. I suppose the most typical men you meet in central Paris are probably tourists who came here on their own – my experience with these have been that there are some quite friendly, and others really not depending on if you are their "type" or not.
The other men in this area tend to be professionals working in the embassies, banks, or shops/cafes. These guys are generally polite, but may not be particularly interested in hearing about your tourist adventures.

LGBTQ-friendly?
Nicole says: Yes. The Marais is known for being a good area.
Felicity says: For the most part. There are some parts of town that are less friendly, but there are certainly LGBTQ-friendly areas, bars, shops, and people. Try the Marais area.
Women's Rights
Women's Rights
Nicole says: Women have the same rights as men, are seeking higher education at high rates, and are active in the workforce. However, in certain contexts men can be much more openly sexist than in the U.S., for example.
Felicity says: Because the French have such a concern about the fertility rates of women, women hold quite a high position in some ways. In the law, equality is quite real. In practice, on the other hand…. be prepared for some old-fashioned sexism, staring, and unrealistic expectations about your femininity.
Local Women
Nicole says: French women are more likely to dress in a feminine style, wearing skirts, dresses and heels on a regular basis, even in the winter. They are generally very conscious of their surroundings, and for example will only discuss certain subjects in public, in front of men, and some subjects only with very close friends.
Felicity says: Some clear cultural differences between the women here and myself are expectations in dress and personal grooming. I have always been the no-makeup, hair in riotous curls, jeans and sneakers wearing kind of girl. Here I get a bit of a look for dressing "like a boy."
Women who wear jeans are wearing fashionable cuts and styles of jeans paired with some kind of heels and an equally fashionable top. Somehow, the hair and makeup also manage to be nearly perfect too. It is impressive. Every now and then, you'll see women not dressed this way and they begin to look strange as well.

Tips for Women Travelers in France
Women-Specific Environments
Nicole says: None.
Felicity says: Thanks to the way French law is written there are very few places women are not allowed to go. Similarly there are very few women-only places. I have found that most spaces just incidentally become female only spaces, such as my university. There are males enrolled here, they are just extremely rare.
The one gender-segregated thing which comes to mind for me is the Turkish baths at the Paris Mosque.
Perception of American Women
Nicole says: Perception of American women varies based on the person's experience, though overall they are viewed as being more easygoing and casual than French women. Sometimes this is a good thing with no connotations, but it is good to be careful because some French men take this perception to mean that American women are more 'easy' and may try to take advantage of that.
Felicity says: Locals react differently to the revelation of my origins depending on how much French I have attempted to speak. Most want to discuss politics and foreign policy with me when I say I'm from the US. When I say I'm from Canada, I get told I don't have a very Canadian accent on my French, and then we talk about French politics. This is only, of course, if they have never been to the place I claim as my hometown.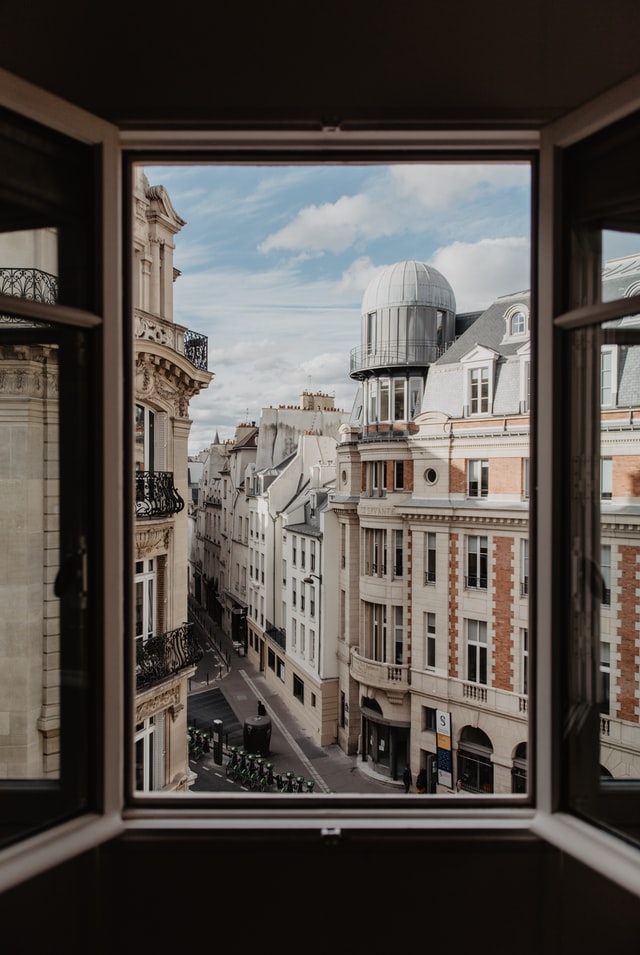 Safety
Transportation
Nicole says: Metro, velib and walking are safe during the day. There are general safety concerns such as with biking in a large city with many cars.
Metros are generally safe, even late in the evening because there are usually people out. There are some areas to avoid, such as northeast Paris late at night. If you have to transfer lines at night, try to transfer at a large station such as Chatelet, Gare de Lyon, or other stops with multiple lines where there is more of a chance of more people being around. A couple of my friends have mentioned being in almost empty stations and having a small group of men attempt to follow them, and have recommended always going to busy stops.
Felicity says: Do NOT take the night bus (the noctilien). If you have missed the last metro to get home, get an uber or a cab. Ubers have been pretty good to my friends (mostly ladies) so far. I have been experimenting with the bike share system (Velib) which still operates even if you have had a few drinks. Just bike slowly. Cars do give you plenty of room and you're moving faster than most drunken, grabby fellows.
Shady Areas for Women
Nicole says: Northeast Paris at times, certain lines of the RER – north on RER B at night, RER A going east on the Torcy branch (Boissy St Leger branch is okay). Try to stay with one or a couple of friends if you are going to be out late in areas further away from the center.
Felicity says: None particularly for women, in my experience. If an area is unsafe, it is usually unsafe for everyone.
Clothing
Nicole says: Nothing in particular is unacceptable. A friend who grew up here mentioned that she wears pants to avoid being hassled, because men do make comments even if they are not threatening. Choice of clothing is more a question of whether you feel comfortable with attention when you are out rather than safety.
Felicity says: What not to wear: Big jewelry and expensive clothes/handbags can make you a target for pickpockets, but it is the same in any large city.
What to wear: Your "normal" American clothes are fine. Wear comfortable shoes–I cannot stress this enough. Stairs and lots of walking await you in Paris.
Want to fit in better with the Parisian women? Find a pair of heels that you can walk a mile in, and then carry a pair of flats in your purse. The styles constantly change here, so check out instagram and some local publications to get an idea of what the women are wearing. You can always go shopping here!
Tips for Women Travelers in France:Top 10 Best Free Things to Do in Paris by Kris Härsing,
Paris is one of the most expensive cities in the world. Numerous iconic spots benefit from the huge number of tourists that flock to the city each year by increasing their rates without improving the quality of experience. However, budget-conscious travelers can find happiness. The city is like an open-air museum so the wisest thing to bring along is a comfortable pair of shoes. Walking around is the perfect way to discover the City of Light. Our magnificent Paris locals Magali and Jade have shared their list of the top 10 free things to do here.
Whatever the hour of the day, it's worth taking the time to discover the Seine. This river is like the soul of the city – seeing it is an absolute must. The color of the water changes throughout the day. The best time to explore it is at sunrise, sunset or at night. The 37 bridges that cross it are great spots to take pictures. Bir-Hakeim bridge and Pont des Arts bridge are amongst the most famous. You'll be surprised by the number of Parisians living on boats!
When spring arrives, it's time for Parisians to begin picnicking at Champs de Mars. It's ideally located at the bottom of the Eiffel Tower with stunning views. People get very excited at sunset as they wait for the tower to begin sparkling. Helpful tip: it glitters every night on the hour until 1 am. Even though locals are used to seeing this spectacle, they still say "wow" and take pictures with their cell phones.
3. Escape the city hustle & head to Promenade Plantée
This charming elevated park is truly unique. You might recall it from the romantic American movie Before Sunset. The 4.7 kilometre pathway is a former railway line that was abandoned and subsequently renovated in the 1980s. The elevation gives you the chance to enjoy great views over the neighborhoods and to get up close and personal with Parisian buildings. It's the perfect place to escape the traffic and relax.
Many locals flock to this park (it's actually the garden of the French senate) during the warmer months. It's a quiet and relaxing place spanning 23 hectares. There are many chairs around the central pool – a popular spot loved by locals and visitors alike. If you plan on coming here on a weekend, remember to come early to find a chair. Once you're done reading, don't forget to visit the 300-year-old orange trees.
Montmartre is a neighborhood known for the Sacré Coeur Basilica, Place du Tertre where you can have your portrait drawn by artists, and for the stunning views from the top of the hill. However, the best and least common thing to do is to explore the surrounding narrow winding streets that are far less frequented. Many Parisians would like to live in this area as it's like living in a village.
6. Become a Parisian history expert at Carnavalet Museum
This museum is ideally located in the Marais neighborhood. The permanent collections are free, which is quite rare for French museums. Those who are passionate about history will be happy to discover the history of the city from Neolithic through to modern times. If you're particularly interested in the French Revolution, this is the place for you. Some rooms feature objects that belonged to the French royal family and to revolutionaries. On top of all this, the museum is housed in a beautiful historic building.
7. Step back into the Middle Ages in Le Marais
Le Marais is a neighborhood in the city centre known for its Jewish and LGBT communities. It's a great place to wander on the weekends. As it was spared from Baron Haussman's great 19th century renovations, you can get a sense of what Paris might have looked like in the Middle Ages. Just stroll along the narrow streets and keep your eye out for old stones in the walls of buildings – these are the witnesses of the past.
8. Admire the recently renovated Saint-Sulpice Church
While Notre Dame Cathedral is world famous, there are other gorgeous churches in Paris that deserve to be seen and Saint-Sulpice is one of them. Located in the fancy Saint-Germain neighborhood, this architecturally unique church stands on the beautiful Saint-Sulpice square. It became famous through the mystery-detective novel The Da Vinci Code.
Even though most of the information given in the book is incorrect, its success brought so many tourists that the church began clarifying certain facts suggested in the story. These days there are far fewer tourists making this magnificent renovated edifice all the more enjoyable.
9. Enjoy a 360° view of the city from Printemps Rooftop Terrace
On top of the grand Printemps shopping centre, there's a secret café offering amazing views that you won't get anywhere else in Paris. To get here, take the elevator to the top floor and then take the escalator to the final level. You'll be rewarded with one of the most special views you'll ever see – 360° from Montmartre to the Eiffel Tower, and everything in between. There's plenty of room to stroll around and soak up the breathtaking beauty that Paris is so famous for.
10. Rue Denoyez & Parc de Belleville
Rue Denoyez is an urban art lover's dream with so much street art packed into one little street. Take a wander up and down, and then explore the rest of the Belleville neighborhood which is much more urban and gritty than other parts of Paris. If you wander up the hill you'll find Parc de Belleville (also free). At an elevation of 108 metres, it's the highest park in the capital. With panoramic views across Paris, it's another great place for taking in this beautiful city.
Tips for Women Travelers in France: 6 Lesser-Known French Gems by Ashley Orr
Paris is one of those glorious cities that you can explore and explore and still feel as if you've only scratched the surface. While this can be magical for those of us who are blessed with more than just a few days in the city, it can be overwhelming when there's limited time for sightseeing.
To fit all the Paris "must-sees" into a short trip, some remarkable attractions often get forgotten in favor of more iconic, overly-touristy hotspots. Don't get me wrong: there is no sin in visiting the Louvre or climbing the Eiffel Tower.
But, if I've learned anything in the few months I've called this city home, it's that Paris is vastly complex, dynamic, and riddled with hidden treasures. Don't be afraid to stray a bit further from the path and sprinkle a few of these—my favorite "lesser-known Paris gems"—into your travel itinerary. There is so much more to be discovered than the lines and Eiffel Tower keychains!
1. Parc des Buttes-Chaumont & the Butte Bergeyre Micro-Village
As a small-town girl living in the city for the first time, I've come to appreciate the many green spaces scattered throughout Paris. While the popular Luxembourg Gardens are lovely, I find that when I'm in need of a quiet haven, I'm drawn to the peaceful Buttes-Chaumont Park.
Located on a hill in northeastern Paris, the park is crisscrossed by walking paths and dotted with trees. A lake rests at the park's center, within which is an island accessible by an impressive suspension bridge. In addition to a hidden grotto and several waterfalls, the park's pièce de résistance is the romantic Temple Sibylle, which sits at the island's rocky summit.
Just west of the park, a steep staircase guides you into the micro-village of Butte Bergeyre. Narrow, cobblestone streets wind through a menagerie of buildings in differing architectural styles, all leading to the top of the hill. Here, you can admire the community garden and gaze out over Montmartre and the magnificent Sacré-Cœur Basilica.
2. Musée Rodin
Less frequented than the famous Musée du Louvre, the Musée Rodin is a highlight for sculpture lovers like myself. The museum is housed in the elegant Hôtel Biron, which served as the home and studio of sculptor Auguste Rodin in the early 20th century.
Since his death in 1917, Rodin's most celebrated works–including The Kissand The Thinker–have been on display here. Not only is Rodin's work astoundingly beautiful, but the hotel and sculpture gardens are stunning and worth seeing in their own right.
3. Île aux Cygnes
Much to the surprise of many, there are three islands within the River Seine: the well-known Île de la Cité and Île Saint-Louis, and the tiny, lesser-known Île aux Cygnes, or Island of the Swans. This island is man-made and uninhabited, just wide enough for a tree-lined path. No cars, no crowds; it's no wonder the locals like to walk and jog here!
Both ends of the island offer intimate views of the Seine and its banks, the most notable being the north end and its unique perspective of the nearby Eiffel Tower. Also worth checking out is the quarter-scale replica of NYC's Statue of Liberty on the south end.
4. Montparnasse Tower & Observation deck
There is no denying it: the Montparnasse Tower is a massive eyesore. The modern, 690-foot tall skyscraper was built in the early 1970s, towering over surrounding buildings and looking dramatically out of place. But, it does have one redeeming quality.
Its 59th floor observation deck offers the most spectacular 360-degree views of the city—even better, I'd argue, than that at the summit of the Eiffel Tower because, well, you can actually see the Eiffel Tower! It's a little pricey, but go on a clear day and the 25+ mile viewing radius makes it all worth it. Or, visit at twilight when Paris is just beginning to transform into a glistening City of Light. Breathtaking!
5. L'église Saint-Eustache
With so many beautiful churches in Paris it's nearly impossible to choose a favorite. Of course, the Notre Dame is iconic and is worth waiting in line to see (and you will wait in line!) but there are so many others, like the underappreciated Church of St. Eustache, that should be on your list.
A masterpiece of late Gothic architecture, Saint-Eustache is hidden in plain sight within Paris' Les Halles district. It's comprised of incredible vaulted ceilings, gorgeous paintings and stained glass, and the largest pipe organ in France. Attend a mass or simply tour the sanctuary and you'll feel as if you've been transported back into the 16th century.
6. Rue des Martyrs & the SoPi Neighborhood
Paris' 9th arrondissement rarely gets much attention. With Montmartre to the north and the more tourist-friendly districts hugging the river to the south, travelers often miss out on the culinary delights found in the up-and-coming South Pigalle neighborhood.
Over the last decade, stylish cocktail bars and bistros have replaced the sex shops and skanky cabarets that once riddled South Pigalle (or, SoPi as it's now called), promoting the area to one of Paris' premiere hipster hang-outs. The bustling, shop-lined rue des Martyrs is at its center, a foodie's dreamland and lifeblood of the rest of the neighborhood. Bakeries and chocolatiers, tea salons and coffeehouses, fish shops, cheese shops, and wine merchants all make for a truly authentic gastronomic experience.