A Would-be Local's Guide to Paris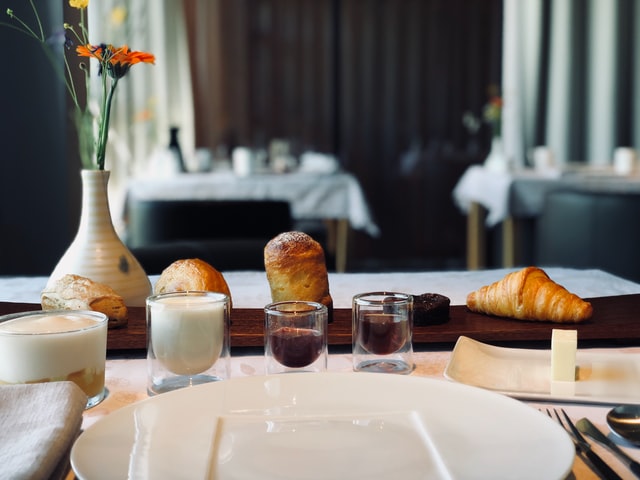 Despite my most determined efforts, I am by no means a Parisian. I am one of the innumerable expats who lose themselves wandering the streets of Paris, hoping to eventually find a woman wearing red lipstick and an expertly-wrapped scarf in my shop-window reflection. In the meantime, I spend my days restlessly seeking pockets of Paris beloved by actual French people—cafés, boutiques, and restaurants–that glow in a fog of authenticity (or maybe that's just cigarette smoke?)
Here are a few places that have helped me to live like a local, and to meet them, too. I hope they help you indulge your inner Parisienne. Bon voyage!

A Would-be Local's Guide to Paris
Where to Eat
Tip: Keep a baguette in your bag to hold you over while sightseeing until you can prendre une pause (take a break) somewhere authentic—your wallet and tastebuds will thank you for avoiding the tourist traps. Bon appétit!
Breizh Café
Tucked away in the heart of Le Marais, Breizh Café arguably churns out the best crêpes in Paris. Bypass the abundant street stands and treat yourself to a mouth-watering combination of gourmet galettes (savory crêpes) and artisanal ciders. Call ahead for weekend brunch, or order à emporter (to go).
Freddy's
Despite all attempts to remain a secret (no reservations, telephone number, or website), Freddy's swells to capacity early in the evening. Progressive Parisian cuisine lures locals to this convivial wine and tapas bar; get there early to snag a spot along the bar, tucked into a back booth, or around the open kitchen that functions as the room's centerpiece. Don't miss the grilled shiitake mushrooms dressed in a sesame-soja sauce. (5-10€ per small plate.)
La Cantine du Troquet
Exceptional food at an exceptionally low price. The Cherche-Midi location evokes a cozy wine cellar, with red banquets, exposed brick, and menus scrawled on chalkboards. Artistic preparation and American portion sizes make it hard to believe the prices: appetizers like a creamy goat cheese spread with oven-roasted tomatoes and pesto (more life changing than it sounds) cost 9-12€, and are a meal in themselves.
Where to Drink
Le Perchoir
Everyone loves a good rooftop view. Throw in some vibrant Bohemian pillows and stools, rustic wooden furniture, drool-worthy charcuterie plates, a bottle of rosé and voilà—you have the ever-cozy, ever-crowded 360° terrace of Le Perchoir. On the pricier side (craft cocktails will run you 12-16€), but so is a ticket up the Eiffel Tower—and this view comes with wine.
Le Comptoir Général
Steps away from the Canal Saint-Martin, Le Comptoir Général beckons for an afternoon coffee or an evening of rum-infused dancing. A haphazard marketplace, it evokes an old-world trading post: vintage suitcases perched precariously in corners, browning maps curled in piles, zebra-skin tapestries pinned on the walls. Two expansive rooms encircle an overgrown courtyard where smokers linger; inside, people crowd around the wooden ship that serves as a bar.
Aux Follies
A quintessential Parisian café in the bustling Belleville neighborhood. People-watch with a pint on the smoky terrace, then stroll down the adjacent graffiti-decorated Rue Denoyez.
Rosa Bonheur Sur Seine
A floating oasis of bonheur (happiness), Rosa is a widely-favored spot for an apéro (pre-dinner drink). Sip rosé and snack on tapas while taking in the sunset from this Seine-side barge. Get there early to avoid a wait.
Where to Shop
Anaïm
My favorite boutique in the city. A bright, white, carefully-curated space, with a selection of structured, feminine pieces. The brands are mostly Korean, and the prices reflect the quality and durability of these not-so-basic basics (well-tailored jackets, classic striped tops, chic silk scarves). Afterwards, stop by the hole-in-the-wall coffee shop next door (Boot Café) for a quick pick-me-up.
Merci
Around the corner from Anaïm is the mecca of concept stores, Merci. If you're looking to add some Parisian flair to your wardrobe, this is the spot. Their elegant installations are arranged with such immaculate style that you can't help but fantasize about decorating (and looking dashing in) your own Parisian pied-à-terre. Refuel in their Used Book Café, a perfect place to sink into a leather armchair with a fresh-pressed juice and a French novel from their wall of books.
Where to Picnic & People Watch
Tip: Keep a bottle opener, plastic cups and silverware in your bag in case of spontaneous pique-niques. Also, those ubiquitous scarves double as great picnic blankets!
Parc des Buttes-Chaumont
Verdant, sprawling hills, man-made waterfalls, and Paris spread along the horizon. Once it hits 70 degrees, Parisians flock here to soak up some vitamin D and rosé. Weeping willows offer shade, and the heady perfume of cherry blossoms suffuses the entire park when they're in bloom. Stop by Rosa Bonheur (the original) afterwards for tapas and an apéro to keep the buzz going.
Alternatively, park yourself along the Canal Saint-Martin or the tip of Île Saint-Louis for equally spectacular views and vibes.
A Would-be Local's Guide to Paris
Related Reading
8 Unusual Things to Do Around Paris
Delicious Encounters with French Men and Desserts
Loving and Living in Paris
A Girl's Guide to Blending in in Paris
Have you traveled to Paris, France? Email us at [email protected] to share your experience and advice with the Pink Pangea community. We can't wait to hear from you.
Photo for A Would-be Local's Guide to Paris by Unsplash.