Your Guide to Clothes Shopping Around the World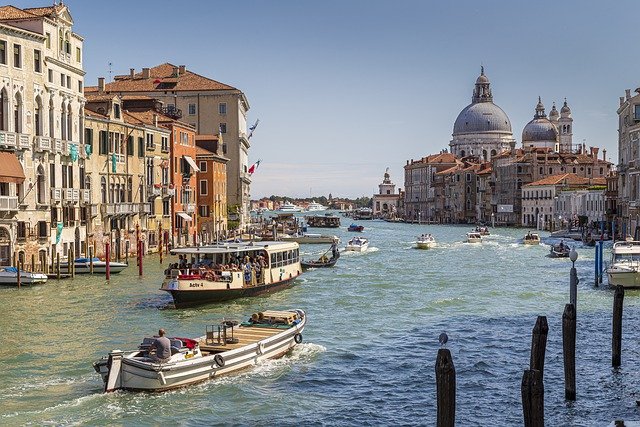 New York. London. Paris. Tokyo. These are all Fashion Capitals of the World, but shopping in them can be a little confusing. Is a 36 the same as a size 6? What's a UK 10 vs a US 10? Are trousers cut differently? Can I afford it?
Never fear, as The Fearless Flashpacker, a New York native, breaks it down. First, here's a great sizing guide that compares US, UK, European, and Australian sizes, as well as corresponding measurements. Now, here's your guide to clothes shopping around the world:
New York
Sleek, eclectic and swift to fit the brisk urban lifestyle. The joke is New Yorkers wear all black, but that could not be further from the truth. New York is also where hipsters were born, so it's also home to a plethora of unique vintage shops and boutiques.
Where to Shop
Splurge: Saks Fifth Ave, Bergdorfs, and Bloomingdales on 5th Ave are my favorite department stores, and there are numerous boutiques on Madison Ave and in the Meatpacking District.
Thrift: Century 21 should be your first stop. Think Saks, but discounted. Lots of designer steals here, though sometimes you have to dig. My favorite store is the one on Cortlandt Street. Stella Dallas is my favorite vintage shop (not thrift, but won't break the bank either). New York is home to some of the world's best consignment shops, and you can walk away with an authentic Louis Vuitton purse for $300. If you're a serious bargain shopper and have a day to devote to it, I highly recommend taking the bus to Woodbury Commons outlet mall an hour north of the city. You won't regret it. Or you could just walk down Broadway in SoHo.
Sizing Guide
Numbered sizes 0-14 are "straight size" sizes, and 16 and above are considered "Plus Sized". Americans come in all shapes and sizes, so most stores will carry your size if you are a "straight size." While there's an ongoing debate in the States about not enough accommodation of plus sizes, the US actually is pretty great about making clothes for different shapes and sizes (I'm a split size: 2 on top, 8-10 on the bottom!) This is great when you compare to Paris and Tokyo (more on that later) where things run much, much smaller.
London
Fast, feminine, and rebellious, mixing classic styles with street smarts.
Where to Shop
Splurge: There's Harrods in Knightsbridge (conveniently with a Topshop nearby!) and Selfridges on Oxford Street. Bond Street is home to some excellent window shopping
Thrift: Topshop is a favorite and does not export well (there are a handful in the States including in my current hometown of San Diego, but the clothes are made much more cheaply) . There are excellent boutiques on Kings Road, and Miss Selfridge is my favorite for "fast fashion".
Be aware though that the exchange rate to the British Pound is unfavorable to just about everyone, so unless you're earning on the economy you may be slapped with a hefty pricetag on VAT even at some of more economically friendly shops.
Sizing Guide
UK has its own sizing convention. Trousers tend to be cut more narrowly than in the US, so be aware that if you are wider in the hips, this could be problematic.
Paris
The word "chic" evokes the image of a Parisienne woman. Vogue recently did a piece that excellently described the effortlessness with which Parisienne women dress: no trends, just effortless classic style.
Where to Shop
Splurge: Galeries Lafayette is world renowned and worth visiting just for the architecture. The Fauberg St-Honore is THE place to go for luxury goods in Paris. I like to go here dressed to the nines and just window shop.
Thrift: Check out the boutiques in the very hip Marais, the old Jewish quarter where I used to live. And when you're done, grab a bite at L'as du Fallafel (best falafel I've had outside of the Middle East, and I'm from New York!). My favorite shopping district is in St Germain des Pres. Great place to stroll through shops and stock up on the latest French fashions at affordable prices.
Sizing Guide
Follow the European size guide. Again, don't expect to fit into any pants if you have a large derriere. Why yes, I would love another macaron.
Dubai
If you've ever wondered what Emirati women wear under their flowing black abayas, look no further than Gucci and Prada. Local women can display their sunglasses, shoes, and purses, and combined with tremendous oil wealth, the shopping options cater accordingly. Expect to see Louis Vuitton, Chanel, and other high-end designers. Of note, there are excellent and affordable varieties of unique high-heeled shoes.
Where to Shop
Splurge: Thankfully, the two main malls, Mall of the Emirates (yes, the one with the ski resort) and The Dubai Mall (the one with the aquarium) have a good range of everything from luxury goods (like $20000 Birkin Bags from Hermes) to shops that the rest of us can afford, like MNG Mango.
Thrift: The Karama Market is an excellent, off-the-beaten path experience and a solid destination for knock-off purses.
Sizing Guide
European sizes for apparel and shoes. Clothing is cut to fit a variety of shapes and sizes.
New Delhi
Vibrant, steeped in tradition while constantly speeding towards progress. Strongly recommend against purchasing Western attire here (and I don't cover it below). There are a few very nice upscale malls, but western clothes will cost more even after converting from rupees. Pick up a few salwar kameez (that's the long tunic and trousers with dupatta scarf) while you're at it. There are a few "ready to wear" shops or "fixed price" shops, but get outside your comfort zone. Your best bet is to go to one of the many markets and haggle. Most of the fixed price shops will also negotiate as long as they are not one of the government shops. If you buy multiple items, you will be likely to get a better price as well, and they will tailor the items for you!
Where to Shop
Splurge: Khan Market is by far the best by a long shot, and I use "splurge" here very liberally. A lot of people like the ready-to-wear styles at Fabindia, but I was a big fan of some of the smaller boutiques.
Thrift: Lajpat Nagar was my clear favorite when I lived there, with Sarojini Nagar as a close second. Don't be intimidated by the crowds and dirt roads. There are some absolutely incredible shops, apparel, and bargains to be found here.
Sizing Guide: As noted above, your Indian-style clothing will be tailored!
Tokyo
Tokyo style runs the gamut from the staid blue suits of office workers to colorful anime-inspired streetwear, and the shopping doesn't disappoint.
Splurge: Ginza is perhaps the best known hotspot as the heart of Tokyo high fashion, with Mitsukoshi department store at its center. Omotesando is also great for luxury goods.
Thrift: For Japanese street fashion, you really need to get over to Harujuku and Shibuya. I picked up some really cool DIY-style tops and a pair of Lolita-style heels here for about $50 total.
Sizing Guide
Unless you're very petite, good luck. I felt like a giantess in Japan (I'm 5'7" and athletic). Sadly, unless you're short/slim, finding clothes that fit will be a challenge. I wear a size 7 shoe in the US and I fit into the largest size shoes in Japan! I bought one dress, which was empire waisted.
What are some of your favorite shopping destinations around the globe?
Top photo credit by Unsplash.