Sunday Soirees in San Telmo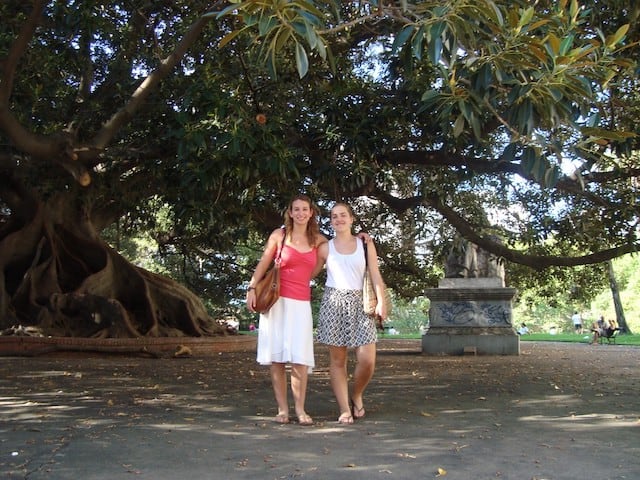 The best place to be on a Sunday in Buenos Aires is San Telmo. I have now spent two Sundays at what started as an antique market and has expanded into a weekly street fair and extravaganza. Vendors line Calle Defensa from the Plaza de Mayo all the way to the original market in San Telmo. Walking amongst the crowds, you will find all kinds of things from antiques and music records to works of art as well as various styles of jewelry, clothing, and endless stalls selling mates, the local bittersweet herb drink-of-choice.
In Argentina, sharing a mate means more than just satisfying a caffeine-fix. Over the course of a mate, "confianza," or trust, is established turning acquaintances into friends a la Greg Mortenson's Three Cups of Tea.
On my first Sunday in San Telmo, I visited the stands in the early afternoon in the thick of the market. To get away from all of the crowds, I meandered off the main street to check out side streets also busy with vendors and cafes filled to capacity.
True to the city's café culture, the porteños inevitably stop to "toma algo," or to have something, and rest after strolling through the street fair. Having spent many Sundays at the local farmer's market in my own hometown buying fruit, vegetables, bouquets of flowers and handmade jewelry, I knew wanted to return.
Sunday Soirees in San Telmo
One week after my first visit, I once again found myself in San Telmo on a Sunday. One of the other students on my study abroad program had gotten a tip from his host father to go see the market at dusk. Although the vendors were closing up shop, the party was just beginning. I am not sure I can describe in words the lively buzz of San Telmo in the early evening. Each block had a different band playing music with porteños pausing to listen and dance in the streets.
From beating drums to strumming guitars and vocals, the streets that had been bustling with commerce only an hour before were magically transformed into feria that belongs in a novella de realismo magico (a Latin American literary style popularized in the 1960s-70s for mixing realistic and make-believe events).
As we continued down Calle Defensa, we passed a series of performers and attentive audiences until we reached the main event: tango in the Plaza Durregno. Off the center of the plaza, a band played classic tango tunes beside an open dance floor. Grandparents, young couples and everyone in between began dancing the tango as the warm, summer night set in and the street lights and festival lights began to show brighter.
The pulsating vibe of a city so alive from the vendors to the performers and other porteños dancing under the stars was undoubtedly an experience I will never forget.
So what do I have planned for this Sunday? You guessed it, I am heading over to San Telmo.
Sunday Soirees in San Telmo photo credit by Melanie Kaplan.