Bridging My Experiences Abroad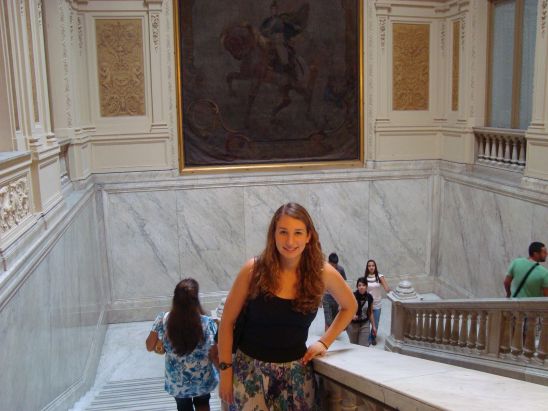 Strolling along Buenos Aires's famous Puerto Madero, I understood for the first time why the locals are called "porteños" or people of the port. The city of Buenos Aires has grown from its roots as a port on the Rio de la Plata to a bustling city of 13 million. In contrast to the port';s 19th-century stone architecture was a large, white, modern bridge. Stretched out as a splash of modernity, I felt an odd sense of déjà vu, as I gazed upon this immense engineering expanse.
As I walked closer to its white diagonal cables, a fellow student traveler and architecture major, told a group of us that the bridge was known as "la Puente de la Mujer," which roughly translates to the bridge of women. She also shared that it was designed by a Spanish architect, Santiago Calatrava.
Curious about the bridge's origin since it seemed vaguely familiar, I asked if the architect had constructed other similar structures. The other student replied, "I think there's one in Tel Aviv".
When I heard this, I realized that I had seen one of Calatrava's other bridges-not in Tel Aviv, but rather in Jerusalem. And amazingly, I had photographed it less than 4 weeks ago on a trip to visit the Middle East.
While the Jerusalem bridge represents the strings of King David's harp, the Buenos Aires bridge's expanse embodies a couple dancing the T-A-N-G-O with their arms shooting into the air. After crossing to the other side of the bridge, I encountered my first street tango performance. The grace of the dancers allowed me to reflect on how well Calatrava captured the famous Argentine dance.
As I begin my new adventure as a porteña in Buenos Aires, it seems that it may be easier than I expected to bridge my travels during my semester abroad.