Shaking it up in Costa Rica: Volcanoes, Earthquakes, and Español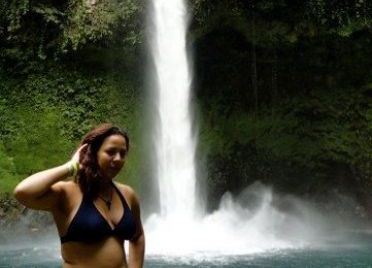 Having lived in Costa Rica for two months, I know I've already had experiences I will never forget.
My arrival was so intimidating-when I stepped off the plane, everyone was communicating in Spanish, a language that I barely knew. At the university, I had to manage new classes and find out where I fit in while remaining open to learning as much as I could. The Spanish classes were challenging, accelerating quickly to cover lots of material in a short period of time. Other American students intimidated me-they were already fluent in Spanish and seemed so sure of themselves in the foreign land.
It was my first time out of the United States and I'd barely left the East Coast before traveling to Costa Rica. There are not many minority students who study abroad but I wanted to be daring without restraint. I am a senior at Bennett College for Women, which seeks to empower young women and this was my chance for a challenge-before being trapped by a nine to five work schedule and limited vacation time. I wanted to find myself in the midst of learning. I wanted to understand others who were different from me.
Shaking it up in Costa Rica: Volcanoes, Earthquakes, and Español.
Though it took some time, I am truly starting to love Costa Rica. Every weekend I travel to a new place in the country, leaving my university in San Jose, where it rains every afternoon. My first trip took me to Puerto Viejo, which is near Limon on the Caribbean side of the country. I immediately fell in love with the area–the sun seemed to kiss my skin and free-spirited people walked everywhere without shoes. The beach stretched endlessly and the clubs were right on the shore.
The live reggae groups sang the night away, adding to the relaxing environment. The people there were so diverse-with all different skin colors, backgrounds, and cultures. I met people from so many different places within Costa Rica and other countries, as well. It felt like a melting pot of togetherness.
The next weekend, I traveled to Arenal and Monte Verde. In Arenal, the sight of a volcano left me feeling scared but exhilarated, and I enjoyed swimming in the hot springs. While eating dinner, I felt my first tremor. But, even as the building and plates began to shake, the waiters looking nervously around, I continued to eat, still unaware as to what I was experiencing. Even though it only lasted for 30 seconds and everything was okay in the end, it was close to being recorded as an earthquake.
In Monte Verde, I rode horses up a mountain, seeing the most beautiful landscapes along the way. Once we arrived at the top, we walked down these bottomless stairs, which led to one of the most perfect waterfalls I've ever seen. It looked like it belonged in an Indiana Jones movie, and made for a terrific backdrop to an incredible weekend.
Photo by Nicole M.