From Dubrovnik to Zagreb: A Beautiful Week in Croatia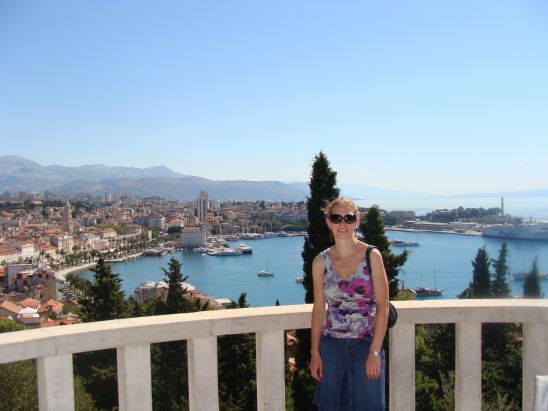 Croatia offers a mix of historic cities, beautiful beaches, and scenic hiking. Taking advantage of the buses and trains that connect the major cities, I spent a week working my way up from the southern coastal city of Dubrovnik to the capital city of Zagreb in the Croatian interior. Dubrovnik is notable for two areas: Lapad Bay, a deep blue inlet of the Adriatic Sea encircled by a rocky beach, numerous hotels, and a neighboring promenade with alfresco dining; and Stari Grad, the old walled city, which has survived since medieval times despite a disastrous 17th-century earthquake and the 1991 shelling by Yugoslavia.
Today, the pedestrian-only old city features historic palaces and churches, art galleries, jewelry stores, an outdoor produce and souvenir market, and picturesque restaurants in every nook and cranny of the city walls that grill the catch of the day in luscious local olive oil for your supper. The must-see attraction is the walk atop the city walls, from which you get a fishbowl view of the city and a panoramic view of the Adriatic Sea.
My next stop further north along the coastline was Split, which is unique for its construction inside a major Roman ruin. Diocletian's palace was built as a retirement home for the eponymous emperor around the turn of the 4th century AD. Within the palace walls are an Egyptian sphinx – it was ancient when it was given to Diocletian – and layers of architecture from later periods, such that medieval homes, Renaissance-era buildings, and modern urban storefronts share the stage with Roman columns and archways. Split is also notable for a palm-tree lined promenade along the harbor featuring outdoor dining and local merchants selling tasty treats, and for the view from Marjam Hill (the above photo shows that it is definitely worth the hike).
From Dubrovnik to Zagreb: A Beautiful Week in Croatia
From Dubrovnik and Split, you can take the ferry to your pick of several islands. I did a day trip from Split to Hvar Town on the island of Hvar, known for its Venetian-influenced architecture, harborside promenade with delicious alfresco dining options, and lively nightlife. To walk off my sladoled (Croatian gelato), I hiked up to the fort at the top of the hill rising above the harbor. The path is lined with an unusual array of vegetation including cacti, palm trees, and pomegrantes.
Moving north and eastward into the interior of Croatia, I visited Plitvice National Park, a nature reserve that features an interconnected system of powerful waterfalls and serene gem-colored lakes (think emerald, aquamarine, and turquoise). The trails are well-marked, allowing you to choose whether to hike the entire park in a day or to do a more moderate morning or afternoon walk. The untouched natural splendor is well worth the 2.5 hour bus ride from Zagreb or Zadar.
Last stop: Zagreb, which has a modest-sized upper town with several museums, government buildings, churches, including the colorfully-tiled Church of St. Marks, and the original stone gate to the city. Tkalciceva Street offers a long row of cafes, pubs, and restaurants. The Italian-influenced cuisine is a boon for pizza and pasta lovers. Lower Town is known for Ban Josip Jelacic Square, which offers great people-watching as the bright-blue trams deposit their passengers in the enormous plaza, as well as the National Theater and the Botanical Gardens.
The sweetest place in Croatia may well be Vincek Pastry Shop, where the sladoled is richer and creamier than any Italian gelato or American ice cream I've had. If you arrive in Zagreb on a Sunday, prepare for a quiet day: all stores and many restaurants are closed.
From Dubrovnik to Zagreb, A Beautiful Week in Croatia photo credit: Alyssa Saunders
Have you traveled from Dubrovnik to Zagreb? We want to hear about your experience. Email [email protected] for details.