A Local's Guide to Santa Ynez Valley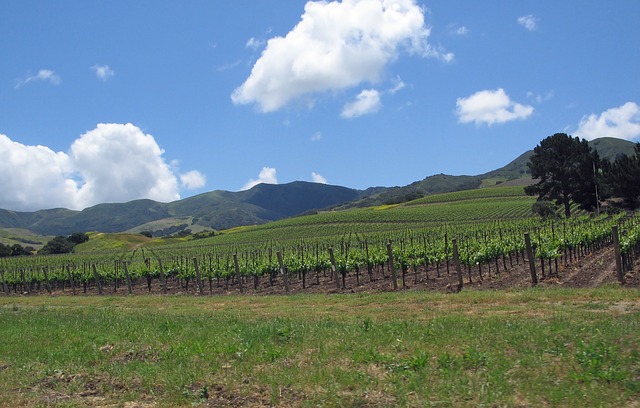 When planning a trip to the Santa Ynez Valley in California, most people conjure images of the charming Danish-influenced city of Solvang. But beyond the plethora of cute craft shops, clogs, and aebleskivers that attract travelers for a day of nostalgic bliss, the Santa Ynez Valley has undergone an epic reimagining and now hosts some of the most acclaimed culinary gems on the Central Coast, including exceptional vineyards. With almost endless wine tasting options and one of the most unique grape growing environments in the world, the S.Y. Valley has transformed itself from a tourist trap into a maze of delightful wine & dine experiences.
For a weekend romp, the S.Y. Valley is easily accessible from L.A. From the 405 to the 101 it is about a two-hour drive. For those of us who can bypass the 405 it is a gorgeous 40 minute drive along the Gaviota Coastline. David and I started our morning with a jog through the Ellwood Bluffs in Goleta.
This is a three-mile loop with sweeping views of the ocean, and also happens to be the spot where we were married just under a year ago. The Bluffs are also home to the Monarch Butterfly Preserve where thousands of butterflies hatch and flutter along the coastline from November to February each year.
A Local's Guide to Santa Ynez Valley
Industrial Eats
Industrial Eats & Alma Rosa Winery are next door to each other off Industrial Way in Buellton. The original Figueroa Mountain Brewery is right down the street, so there is something for everyone in this hotbed of decadence. Arriving on Saturday, Industrial Eats was slammed, but we would not allow that to deter us from partaking in some delectable dishes. Instead of taking chairs from other customers, we sought out the backside the nameless cow who was gracious enough to host us for our meal!
Industrial Eats has an ever-changing menu with rotating beer and wine taps. We always try something new when we go, and have yet to be disappointed. This time we shared plates of gumbo and chicken liver with brownie triangles as an appetizer. Yes, we eat brownies as an appetizer and you should too.
Melville Winery
From Industrial Eats, it is about a ten-minute drive down the 246 to Mellville, and there are plenty of other wineries on the way to Lompoc as well. While Lompoc is not known as a particularly attractive tourist destination, it does boast some of the best Pinot Noir and Chardonnay around. This is because the Santa Rita Hills run perpendicular to the ocean instead of parallel, like most mountain ranges. The Santa Rita Hills are the only spot in the United States that have this geographic feature, which creates an environment where the ocean breeze is able to moderate the temperature of the grapes. They are cooled in the evening without being exposed to the freezing temperatures that most valleys experience, which keeps them from getting too sweet or dry.
The tasting room at Mellville overlooks the vineyards, has picnic tables for sharing cheese plates, and makes you feels as though you have just entered a Tuscan château in Italy. Naturally, the wine tasting focuses on Chardonnay and Pinot Noir grapes, and the staff is very knowledgeable of the local varietals. Buy a bottle or two to take home and compare to Pinot's and Chard's grown in other regions.
A Local's Guide to Santa Ynez Valley.
Saarloos & Sons + Enjoy Cupcakes
Downtown Los Olivos is only about four blocks, but it has more than it's fair share to offer in wine and dining options. Because of it's exceptional walkability, it has become a popular stomping ground for bachelor/bachelorette parties and wine-a-way weekends with plenty of private home lodging options in the immediate area.
Sides is a noteworthy new dining option which was converted from an old hardware store. It now serves some of the best pork dishes in the valley and the staff will find the perfect wine to pair with any dish.
There is Figueroa Mountain tasting room for the craft beer junkies and of course, my personal favorite spot in town, Saarloos & Sons + Enjoy Cupcakes! If you visit the city you absolutely must try the wine infused cupcakes, paired with tasty local wines. The father and sons run the vineyard and the mom creates devilishly tasty cupcakes. Some of the flavors include Blackberry Syrah, Chardonnay Strawberry Mint and Mexican Mocha. Heaven! Bonus: the patio area has fire pits and comfy lounge chairs to relax and indulge.
Andrew Murray Vineyards
From the thriving downtown scene, we headed north to the outskirts of Los Olivos. Los Olibos is where the macro-wine producer Firestone and family operated Andrew Murray Vineyards are connected by a half-mile hiking trail. Preferring quality to quantity, we stick to the latter, so we headed to the recently renovated Andrew Murray tasting room for some great wine, comfy couches and games like Jenga, Connect Four and wine trivia.
Although we did not try the chocolate pairing this time, it is well worth it to purchase. The combo of wine tasting and Jessica Foster truffles. We decided to join this winery for so many reasons, but the kickers were the atmosphere, hand crafted wine, and the fact that I thoroughly enjoy kicking David's butt at Connect Four.
Cambria Winery
Continuing North on the 101 this winery is in the northern most portion of the Valley. Katherine's Vineyard Chardonnay from Cambria has been my go to in stores for two years now. Mostly because I love the consistency they are able to create with such a large estate, and extensive experience distributing wine. The experience at the vineyard however, is unlike anything I have come to expect from a major wine distributor.
The experience at the vineyard however, is unlike anything I have come to expect from a major wine distributor.
They feature select wines that you will only find in the tasting room, and offer everything from concerts to Heart Walks on the grounds. This is what convinced us to join yet another winery in the same day.
Cambria is similar to Melville in that they focus on Chardonnay and Pinot Noir grapes. Although they do mix in some Syrah here and there. The staff is friendly and although the tasting room itself is a bit small. And the patio area makes up for the lack of space inside. This was a great end to our wine tasting, and after trying all kinds of delicious wine, we were ready for dinner!
Full of Life Flatbread!
Back down the 101, about an hour and ten minutes south of Cambria is the city of Los Alamos. It does not look like much until you are inside a restaurant like Full of Life Flatbread. This restaurant is only open Friday–Sunday for dinner. So, expect a line when you get there. But, we guarantee that it is well worth the wait. We invited my grandparents to come with us since they had never been. And they were so happy that we did.
We brought a couple of bottles that we had purchased earlier in the day to share. Corkage is $12 but any one glass of wine starts at $13. So depending on the bottle, you can end up saving if you plan to have more than one glass. Although after tasting wine all day you might be ready for some water and coffee which is the route David decided to go so that we could drive home safely.
These are the six hidden gems of the Santa Ynez Valley
Each of the flat breads are made in a large wood fire Neapolitan oven. Additionally, so is the epic brownie/marshmallow dessert know as "The Beast." One pizza is plenty for two-four people. And the beet and blood orange salad is a must try. This was the perfect way to end the evening and a great place to spend time with family.
These are the six hidden gems of the Santa Ynez Valley that to plan on enjoying for a weekend escape. After treating yourself to all of the great food, delightful wine and amazing views, you will be left yearning for your next escape. Feel free to reach out with any questions. And please share your own stories with us about your own adventures in the Santa Ynez Valley.

A Local's Guide to Santa Ynez Valley photo credits: Laura Hunt and Unsplash.
Have you traveled to Santa Ynez? How was your trip? Email us at [email protected]pinkpangea.com for information about sharing your experience and advice with the Pink Pangea community. We can't wait to hear from you.