Packing Tips for the Bridge to Nowhere Hike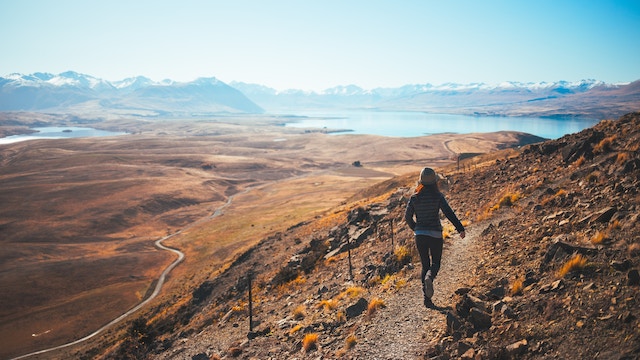 I'd always heard great things about the 'Bridge to Nowhere' hike, in the San Gabriel Mountains of California, and tackled it last month, when a couple of friends from college came to visit me. I love to give my hiking boots a good workout, but my friends told me: "Breanne, we're coming to L.A. to chill at the beach, not sweat our skin off on a mountain!" Yeah, so maybe they weren't as passionate about day hikes as I was, but I knew the trail would quickly change their minds if the reality was half as impressive as the photos I'd seen. But because I knew my friends wouldn't be expecting the 80-90 degree temperatures, I made sure to advise them on what to bring. These packing tips apply to any hot-weather hike.
Packing Tips for the Bridge to Nowhere Hike
Snacks and water
Word of advice: this hike is tiring and it was extremely hot the day we went. It might seem pretty flat, but especially if you swim like my wonderful compadres and I did, you'll need all the fuel you can get. In my excitement to get the day started I didn't really think about packing more than a few snacks. Make sure you bring nuts, bars, and dried fruit galore. If I had thought ahead, I would have brought along a few nutrition bars, too. This should go without saying but make sure you bring enough water. I drank all the water I took with me, and then some.
Skin protection
Ten out of ten doctors recommend protecting your skin from the sun, and I never leave home without making sure I've got sunscreen on. I'm also a self-professed makeup junkie, and am always looking for ways to combine these two. I recently bought a mineral sunscreen powder that takes me from brunch to trails to evening dinner with no reapplication. The Southern California sun might feel great, but the tomato red burn you get after being in it for a few unprotected hours definitely doesn't. I've learned this lesson too many times.
A swimsuit
A swimsuit might not be the first thing you think of when heading up the trail, but it's definitely worth it on this particular hike. There are many pools to take advantage of. My friends perked up about the idea of the hike once I mentioned swimming. I also brought along a few quick-dry towels.
Brimmed hat
There is little-to-no shade on this hike, so make sure you bring a brimmed hat of some sort.
I loved every minute of this hike… Tunnels, abandoned roads from the early 1900s, clear blue waters, and SoCal plant life are everywhere you turn.
Footwear
Because there is a lot of trekking through river beds on this hike, I made sure to wear my waterproof boots. I got mine from REI a few years back, and they've been an awesome investment. You can do fine with regular tennis shoes (my friends did), but be prepared for sopping feet.
I loved every minute of this hike. The trails are easy to navigate, and even my hiking companions zipped up their complaints and ended up loving the day. Tunnels, abandoned roads from the early 1900s, clear blue waters, and SoCal plant life are everywhere you turn.
My favorite part came when we ultimately reached the bridge and we watched bungee jumping aficionados take the leap from our front-row position in a nearby water pool. The Bridge to Nowhere is the only place in California that you're allowed to bungee jump, and it's an impressive sight to see jmpers swing over the gorge from a bridge that seems to have been made simply for that purpose (thank you, abandoned highway plans). We didn't hike further on, but friends have told me there are remnants of a blown-up tunnel and some gorges.
I think I may have converted a few of my companions to the hiking lifestyle during this trip, so I'd say it was a successful day.
Photo credits for Packing Tips for the Bridge to Nowhere Hike by Unsplash.