36 Hours of Jazz in New Orleans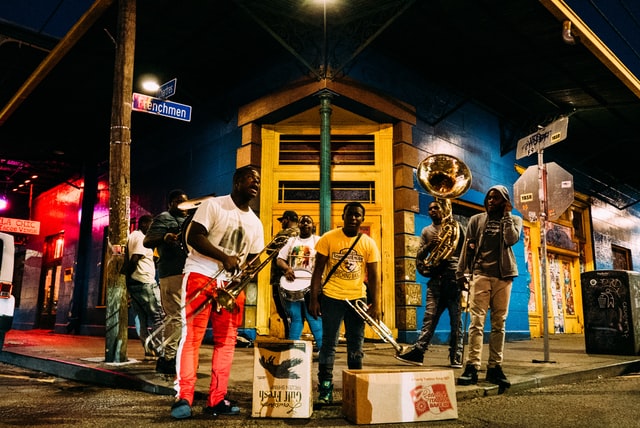 It had been 25 years since my daughter and I had traveled alone together. We had been on numerous family trips, but she was seven the last time we had ventured off just the two of us. When I announced that I was going to a conference in New Orleans, she convinced me to add on extra days for some mother-daughter bonding in the Big Easy.
"If you have to ask what jazz is, you'll never know," declared New Orleans' jazz artist Louis Armstrong. Whether you're a die-hard jazz enthusiast or a casual listener, here are four places every jazz lover should experience in New Orleans.
Saturday Evening – Natchez Steamboat
On Saturday evening, we traveled the Mississippi River on the Natchez Steamboat with a jazz dinner. Dinner onboard was a casual buffet with typical New Orleans fare. When seated, there was a green salad on our table and we could serve ourselves, at our leisure.
Choosing the 6:00 p.m. dinner seating meant we could be outside when the cruise began at 7:00 p.m., and take full advantage of the Mississippi River tour. After dinner, we explored the museum-quality engine room and listened to the narration of river history and shoreline scenes.
"The Dukes of Dixieland" came alive in the covered outdoor bar at about 8:00 p.m. They're a Grammy nominated six-piece jazz band, including drums, piano, trumpet, trombone, bass, and saxophone. The final song was a tribute to Louis Armstrong – "When the Saints Go Marching in."
TIP: Print tickets online using a promo code to secure a discount.
Sunday Morning – St. Augustine's Church
On Sunday morning, we chose a traditional church experience. From 10-11:30 a.m. we attended St. Augustine's Church for their gospel-jazz worship service, taking a taxi to the 'Treme neighborhood, just outside of the French Quarter.
In 1841, Ursuline nuns donated the land, and the following year the church was built. Free people of color founded St. Augustine's and they bought the side pews for slaves to use. This resulted in one of the most integrated churches in the country. In 2016, the church celebrated its 175th anniversary.
The greeters welcomed us warmly to the service. Since the choir's rehearsals are not open to the public, mass is the best time to hear the Soulful Voices Gospel Choir. Although not typical jazz, the choir sang "America the Beautiful". After mass, the choir continued to sing for about 15 minutes, so we continued to enjoy the music.
TIP: Offer a donation in the collection basket.
Sunday Afternoon – Commander's Palace
After church, we headed to brunch at Commander's Palace. The Garden District restaurant with cyan-blue-and-white-striped awnings opened in 1893. Since opening, Commander's Palace has won six James Beard Foundation Awards. Famous chefs like Emeril Lagasse and Paul Prudhomme started there with a mixed Cajun and Creole style known as Haute Creole.
Through the kitchen, over the outdoor patio, the host seated us in a room where a tree grows in the center of the dining room. Brunch was a three-course fixed-price menu served at the table. I chose the Commander's salad with shrimp and grits, and for dessert, a Creole bread pudding soufflé served with a warm whiskey sauce poured by the server.
For Sunday brunch, we delighted in Joe Simon's Jazz Trio, including a guitar, trumpet, and bass. The band moved from balloon-decorated table to table, taking requests. The jazz style was second-line happy jazz with songs like "You are My Sunshine." Be ready to participate!
TIPS: There is a business attire dress code here, and jeans are discouraged. Bring some small bills for tipping the trio.
Sunday Evening – Preservation Hall
Finally, a boisterous and interactive six-piece jazz band, the Preservation Hall Legacy Band with Wendell Brunious, wrapped up the weekend. In 1961, Preservation Hall was formed to "preserve, perpetuate, and protect" traditional New Orleans Jazz. I purchased the "Big Shot" tickets to the 6:00 p.m. show. These tickets allowed us to skip the line and sit on a bench in the first two rows. In front of the first row of benches were two rows of cushions. Without "Big Shot" tickets we could have easily found ourselves sitting on the floor. We sat on a side bench, so close to the band that I could reach out and touch the trombone. This vantage point was also the perfect seat from which to watch the faces of other audience members. I remember the attentive, excited smile and dancing blue eyes of a young woman in the audience. The final song was a tribute to Louis Armstrong, "What a Wonderful World."
TIPS: Admission is cash only and there are no bathrooms or beverages on-site. There are arrangements with Pat O'Brien's next door to use the facilities and Preservation Hall allows outside beverages in non-glass containers.
Even after 36 hours of jazz in New Orleans, there are still more jazzy places left to discover.
Photo credit: unsplash.com.