More than Just a Bar Crawl: 4 Incredible Things to Do in New Orleans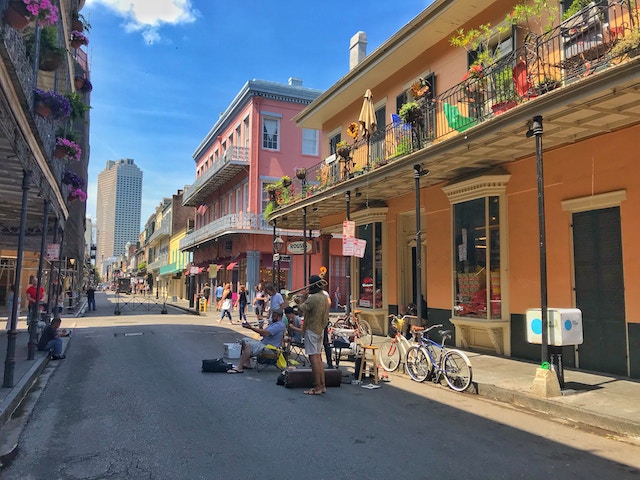 After the disaster of Hurricane Katrina, New Orleans has struggled to rebuild itself. When I visited, this was still somewhat evident throughout the urban areas of the city, despite being over 10 years since the event. However, I was still delighted that it was featured on my USA cross-country schedule and I got to spend a couple of nights in the city. Luckily, the popular French Quarter wasn't damaged, so it still oozes history and remnants of the Jazz Age. Here are some wonderful things to do in New Orleans:
More than Just a Bar Crawl: Great Things to Do in New Orleans
1. Jazz
This jazz influence was something that stood out the most for me. New Orleans boasts some of the best jazz clubs in the States. Because New Orleans is the birthplace of jazz, it thrives from fans wishing to relive the early days and iconic legends. If you can, make room for a visit to Preservation Hall. Their aim is to preserve and honour traditional New Orleans Jazz.
For them, the music and culture of the city go hand in hand, and this is felt through the intimate feel of the venue. There is no food or drink served here, and sometimes you won't even find a place to sit; it's all about the music and having fun.
Shows run nightly, at 8pm, 9pm and 10pm, every day. Because it's so popular, you may have to queue early or book your tickets in advanced. Luckily, our tour group managed to witness the incredible band playing on the second night we were there. What I liked most was the fact that the artists didn't take their music too seriously; there were no gimmicks, and other band members often laughed and jeered at the lyrics of the songs, whilst also praising each other when they performed a solo.
I felt like I was part of an exclusive community, having been given a glimpse into a piece of history.
More than Just a Bar Crawl: Great Things to Do in New Orleans
2. The Swamps
Another thing vital to New Orleans' image and history, are the swamps. Although these might not be in the city itself, you can't avoid the marshy view as you enter New Orleans. We headed back out of the city to embark on an alligator watching tour, definitely a highlight of the trip. There are lots and lots of companies offering tours, simply ask your hostel/hotel front desk and they're sure to offer suggestions.
We signed up with Honey Island Swamp Tours, located around a 20-minute drive from the centre of New Orleans. The guides were very knowledgeable, with a friendly, welcoming atmosphere. Accompanied by a guide who had grown up in the swamps, we spent an hour looking for alligators and just generally discovering that the cliché of smelly, dirty swamps are in fact not true.
The air was clean and fresh, and there was nothing ugly about the environment we were in; green trees that almost blocked out the sunlight gave the place a kind of fantasy-like feel.
We did actually manage to see quite a few alligators – we saw the second biggest male and the largest female that the guide knew of. To reward them with their appearance he started feeding them a tasty snack…marshmallows! We also saw a lot of the swamp's other wildlife and gazed enviously at the huge houses overlooking this fascinating area.
3. Old Algiers
Like the swamps, another one of New Orleans' best attractions is actually away from the hustle of downtown. By taking the Canal Street Ferry across the river, you'll reach Algiers Point, known as 'New Orleans' best kept secret.' It is one of the city's oldest neighbourhoods, and home to some of the best houses in the area. It's fascinating to see another community in a place that already has such a unique culture; the people here call themselves Algerines and even have their own mayor. It is 'a village within a city.'
We spent a short amount of time in the 'village,' and could already tell how much it differed from the extravagancy of the French Quarter. For one, it was pretty much empty. The houses looked more traditionally American, bordering dirt roads, large, and painted a brilliant white. It was almost as though this area had been untouched by the factor of time. I know that walking tours are available in the area. So, if you are interested in this historic neighbourhood, simply search for one online.
New Orleans is definitely a place that shocked me. I thought that the party element of the city would be the defining feature, and I am glad to say I was wrong. Although the streets in the French Quarter do get busier as the sun begins to set (and the bars slightly louder), the history and iconic images of the city cannot be suppressed.
More than Just a Bar Crawl: Great Things to Do in New Orleans.
4. Voodoo and Seafood
Voodoo, seafood and colourful characters also feature throughout the city. If you're planning on going, I'd definitely recommend dining at Oceana Grill, located in the middle of the French Quarter. The fish was fresh, and they pride themselves on offering traditional southern dishes, such as po' boys and catfish. I had my first taste of gumbo here, and I could definitely see why it is so popular in Louisiana.
If you are also curious about the voodoo religion that many people in this area still follow, voodoo shops are plentiful. I visited many (they're about as common as a regular gift shop) and although I'm not yet sold on the religion's ideas, I did pick up a novelty voodoo doll just for fun. Overall, the city is certainly a place I would recommend to all, and somewhere I am eager to return to.
Have you traveled to New Orleans? How was your trip? Email us at [email protected] for information about sharing your experience and advice with the Pink Pangea community. We can't wait to hear from you. Photo by Unsplash.