A Girl's Guide to Blending in, in Paris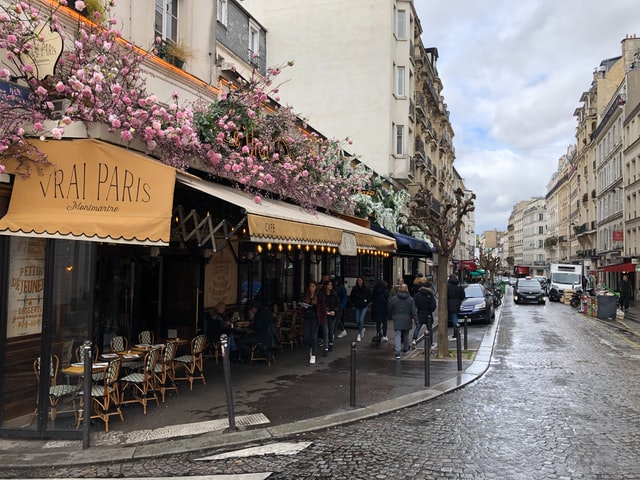 I've just arrived in Paris. A boat swarming with photo-happy tourists passes as I relax on the bank of the River Seine. I tell myself to look as Parisian as possible—whatever that means. I purse my lips and gaze pensively out over the water and my new city as if I'm deep in thought about something only Parisians can understand.
I am nonchalant, poised, glamourous. Some people on the boat wave. I do not wave back, and I feel the pride well up inside as the boat glides by and the cameras flash: my Parisian self, immortalized. I am blending in.
Of course, I had a lot to learn! I know now, after five months of life alongside my Parisian neighbors, that blending in goes far beyond a blasé attitude. There are things that I have done, things that you can do too, to better fit in with the locals and capture for yourself—even a little!—the iconic je ne sais quoi that makes Parisians so enviable.
A Girl's Guide to Blending in, in Paris
1. Stick to subtle, classic fashion
Parisian women crave simplicity in life and their wardrobes, filling their closets with a faithful arsenal of staples (like skinny jeans, white tees, and black blazers) and a few, unique statement pieces (a favorite designer handbag). To blend in, break out your neutral colors like black and navy, and don't be afraid to pair them.
Wear understated jewelry and always top off an outfit with a silk scarf. Don't wear anything too showy or tight or loud. For Parisian women, less is always more.
2. Wear comfortable, but fashionable, shoes
You'll seldom see a Parisian woman in running sneakers—unless, that is, she is en route to the Jardin du Luxembourg to work up a good Parisian sweat. On the other hand, Parisian women walk, a lot, so you won't catch them in stilettos either.
Your best bet is to stick with a practical but stylish pair of boots or ballet flats. If you're doing a lot of wandering, try Converse or another small, flat-soled tennis shoe. Whatever you do, leave your marshmallow sneakers at home!
3. Lay off the heavy makeup and up your skincare game
One thing that sets Parisian women apart is their prerogative to embrace and celebrate natural beauty. Except for BB creams to hide obvious blemishes, makeup is only used to accent features (a little mascara) and to add some drama to a look (a daring red lip), never to change one's appearance.
Avoid heavy foundations and contouring, penciled-on brows, and thick eye liners. Prevention is key, so do as the Parisians do and adopt a skincare routine that keeps your skin looking flawless.
4. Never set out without looking "put-together"
Like it or not, you will be judged by your appearance—not because Parisians are necessarily shallow or fashion-obsessed, but because appearance is a form of communication. If you show up to the corner patisserie in sweatpants, flip flops, and a gaudy printed tee, this says to the salesperson:
"I don't respect you enough to get cleaned up before entering your shop." If you want to avoid making enemies before even opening your mouth, carefully consider the message your look is sending before you set out for the day.
5. Learn some basic French words and phrases
You don't need to be fluent in the language to be safe, comfortable, and culturally conscious. At the very least, know please (s'il vous plait) and thank you (merci), and use them liberally. Always address strangers as Madame or Monsieur, and don't forget to greet the salesperson when you enter a shop (Bonjour!) Although your accent will probably give you away, this small effort will be immensely appreciated.
6. Lose that smile
Parisians are known for being less generous with their smiles. That display of affection is strictly reserved for people they know and like—not any ol' Joe Shmo they make eye contact with on the street. A smile to a stranger can only mean one of two things: either you're laughing at them or flirting with them! To avoid sending the wrong message, it's best to lose the smile and keep your gaze forward and purposeful while out on the town. Heck, sometimes I even scowl a little.
7. Don't talk so much… or so loud
In Paris, café tables are virtually on top of each other and people cram into the metro during morning rush hour. Despite this lack of personal space, Parisians preserve their privacy by talking more quietly in public. Do as the Parisians do and decrease your decibels to avoid angry glares from fellow diners or commuters, as well as to keep yourself hidden from the pickpockets and scammers who have their ears peeled for loud tourists.
8. Don't obsess over "blending in"
While there are many things you can do to better blend in to the Paris scene, you are still a visitor. You might want to wear a backpack or tote your DSLR. Your Paris bucket list might include a stroll down the Champs-Élysées and a tour of the Louvre.
You might look a bit like a tourist, and that's okay! Your efforts to blend in should only be motivated by your desire for a safe, culturally authentic, and conscientious travel experience and not to prove how good of a traveler you are. Bon voyage, and good luck!
A Girl's Guide to Blending in in Paris
Related Reading
Have you traveled to France? What were your impressions? Email us at [email protected] for information about sharing your experience and advice with the Pink Pangea community. We can't wait to hear from you.
Photo for A Girl's Guide to Blending in in Paris by Unsplash.