6 Lesser-Known Paris Gems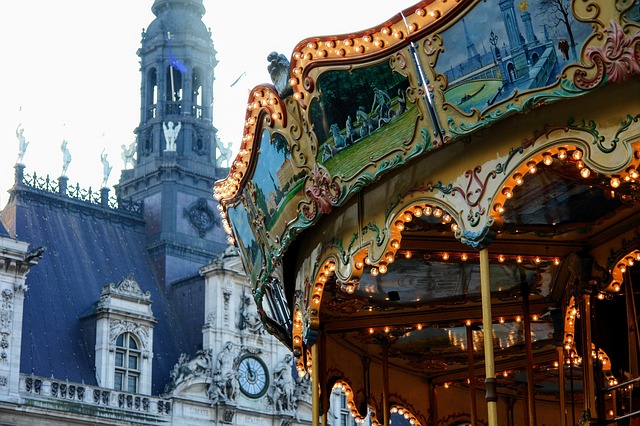 Paris is one of those glorious cities that you can explore and explore and still feel as if you've only scratched the surface. While this can be magical for those of us who are blessed with more than just a few days in the city, it can be overwhelming when there's limited time for sightseeing. To fit all the Paris "must-sees" into a short trip, some remarkable attractions often get forgotten in favor of more iconic, overly-touristy hotspots.
Don't get me wrong: there is no sin in visiting the Louvre or climbing the Eiffel Tower. But, if I've learned anything in the few months I've called this city home, it's that Paris is vastly complex, dynamic, and riddled with hidden treasures. Don't be afraid to stray a bit further from the path and sprinkle a few of these—my favorite "lesser-known Paris gems"—into your travel itinerary. There is so much more to be discovered than the lines and Eiffel Tower keychains!
6 Lesser-Known Paris Gems
1. Parc des Buttes-Chaumont & the Butte Bergeyre Micro-Village
As a small-town girl living in the city for the first time, I've come to appreciate the many green spaces scattered throughout Paris. While the popular Luxembourg Gardens are lovely, I find that when I'm in need of a quiet haven, I'm drawn to the peaceful Buttes-Chaumont Park.
Located on a hill in northeastern Paris, the park is crisscrossed by walking paths and dotted with trees. A lake rests at the park's center, within which is an island accessible by an impressive suspension bridge. In addition to a hidden grotto and several waterfalls, the park's pièce de résistance is the romantic Temple Sibylle, which sits at the island's rocky summit.
Just west of the park, a steep staircase guides you into the micro-village of Butte Bergeyre. Narrow, cobblestone streets wind through a menagerie of buildings in differing architectural styles, all leading to the top of the hill. Here, you can admire the community garden and gaze out over Montmartre and the magnificent Sacré-Cœur Basilica.
2. Musée Rodin
Less frequented than the famous Musée du Louvre, the Musée Rodin is a highlight for sculpture lovers like myself. The museum is housed in the elegant Hôtel Biron, which served as the home and studio of sculptor Auguste Rodin in the early 20th century. Since his death in 1917, Rodin's most celebrated works–including The Kiss and The Thinker–have been on display here. Not only is Rodin's work astoundingly beautiful, but the hotel and sculpture gardens are stunning and worth seeing in their own right.
3. Île aux Cygnes
Much to the surprise of many, there are three islands within the River Seine: the well-known Île de la Cité and Île Saint-Louis, and the tiny, lesser-known Île aux Cygnes, or Island of the Swans. This island is man-made and uninhabited, just wide enough for a tree-lined path.
No cars, no crowds; it's no wonder the locals like to walk and jog here! Both ends of the island offer intimate views of the Seine and its banks. The most notable being the north end and its unique perspective of the nearby Eiffel Tower. Also worth checking out is the quarter-scale replica of NYC's Statue of Liberty on the south end.
4. Montparnasse Tower & Observation deck
There is no denying it: the Montparnasse Tower is a massive eyesore. The modern, 690-foot tall skyscraper was built in the early 1970s, towering over surrounding buildings and looking dramatically out of place. But, it does have one redeeming quality.
Its 59th floor observation deck offers the most spectacular 360-degree views of the city—even better, I'd argue, than that at the summit of the Eiffel Tower because, well, you can actually see the Eiffel Tower! It's a little pricey, but go on a clear day and the 25+ mile viewing radius makes it all worth it. Or, visit at twilight when Paris is just beginning to transform into a glistening City of Light. Breathtaking!
5. L'église Saint-Eustache
With so many beautiful churches in Paris it's nearly impossible to choose a favorite. Of course, the Notre Dame is iconic and is worth waiting in line to see (and you will wait in line!) but there are so many others, like the underappreciated Church of St. Eustache, that should be on your list.
A masterpiece of late Gothic architecture, Saint-Eustache is hidden in plain sight within Paris' Les Halles district. It's comprised of incredible vaulted ceilings, gorgeous paintings and stained glass, and the largest pipe organ in France. Attend a mass or simply tour the sanctuary and you'll feel as if you've been transported back into the 16th century.
6. Rue des Martyrs & the SoPi Neighborhood
Paris' 9th arrondissement rarely gets much attention. With Montmartre to the north and the more tourist-friendly districts hugging the river to the south, travelers often miss out on the culinary delights found in the up-and-coming South Pigalle neighborhood. Over the last decade, stylish cocktail bars and bistros have replaced the sex shops and skanky cabarets that once riddled South Pigalle (or, SoPi as it's now called), promoting the area to one of Paris' premiere hipster hang-outs.
The bustling, shop-lined rue des Martyrs is at its center. A foodie's dreamland and lifeblood of the rest of the neighborhood. Bakeries and chocolatiers, tea salons and coffeehouses, fish shops, cheese shops, and wine. Merchants all make for a truly authentic gastronomic experience.
6 Lesser-Known Paris Gems Related Reading
Have you traveled to Paris, France? What were your impressions? We'd love to know if there's any important information you recommend adding to this list. Email us at [email protected]pinkpangea.com for information about sharing your experience and advice with the Pink Pangea community. We can't wait to hear from you.
Photo for 6 Lesser-Known Paris Gems by Pixabay.