Ditch the Car on Anna Maria Island, Florida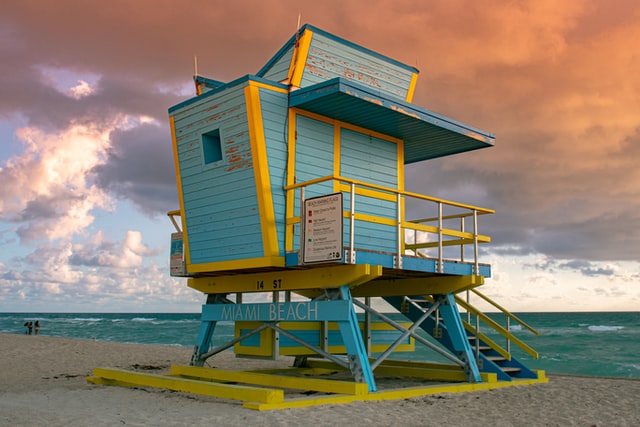 One island, three cities, seven miles and lots of sandy beaches. It's the beaches that draw people to Anna Maria Island, Florida, but the whole island experience is much, much more. Snow white, crystal sand with spectacular shells against turquoise waters, with some of the most beautiful sunsets imaginable. As the sun started to create its evening canvas of oranges, pinks and yellows, streams of people headed towards the beach.
Aah, vacation had started. A week of no alarm clock, no meetings and no rush-hour traffic. Get off the plane, grab the luggage, hop on the shuttle and head to the island. As soon as I stepped foot on the island, I knew I had found paradise. Anna Maria Island, Florida is like no other island I've visited. It makes me feel like I've taken a step back into a time when life was simpler. No high-rise hotels, no noisy spring break bars, no downtown streets packed with cheesy souvenir shops. Just a laid back, relaxed life with other tropical beach lovers.
Upon arriving at my vacation rental cottage at Tropical Breeze, I began flipping through brochures detailing the island's activities and adventures. Most of the things I was interested in was not far from my cottage. One of the most popular things visitors and residents alike do there is leave the car in the driveway and jump on–or in–alternative wheels to explore the island. That is a big reason I visited Anna Maria Island– five days of no bumper-to-bumper traffic jams, crazy drivers or stressful commutes. It options were bikes, scooters, golf carts, Segways and a free trolley.
Ditch the Car on Anna Maria Island, Florida.
The next morning, I heard the beach screaming my name. From my cottage, I only had about 50 steps to the toe-squishing, foot-massaging Florida beach sand. As I walked along the beach, I felt the scales of stress and depression start to fall away almost instantly. Breathing in the warm, tropical air, I wondered what took me so long to find this attitude-altering island. I allowed my senses to succumb to the sights and sounds of this Gulf Coast beauty. The only expectation I had was to hope that each day would be half as rewarding as this moment.
As I came back to reality for a moment, I realized I needed to make it to the grocery store for some food supplies. I headed to the closest trolley stop and travelled to the north end of the island. As I mentioned, one of the greatest draws of Anna Maria Island is the possibility of ditching the car while staying there. Here are your options for getting around.
Free trolley
The Anna Maria Island trolley is free and runs from the north end of the island at the City Pier to the south end at Coquina Beach. It carries travelers seven days a week from 6:00 am to 10:30 pm and has stops that can connect to regular buses. After an evening of dining and walking around, what a relief to hop on the trolley the rest of the way home.
Bikes and golf carts
There are a number of vendors who rent bicycles, starting with Beach Bums located at 427 Pine Avenue. They have cruiser bikes, tricycles, surreys, golf carts and even electric bikes. They also carry bike accessories, such as trailers or bike seats, to accommodate youngsters. The best convenience of all is that they deliver right to your front door. Since the island is small and the main streets include bike lanes or sidewalks, safety is not much of an issue. Additionally, the maximum speed limit is 35 mph, but most streets are designated at 25 mph. The golf carts have seating for either four, six or eight passengers. So no matter what the occasion, there is always room for the gang. Since the carts are street legal, exploring all seven miles of the island is a piece of cake.
Scooters
Another option is to rent a scooter from Island Scooter Rentals at 9908 Gulf Drive. The best part of using a scooter is that they get 100 miles per gallon! There are new scooters of all sizes that can be rented by the hour, day or week. They also rent water equipment including kayaks, body boards, stand up paddleboards and beach carts… all that's needed for a sun-filled day at the beach.
Segways
For a really different ride, Segways were available for rent. Segs by the Sea is located in Bradenton Beach at 102 Bridge Street. There are two options – either a guided tour or a self-guided tour. Training and helmets are provided. There are different tours of the local area. The guided tour provides an opportunity to learn more about the island. The company can even put together a special event like a scavenger hunt on a Segway.
By vacation's end, I had been able to experience the full beauty of this quaint island by choosing alternatives to a car. If I had only rented a car I would have missed out on one of the most complete and in-depth vacations I have ever experienced. As it happened, I boldly went where no car had gone before and had a whole lot more fun doing it!
Getting to Anna Maria Island
To get to Anna Maria Island, fly into either Tampa International Airport (TPA) or Sarasota-Bradenton International Airport (SRQ). Airport transportation is available through AMI Transportation or Island Sedan. The island is approximately 45 minutes south of Tampa.
Photo for Ditch the Car on Anna Maria Island, Florida by Unsplash.