Madrid: One Last-Ditch Effort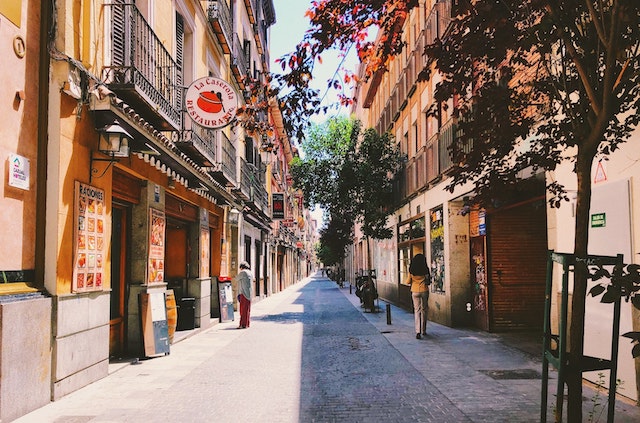 I wasn't too sure why I kept making plans to go to Madrid. I didn't know much about the city, and it was never super high on my dream list of places to visit. It had more to do with being invited along to other people's trips and me thinking, "Ah, why not?" than my own real desire to go. And after several of these planned trips fell through, one after the other, I was starting to think that Madrid and I weren't meant to be.
Despite previous failed attempts, I made one last-ditch shot at visiting the city – and ended up getting kicked off an overbooked flight, and facing a bleary-eyed twelve-hour wait in Gatwick Airport for the next one. Part of me really thought I wasn't getting on that plane, and that Fate was stopping me from going. This time, however, the plan was mine – and it did matter that I get there. I had plans to meet friends from America and Australia. The former was on vacation, the latter living in Madrid, and this would be the first time we'd seen each other in a long time – indeed, since we'd met in Prague a few years before. The world was getting smaller by the day.
I hadn't realised how delicious the tapas would be, eaten whilst jostled by crowds at 11pm at night.
It turned out that Easyjet managed to thwart Fate after all; twelve hours and endless coffees later, I landed on Spanish soil, slightly bewildered that I'd made it.
It turned out that Madrid probably should have been on my list of dream places, after all. I fell in love swiftly and surprisingly. It could have been to do with the fact I hadn't seen my friends in a long time – for don't people make the places, so often? Indeed, a lot of my favourite memories from the trip are with them: drinking beers, wandering through the weekend street markets, and catching up on several years of gossip. But a lot of it was also to do with the fact I had so few expectations.
I came to the city purely to visit my friends, with an unopened guide book in my bag and no ideas about what it would actually be like. I hadn't realised how delicious the tapas would be, eaten whilst jostled by crowds at 11pm at night. I hadn't realised there would be so many parks–how green the city would be, and so full of colour. I hadn't realised about the art scene, and the architecture, and the galleries.
Whilst I drifted along the streets cheerfully staring at buildings and vapidly exclaiming, my friend living in the city kept my feet on the ground and ushered me around the tourist trail. As much as I'd like to say my lack of planning and expectation are what made the trip, I would have been unlikely to have seen as many of the famous sights – if any – had it not been for my friend knowing exactly where to go and wander.
Madrid: One Last-Ditch Effort.
It was the most organised aimless wandering of my life. We passed by famous monuments, stepped back in time in the Royal Palace and gorged on fat churros from the (apparently) legendary Chocolateria San Gines. At this point, I did feel somewhat guilty that I hadn't opened my guide book.
At the end of the day, my friend took us to Temple de Debod, where she assured us people gathered to see the most beautiful views of Madrid's sunset. People went there to take photos, she'd said, and it was in all the guidebooks. Indeed, a crowd of people had gathered by the temple just before sunset, cameras and tripods and phones determinedly at the ready. Whilst my friends set up camp to take photos by the temple, I hopped over a railing and clambered unsteadily over a mud slope to settle comfortably on a closer spot.
As the sun started lazily painting the sky orange on its descent, I started snapping some photos – before looking around for a moment. Every single other person around me was staring at the sun through a lens, snapping blindly away. None of us were actually looking at the sunset, or appreciating being in the moment. We were merely following guidebooks and friends' advice, taking pictures ready to look at later on, when we could be looking at what was happening right now.
I don't remember the last time I watched the sunset – as in, really watched it, instead of hastily taking photos of it on my way home from work.
I decided to put my camera away, and just…watched. I watched the sun dip lower and lower, the colours dancing on the sky. I watched the shadows cast over the city of Madrid, and tried to take in the moment. Mud scraped on my hands as I held onto my sloped seat, and the breeze rustled my hair. I don't remember the last time I watched the sunset – as in, really watched it, instead of hastily taking photos of it on my way home from work.
As it disappeared, I realised how important balance can be when it comes to seeing a new place. Following friends' advice, versus having your own itinerary. Walking blindly around a place, versus having some knowledge of where and where not to go. Seeing famous tourist sights, balanced with being in the moment.
I'd never have known to go up to Temple de Debod without having been told. But once I was there, deciding to just be in the moment, with no plan at all but to sit and watch the world, was one of the happiest times in my trip.