Are you planning to embark on a safari holiday to reconnect with nature and get closer to wildlife? Safari holidays have become quite popular among the new breed of vacationers who want to cut off from the hustle of everyday life and indulge in adventurous moments. From witnessing majestic sceneries to capturing photographic opportunities, a safari trip to Africa promises an exciting mix of pristine natural beauty and wildlife adventure. Given here is a list of the 7 best African safari holidays that you can cherish for the rest of your life.
1. Masai Mara National Reserve, Kenya
Masai Mara Safari is a hugely popular destination that draws an influx of wildlife enthusiasts and intrepid vacationers from around the world. Home to a large number of wildebeests and zebras, the national reserve boasts scenic vistas and beautiful plains that can mesmerize any traveler. Thanks to the abundance of wildlife in this region, you can easily spot animals like leopards, lions, cheetah, giraffes etc. here. What is even more remarkable is that the reserve features over 450 species of birds. There is no doubt that Masai Mara is a wonderland for photographers owing to the breathtaking views it offers. Moreover, observing wild animals and discovering the iconic beauty of Masai Mara will lift your spirits in the blink of an eye. So, if you want to break away from the ordinary and immerse yourself in the wilderness, Masai Mara is the place you need to explore at least once in your lifetime.
2. Kruger National Park, South Africa
Renowned for being South Africa's biggest national park, Kruger National Park boasts dense vegetation, a vast landscape and luxurious lodging options that make the destination perfect for families and first-timers. The eye-catching sight of giant elephants, cheetahs, impalas etc., will instantly satiate your wilderness cravings. As surprising as it may sound, you will get to witness purple sunsets on evenings if you are lucky enough. Bird lovers can also have fun at Kruger National Park as it houses hundreds of migrant bird species. Thus, people looking to appreciate African wildlife should definitely journey through the Kruger National Park to have an immersive and unforgettable sightseeing experience.
3. Ruaha National Park, Tanzania
All thanks to the rapid development of Tanzania's southern circuit, Ruaha National Park, which was once an unknown park, has become a famous safari destination. The stunning surroundings of this park and large bird population attracts lots of bird enthusiasts throughout the year. More notably, Tanzania's biggest elephant population is seen in this region. Ruaha National Park also provides habitat to zebras, bat-eared foxes, elephants and wild dogs. Since big cats are seen regularly in this national park, there are high chances that you may even spot a pride of lions. In addition to large animals, you can see crocodiles, reptiles, frogs, monitor lizards and learn a little about the various unique plant species that are found here.
4. Etosha National Park, Namibia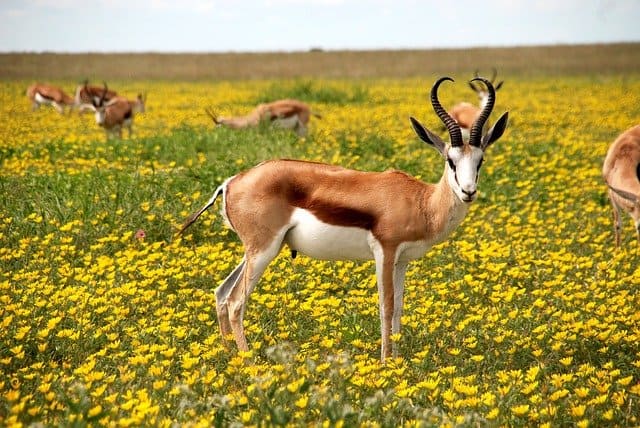 Etosha National Park was established in 1907 and has attracted endless tourists and wildlife lovers over the years. The picturesque views of the open grasslands in this region are sure to captivate you. From blue wildebeests, zebras to rhinos and lions, Etosha National Park boasts a wide range of animals, and hence you can encounter new sights throughout your safari. Above all, there are many waterholes in the park where you can silently watch game animals quenching their thirst. Once you are done with your wildlife sighting adventure, you can relax in one of Etosha's luxurious rest camps and get engrossed in the sight of nearby scenery to enliven your senses. So, make sure you pay a visit to Etosha National Park with your loved ones to admire nature and indulge in wildness luxury.
5. Serengeti National Park, Tanzania
The Serengeti National Park is another world famous African Safari destination that is situated in the north west side of Tanzania. It is home to more than 1.5 million wildebeest that can be seen in all seasons. This place is frequented by a lot of visitors as it features ravishing savanna, open woodlands and grassland plains, all of which are a delight to the eyes of the beholder. African leopards, lions, cape buffalos, zebras etc. are a common sight in this park. You can also come across some of the most unique species of antelopes that are rarely seen. Other beautiful mammals that you can spot in the Serengeti National Park include aardwolf, porcupine and ground pangolin. Since this safari destination boasts over 500 bird species like martial eagles and kori bustards, it is an ideal holiday spot for bird watchers as well.
6. Moremi Game Reserve, Botswana
Renowned for its thick acacia forests and diverse ecosystem, the Moremi Game Reserve is deemed a safari paradise by hundreds and thousands of nature-loving travelers. Here, you can expect to catch sight of a wide variety of majestic birds and animals such as elephants, giraffes, hippos etc. While it is true that the Moremi Game Reserve is home to various big cats like leopards and cheetahs, they are rarely spotted during the safari. Often referred to as the 'Garden Of Eden', this reserve boasts stunning panoramic views of tropical grasslands, lagoons and picturesque rivers. If you are low on money but want to discover a budget friendly safari destination, you should not miss out on the Moremi Game Reserve.
7. Ngorongoro Crater, Tanzania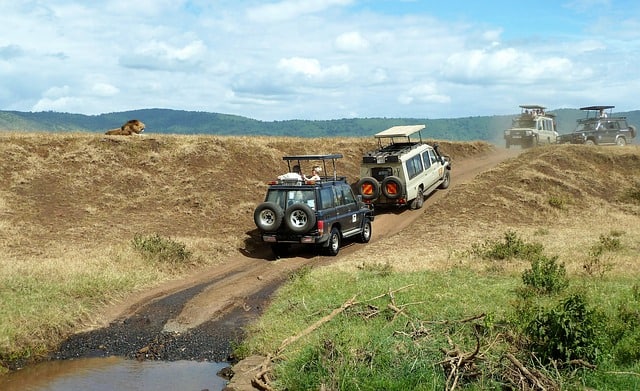 The Ngorongoro Crater is a big favorite amongst safari lovers as it features a wonderful scenery and brims with natural beauty. What distinguishes this destination from other safari holiday spots is its one-of-a-kind landscape and high wildlife density. What's more, you can visit the Ngorongoro Crater for wildlife viewing at any time of the year. Though you can easily see all major animals like elephants, zebras and lions, you can spot giraffes and impalas only if luck is in your favor. Other less frequently spotted animals are leopards and African wild dogs. Moreover, bird watchers coming to this safari destination can enjoy the sight of varied bird species including the ravishing pink flamingos.
Going on a safari holiday is a sure shot way to escape from the fast lane of life. However, it is imperative that you come up with a realistic travel budget before planning your safari vacation. More importantly, see to it that you invest in top-grade safari gear to ensure maximum convenience and have the best wildlife viewing experience of your life. So how about planning a getaway to the aforementioned safari holiday destinations and making some unforgettable memories with your family and friends!