Lush rainforest covers more than half of Costa Rica and dozens of rivers run through it, so it is no surprise that the country is teeming with waterfalls. As well as being beautiful, endless fun can be had swimming, riding zip lines, swinging on ropes and rappelling down them. Although dozens of YouTube videos show people leaping from waterfalls, it is best to be cautious. Tourists frequently get stuck, slip and even die in the process. However, as long as you take care, visiting a waterfall is one of the best ways to experience the unspoiled natural beauty of Costa Rica. Here are five to get you started.
The Incredible One: Catarata Del Toro, Alajuela Province
Hidden in a private rainforest reserve in Costa Rica's North is an extraordinary waterfall that plummets into the crater of an extinct volcano. Reaching it involves descending four hundred steps, and then making your way through giant 'Poor Man's Umbrella' plants. It is worth the effort. Water pours down a steep, moss-covered cliff for almost three hundred feet. The reserve, known as Bajos Del Toro, is ninety minutes' drive north of Alajuela on the edge of the Juan Castro Blanco National Park. If you want to see more, the owners will lead you on a tougher hike to a series of secluded cascades known as the Blue Falls. Entrance here costs 14 US dollars for adults and 7 US dollars for children. Overnight accommodation is available in a small guest house.
The Terrifying One: Catarata de Montezuma, Puntarenas Province
Montezuma is an easy-going surf resort at the southern tip of the Nicoya Peninsula. A short hike from the bridge in town brings you to the falls. This is the place to come for thrills. The waterfall has three tiers, each with a deep plunge pool. The top tier can be reached easily, and the shallow pool is ideal for swimming. Daredevils can clamber down to the second tier and jump 40ft into the pool below. The drop from the third tier is 80 ft, so don't dive or jump here unless you are harbouring a death wish. Montezuma waterfall is a popular local attraction, so expect to see plenty of other people. To get to the top of the waterfall you need to pay 3.5 US dollars for the Sun Trail. Like most of the sites mentioned here, there are no toilets or facilities for changing.
The Out-Of-The-Way One: Catarata La Cangrega, San José Province
Catarata La Cangrega is a waterfall in Rincón de la Vieja National Park, four hours' drive north from San José. The park has an active volcano, so hiking here is a drier, less muddy experience than is typical in Costa Rica. The falls are a strenuous four-hour hike away–which has the advantage of deterring many tourists. The 50ft high waterfall is in a shady, quiet spot, with overhanging rocks and sunlight glinting through the tall trees. You can swim in an inviting pool surrounded by large boulders, and pose behind the cascade for that perfect Instagram snap. Entrance to the national park costs 15 US dollars for adults and 6 US dollars for kids.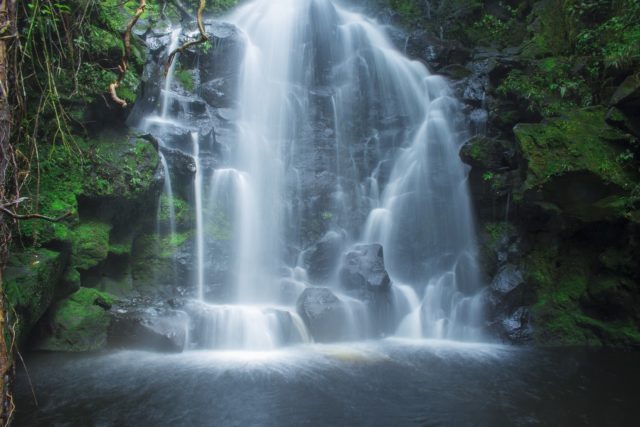 The Convenient One: Catarata Llanos de Cortés, Guanacaste Province
In the northwest province of Guanacaste, around half an hour by car from Liberia is Catarata Llanos de Cortés. This 40ft high waterfall is almost as wide as it is high and is extremely photogenic. Spending time here is more relaxing than thrilling. Water spills serenely over uneven rocky ledges into a shallow pool that you can swim in. One of the more accessible waterfalls in Costa Rica, it has a car park with a security guard and is close to the main road. However, thefts have been reported.
Take care with your belongings and be wary of fake guides and scams, especially if you are on your own. The parking costs around 4 US dollars and donations to the community is encouraged upon entrance. The contributions go to the local school.
The Idyllic One: Catarata de Río Celeste, Guanacaste Province
Running through the Tenorio Volcano National Park, four hours north of San Jose, the Rio Celeste is one of Costa Rica's most breathtaking rivers. It is famous for its bright blue water, which is the result of certain minerals combining. From the entrance to the park, it takes around half an hour to reach the falls. Water flows into a bright blue pool fringed with bright green vegetation.
A hike takes you to a small lake known as the Blue Lagoon, a viewpoint and some thermal springs. Because of its unique beauty, this is one of the spots in Costa Rica threatened by over-tourism. The park caps visitor numbers each day, so plan to arrive early. Entrance fee for foreigners costs 10 US dollars and there are bathrooms and a restaurant at the entrance.
Many of Costa Rica's waterfalls are easy to discover, but to reach the most secret, cherished spots, you will need a guide. Before hiking to a waterfall, it is a good idea to take some precautions. Wear sturdy hiking shoes (and take a pair to change into in case of mud), apply sun cream and carry water. Also make sure to check on opening times and weather conditions before visiting the waterfalls. As long as you are careful, there should be no safety concerns. So, if you're planning to visit this captivating country, why not join a guided hike, or strike out and discover a waterfall paradise of your very own!