If you are skeptical about travelling to Thailand, you are not alone. I have been in your shoes. The negative narratives about this beautiful country almost put me off. However, my adventurous spirit compelled me to ignore the negatives and embrace the possibilities. Two years after I retured from my first Thailand trip, I'm already planning a return.  Here are some of the highlights that make this country unique —  and why you'll want to visit Thailand today. This Thailand ultimate travel guide will prove to be your best handbook about the country.
Getting to Thailand
Thailand has up to several international airports located in the following cities:
Koh Samui

Phuket

Krabi

Hat Yai

Chiang Mai

Bangkok
I touched down at the Suvarnabhumi Airport in Bangkok, which the locals also refer to as the Bangkok Airport, though I learned this is not the official name. Bangkok has two international airports, the other one being the Don Mueang International Airport. The former one is, however, the most popular as it sees more traffic than the other.   
I boarded Thai Airway from LA to Bangkok, though we had a one-hour stop at Seoul, South Korea. The one-way ticket to Bangkok from Los Angeles cost US$1,024, so it was cheaper to take the flight with a layover. If you do not reside in LA like me, you should also be able to board a Bangkok-bound flight from many of the cities at both west and east coasts.
Lodging in Thailand
This ultimate travel guide will not be complete if I do not talk about hotel accommodations. Virtually all the islands from the north to the south have unique hotels that cater to the needs of visitors. And yes, I enjoyed the lavish hospitality, and great meals like nothing ever served in the west. I opted for one of the cheap guest houses during my stay as I didn't wanted to live beyond my budget.
Best time to travel
My journey to Thailand a couple of years back was in the low seasons, and I almost regretted my choice of travel time. For one, some of the islands I would have visited in Thailand were shut down due to the bad climatic condition. The afternoon showers compelled me to stay indoors almost all through my stay.
I have however learned my lesson — I will not visit Thailand between July and October. The locals later enlightened me that the best period to visit Thailand is during the high season when the monsoon has been replaced by cool and dry seasons with the landscapes showcasing their lush glories and the temperature being magnanimous in its ambience. I missed scuba diving, which I later learned to be a common sport here between November and March.  Because I visited Thailand during the off season, I didnt have the opportunity to participate in the colorful, cultural lantern festival.
April to June is another great visiting period, but you must be ready to withstand temperatures as high as 30 degrees Celsius. The rain may not be much during this time, but the hot temperature may compel visitors  to restrict their visit to the northeast, north and central regions of the country.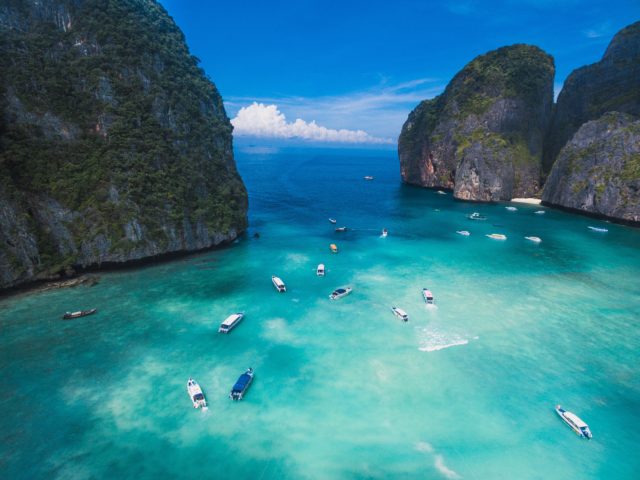 Locations to Visit in Thailand
Despite the unfriendly wheather that I encountered while in Thailand, I still managed to visit several beautiful places. Here are some of my favorites:
Bangkok
I registered my name as one of the 23 million visitors to Bangkok. Bear in mind that my flight touched down at the Suvarnabhumi Airport. This city may not be the most beautiful I have ever visited, but it is highly dynamic — to say the least.  Every street seems to wear a new identity, and I would have lost my way if not for my guide and Google Maps! The streets seemed to emit some intense energies of their own that kept me glued until late in the night.
Chiang Mai
My visit to the ancient Lanna Kingdom brought me across Chiang Mai. Call it a perfect escape from the hustle and bustle of city life, and you will not be far from the truth. The Lana ruins and valleys dotting the entire place conferred some eerie serenity that tends to cut one away from civilization.
PAI
One other hiding place from the city in Thailand is the Pai. The ethnic tribe village, natural hot springs, hiking trails, endless mountains and deep valleys that surround this place makes it the perfect place to fellowship with nature. And yes, it is a "fellowship" I desire to relive.
Conclusion
This Thailand ultimate travel guide may not be detailed due to constrain of space, but I hope I have been about to touch some cogent aspects so that you can be well guided when you want to visit this wonderful country of Thailand. Have a great visit!