Are you a skiing enthusiast looking for the best destinations to visit? Do you want to plan a memorable vacation for the upcoming winter season? Initially considered a recreational sport for adventurous mountaineers, skiing has now become extremely popular amongst common people. Nonetheless, beginners can have a hard time planning the best ski holidays. Choosing the best ski destinations requires consideration of certain essential factors such as resort availability, terrain variety, lift accessibility, and annual snowfall. Here, we have listed the top 10 ski destinations around the globe so that you can make the right choice and spend the upcoming snowy season in the best way possible.
1. Val d'Isere, France
One of the most frequented skiing destinations, Val d'Isere shares the elevated valley with Tignes and provides over 300 kilometers of unified ski terrain. The valley is known for its altitude which is around 3,450 meters high and promises snow throughout the late spring. With more than 20 challenging black runs, Val d'Isere is considered an excellent destination for expert skiers. Without a doubt, Val d'Isere is a must-visit destination for skiers of all levels of expertise.
2. St. Anton, Austria
Very popular for its vivacious après-ski scene, St. Anton is a remarkable skiing destination for many. With its 280 kilometers terrain's peaks reaching 2,800 meters, St. Anton features some of the most difficult runs around the Alps. The legendary moguls and the off-piste skiing are just phenomenal. In addition to this, it is considered one of the snowiest destinations situated in the Alps. However, owing to its tall peaks, St. Anton is not ideal for beginners or intermediates for that matter.
3. Whistler Blackcomb, Canada
Located in Canada, Whistler Blackcomb is widely renowned as a premier ski destination worldwide. The combined skiable terrain of 2 mountains provides more than 200 challenging runs that can be accessed by over 37 lifts. One of these two unifies with the mountaintops and features the world's longest uncorroborated lift span which makes Whistler Comb an ideal skiing destination. Besides, the resort village situated at the base of Whistler Blackcomb makes it a good vacation spot for noob skiers and families. Whistler Blackcomb promises matchless views that extend to the Pacific Ocean and a lot of terrains to suit the requirements of skiers of varying skill levels. Not just that, Whistler Blackcomb is also North America's biggest winter sports area.
4. Vail Mountain Resort, United States
Being one of the largest ski resorts in Colorado, Vail Mountain Resort features the seven-back bowls which remain in prime condition owing to the expected 350-inches of yearly snowfall. Although Vail's skiable area of 5,289 acres which is accessible by 31 lifts is noteworthy, it is more renowned for its unique variety. Vale offers long and well-groomed runs that offer a great scenic view of the upscale restaurants and luxury hotels. Last but not the least, Vail Mountain Resort offers sufficient terrain to keep skiers occupied throughout their visit.
5. Courchevel, France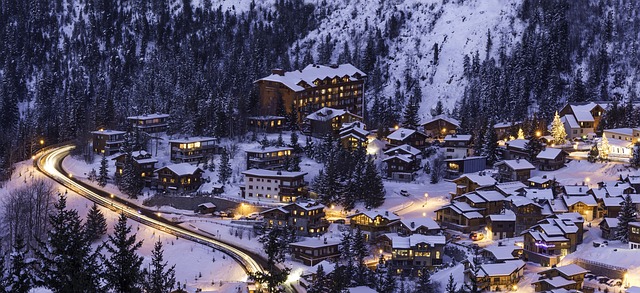 Widely known for its charming scenic beauty and outstanding restaurant variety, Courchevel is one of the most popular skiing destinations in the world. A major part of the world's biggest alpine ski area, Courchevel provides 150 kilometers of ski terrain which can be accessed by over sixty lifts. Another delightful aspect of Courchevel is its annual average of 4 meters of snow which is perfectly preserved and groomed. Moreover, off-piste skiing is a real treat for skiers. Each year, people from across the world come to Courchevel to partake in skiing and most of them go back with amazing memories.
6. Aspen Snowmass, United States
Aspen Snowmass falls in the list of the best ski destinations in Colorado. The destination is considered perfect for intermediate and skilled skiers as it features challenging terrains. Furthermore, it comprises of 4 ski spots encompassing Aspen and Snowmass Village. The entire terrain of Aspen Highlands, Snowmass, Aspen Mountain and Buttermilk goes over 5,500 acres. Aspen, renowned for its challenging runs, is one of those regions where backcountry skiing gained popularity. Although most of the backcountry terrain is for proficient skiers, Aspen has some really promising areas for beginners as well.
7. Chamonix, France
Chamonix is an all-time-favorite destination of skiers who love to take up sporty challenges. In fact, Chamonix comprises some of the globe's most challenging terrains for intrepid skiers. With Europe's highest peak reaching 4,807 meters, Chamonix features excellent and long-lasting snow conditions in the Alps. The neighboring glaciers aid the high altitude of Chamonix, thereby keeping the snow dry and temperatures as low as possible.
8. Niseko, Japan
Located in Japan, Niseko is known to be a popular skiing destination. Renowned for its snowcapped mountains as well as the extremely low temperatures that are responsible for its production, Niseko offers chilly weather for the most part of the year. The best part about Niseko is that it offers a lot more in addition to skiing such as snowmobiling, spring spas etc., thus making it ideal for a wholesome and fun-filled holiday.
9. Meribel, France
Just like Courchevel, Meribel is also one of the highest-rated skiing destinations in France. Meribel shares the Three Valleys that consist of the largest ski area in the globe. With most of the ski domain over 1,800 meters, Meribel's ski terrain falls between 1,100-3,230 meters in elevation. Moreover, the outstanding snow-making facilities at Meribel promise good weather conditions for a long period.

10. Telluride, United States
One of the most renowned skiing destinations in Colorado, this snowy resort is known for its perpetual weather conditions and scenic beauty. Telluride offers an eye-catching setting with a lot of challenging terrains at a high altitude that assures constant snow. It's base begins at a remarkable 8725-foot elevation owing to the impressive height of the San Juan Mountains. Moreover, the lift facility at Telluride makes it possible for skiers to go as high as 12,515 feet. Not just that, there are over 2,000 acres of terrain on which skiing can be done. With skiing prevalent at almost all levels, Telluride makes for an ideal family trip destination.
Skiing is indeed an enjoyable activity and it has become inordinately popular around the world. However, selecting the right skiing spots to visit can be a herculean task for many people. With the above-mentioned guide, you can easily choose the best ski destination which you feel is worth visiting. Most importantly, ensure that you invest in the best quality gear so as to make the most of your skiing experience. So, how about planning your winter trip now and getting all set to go skiing!