Gender Segregation and Iran Transportation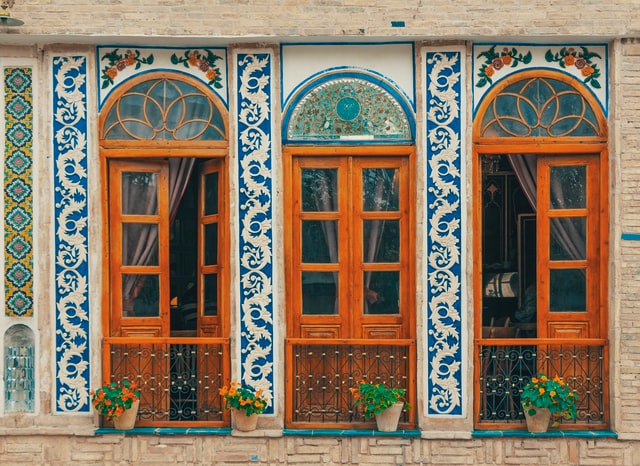 City Bus:
"Move towards me Bahar, farther back please," Mom kept telling me with a glare. It was my first time riding a bus in Tehran. Until then, I had only peered through the buses from the street, while trying to capture a photo of how men and women sit in separate sections. I chuckled the first time I saw this–perhaps because of the blatant display of segregation in broad daylight. Most women I know say they feel more comfortable being separated from men who occasionally are tempted to overstep boundaries. "Yes, but still," I'd object. "It doesn't make it acceptable."
In large buses ladies occupy the rear section, in small buses, the front. A metal bar separates the two sections. On rare occasions women, Mom and I included, have been known to move to the men's section if seats are available but in general men do not. Once you get on the bus–and over your fascination–you'll know which section to go to. Tickets can be purchased at the station. Otherwise, pay the bus driver on the way out. If you ride a bus where women sit in the back, you would get off the bus first, then walk to the driver and pay. The bus fare now is 200 Tomans. Iranian currency consists of Riaals and Tomans. Ten Riaals equals one Toman. Each dollar is about 1100 Tomans and fluctuates daily.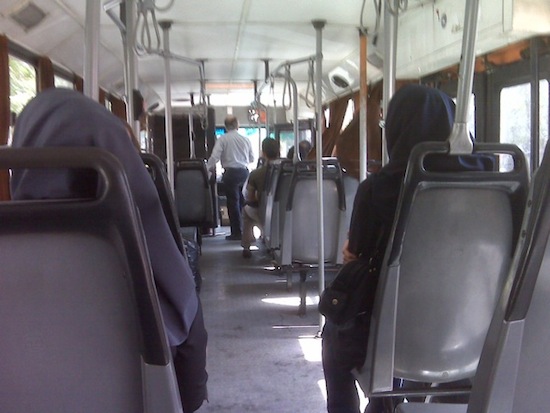 Metro:
Tehran also has a metro system newly built, one of the largest in the Middle East and includes four lines: 1, 2, 4 and 5. Artwork adorns the walls in the stations. Tehranmetro.com has the most necessary information including maps, prices and schedules. Just look for the English button to the left. What you will not find on the website, though, is how, at least in the women cars (here too, men and women sit in separate cars except for families,) female vendors hop on at different stops with plastic bags full of merchandise from hosiery to makeup, for sale. "Anything to pay the bills," Mom says. "What are people supposed to do?" These vendors even trust you to inspect the item and think about it while they make their rounds. That same priceless trust one would find between the grocer and his customer exists here as well.
A standard one-way ticket is blue and costs 300T and the round-trip is yellow and costs 450T. It made me happy to learn that senior citizens ride for free and that handicapped individuals as well as veterans receive 50% off. Another thoughtful project the government has sponsored happens during the month of Ramadan. At sundown, government employees stand at the metro stations and hand out snacks to people who have been fasting since sunrise–something to break the fast with until they can go home to their families for dinner.
Gender Segregation and Iran Transportation, Travel Information
Taxi Cabs:
Ladies, there is no separation of men and women in cabs. You can call the cab companies for your own private cab. However, if you are already out and about, yellow or green cabs can be shared with others for a lower price. My mother, who seemed to always be in a hurry or wanted her own space, would hail a cab and ask for darbast, meaning I'd like you to take me to my destination without picking up other passengers. If you choose this method, I recommend asking the cabbie in advance what he or she is planning on charging you to avoid any surprises when it's time to pay–and also to have a better chance at haggling.
Intercity Bus:
Another mode of transportation where men and women are not separated is the intercity bus. Coach buses provide a very convenient and inexpensive method of transport between cities. Depending on the length of your trip, a movie may be shown. As you walk in, they hand out a snack box of cake, nuts, cookies, instant coffee, and orange juice. If you take tour buses, you'll be in for a great time. We had music and dancing on mine. Yes I actually danced in a bus in the Islamic Republic of Iran. They even had a young man sing folk songs for us. We just quieted down at highway stops.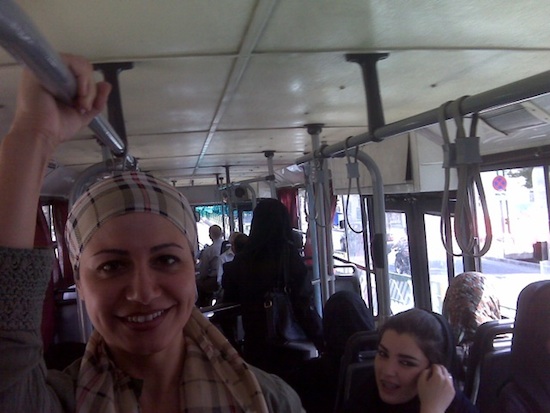 Planes:
Men and women have separate entrances into the airport. Fix that scarf before you get ready to walk in, ladies. They are particularly fastidious about proper attire at security checkpoints. The lack of jet bridges means that buses must carry passengers to and from the planes. Also, oddly the disabled passengers board last. I had difficulty understanding this part especially since during one of the trips our group had two wheelchair-bound members.
But, here's what I liked about Iran-operated flights. In domestic flights–at least the four I experienced–irrespective of the duration, we were given a small meal and children were given little toys. In one flight, every passenger received a bottle of water as he/she boarded the plane. Moreover, before takeoff, flight attendants would walk around with a basket of candy, offering it to passengers, in an effort to alleviate ear pressure.
That's Persian hospitality for you.
Photo credit for Gender Segregation and Iran Transportation by Unsplash and Bahar Anooshahr.