6 Best Stockholm Bars for Every Occasion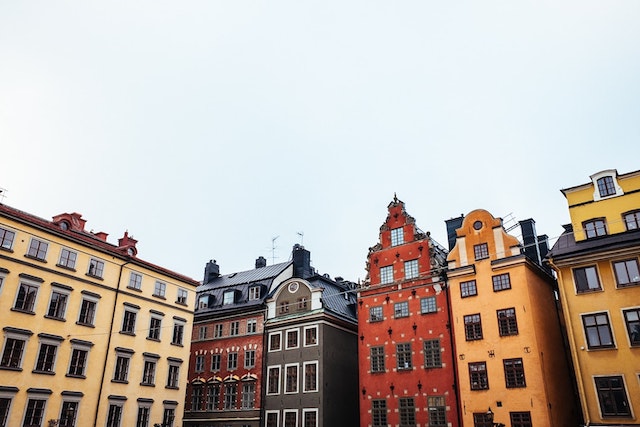 Going out for beers or drinks in Stockholm bars is a pleasant experience but which of the hundreds of bars do you choose? Taking into consideration how expensive drinking out is, I want to spend my money where it's worth it. I've fallen in love with a few places already, every one of them a bit different. In Stockholm, there's a perfect option for whatever you're looking for.
Best Stockholm Bars for Every Occasion
1. Outstanding beer selection: Akkurat
Akkurat is one of the most popular pubs in Stockholm. It is famous for its selection of draught and bottled beers of all kinds and countries of origin. Draught beers are listed on a large blackboard and I like to pick a completely unknown beer just according to its name. Located near the large transport node Slussen, Akkurat is easily accessible from anywhere in the city. Every Sunday, there is live music and the atmosphere is usually really good. I've heard that they serve free hot dogs until 6pm, but I've never visited Akkurat that early to try. The only bad thing about this place is that it is so popular that it might get very crowded on weekend evenings.
2. Outdoor drinking: Mosebacke Terrace
In summer months when the days are long, Swedes like to spend time outdoors, drinking. Mosebacke Terrace is like a special summer package including drinks, an amazing view of the city center, and a lively and relaxed atmosphere. Belonging to Södra Teatern, which is nextdoor, the terrace often hosts various kinds of cultural events like concerts or festivals (I loved the coffee festival!). To me, the Mosebacke Terrace is associated with all of the things that I love about the summer (except for when I bought a hot dog and awkwardly dropped it on the ground without having a single bite).
3. Stockholm Bar with a view: Himlen
If there's a bar with a better view than the Mosebacke Terrace, it's Himlen. Himlen is situated 104 metres above ground level, on the top floor of the Skrapan skyscraper. Skrapan is a very interesting building itself. Once the tallest building in Stockholm, it was built for the Swedish Tax Office and later it was transformed into student apartments and a shopping/dining centre. My only visit to Himlen so far was a rather peculiar experience because I went there with a sleeping bag.
Normally I don't bring a sleeping bag to bars, but I was borrowing it from a friend living in the building and I had no idea that Himlen was a rather fancy place. Despite the discomfort of dragging a sleeping bag, being too crowded and expensive, I was astonished by the place. Or more precisely, by the view. Literally all of Stockholm was spread out in front of my eyes and thanks to my good timing, it was bathing in a stunning sunset. Definitely the most beautiful sunset I've seen in Stockholm.
4. Travel to the Viking times: Sjätte Tunnan
Sometimes it's nice to leave the hipster Stockholm of today and move back to those times when Swedes were tough Vikings. Sjätte Tunnan is a Medieval tavern with bare walls, wooden tables, rooms illuminated by candles and the authentic spirit of an obscure place. I visited Sjätte Tunnan in winter and ordered a beer with mead. Mead is a common winter drink in Slovakia and it was a common drink in Medieval times, so I felt that it was the perfect choice for the occasion.
There's also another Viking bar and restaurant close to Sjätte Tunnan called Aifur. It's a very popular place, but most of the space is restricted for dining and there's very little space at the bar. I've been there three times and always turned around because it was too crowded.
5. Proper Czech beer: Soldaten Svejk
I'm from Slovakia and I have been studying in the Czech Republic for five years, so now Czech beer is my choice #1. When I came to Sweden I was pleasantly surprised to lean that Czech beer is very popular here, and not only bottled but draught as well. However, there's a big difference between drinking a Czech beer and drinking it in a proper Czech pub. Soldaten Svejk is a nice Czech tavern serving some good-quality Czech beers, instead of the most-exported Czech beers as it usually is in Swedish pubs.
I like Svijany and I haven't seen this beer anywhere else in Stockholm so far. Just on the next street, there's another Czech pub Hospodské Dvere that is also very nice.
6. Traditional Swedish beer hall: Kvarnen
Kvarnen is a traditional Swedish tavern with a long history dating back to the beginning of the 20th century. It's decorated in a simple, rural style with wood-paneled walls, wooden furniture, high ceilings, arched windows and tiled floor. It has a very nice atmosphere of an old but modern beer hall. It's also the right place to explore Swedish cuisine and I usually take my visitors here who want to try the traditional Swedish meatballs.
Interested in sharing about your experience in Stockholm Bars? Email [email protected] for details. Photo by Unsplash.