The US Virgin Islands: In Conversation with Sarah Greaves-Gabbadon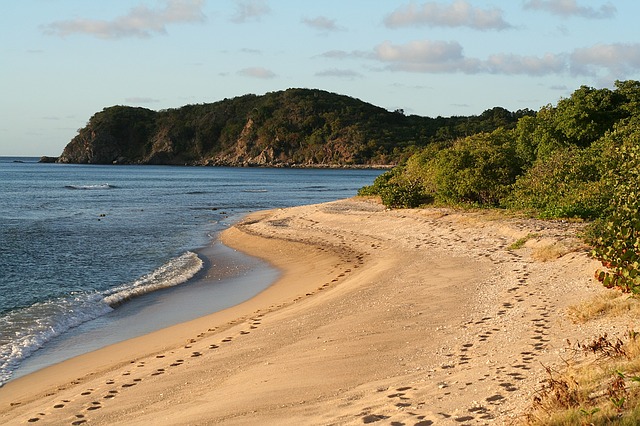 Planning on traveling to the US Virgin Islands? Sarah Greaves-Gabbadon shares her tips for having a wonderful trip with us.
Tell us about yourself! What do you do when you're not traveling the world? Where do you live? What made you decide to go to the US Virgin Islands?
I'm a Miami-based multimedia travel journalist, specializing in the Caribbean and shopping – my two passions. I'm in the Caribbean three times a month, and the only thing that brings me more pleasure than being there is sharing my island adventures, whether on my website, JetSetSarah.com, my social channels (@JetSetSarah), or by providing content to travel brands such as Travel + Leisure, USA Today, Coastal Living and, most recently, Martha Stewart Weddings and Brides.
I lead a busy life but I always find time to run (it's a fab way to explore a new place) and I've just started #OperationSwole, my mission to get ripped! If I'm not traveling, writing, running or in front of a camera, you can bet I'm shopping! My last trip was to Christiansted, St Croix in the US Virgin Islands, on assignment for Caribbean Journal, where I'm the travel editor.
How long did you go to the US Virgin Islands for? How did you spend your time?
I was there for four nights. I thought I might be at a loose end by day five, but that certainly wasn't the case. From the moment I touched down at the airport and bumped into Miss USVI (wearing a crown on her head and a bluetooth headset around her neck) it was all go!
Although I've lived (in Jamaica) and worked in the Caribbean for decades, this was the first time I didn't stay at a beach resort. Christiansted's Hotel Caravelle, where I stayed, is right on the boardwalk in the center of town and everything – the historic Danish fort; shops; and amazing restaurants – was within a four or five block radius and easy walking distance.
I'd have Shrimp Benedict for breakfast at RumRunners on the waterfront in the morning; spend the day exploring the shops (I'm addicted to the island's iconic silver hook bracelets and am amassing quite an arm party) or on the beach at Protestant Cay, a two-minute/$5 boat ride away; and have dinner at great restaurants like Zion Modern Table, Cast Iron Pot and Galangal. I met amazing islanders along the way who were all so welcoming and eager to share their local intel with me.
Almost everywhere I went and everything I did was on personal recommendation. And that always makes a great trip.
What were your most memorable experiences? What were the biggest disappointments?
Watching the sunrise at Point Udall, America's easternmost point, and seeing the new moon rise on a sunset cruise from Frederiksted in the west of the island on the same day was really special. My last morning I took Caribbean Sea Adventures' boat tour out to Buck Island, an idyllic islet five miles offshore. I hiked to its highest point but was bummed that I didn't have time to linger on the beach afterward; I gotta go back for that.
I'm disappointed that I wasn't there for the opening of balter, the hotly-anticipated restaurant from the USVI's culinary ambassador Digby Stridiron, which opens April 9. And that I did have enough funds to buy all the jewelry I saw and wanted (the Mariposa bracelet at Joyia STILL haunts me!) But those are all just reasons to return.
What do you wish you knew before you went?
If I'd known I'd have had so much fun, that there was so much to do (and eat, and buy!), and that the people were so friendly and generous, I'd have planned to stay a week!
Any favorite restaurants/hotels/hostels/sites you'd like to recommend? Tell us what made them great!
You gotta have Frank, mixologist extraordinaire at Zion Modern Kitchen, whip you up one of his custom cocktails. He keeps a stock of spirits that he infuses with island ingredients such as tamarind, pineapple and even carrots, and if you tell him what kind of flavors catch your fancy, he'll make something off-menu just for you. Hotel Caravelle (which is 50 years old but just had a major refurb) is a great option for a citified stay. The Buccaneer Resort would be my pick for a classic Caribbean beach experience.
Don't miss the conch in butter sauce (and the Hennessy-and-Amaretto Cast Iron cocktail!) at Cast Iron Pot restaurant in Princess. And if your budget won't stretch to a hook bracelet from Sonya's or IB Designs or Crucian Gold, spend $20 on a lovely vintage-style St. Croix poster from GoToStCroix.com's office in Christiansted.
Is there anything that women specifically should know before they travel to your destination?
St. Croix used to have an issue with crime. That's less the case now, but it's good to be aware and to keep your wits about you.
The US Virgin Islands: In Conversation with Sarah Greaves-Gabbadon photo credits by Unsplash.