At the Salon in France: The Art of Bien-Être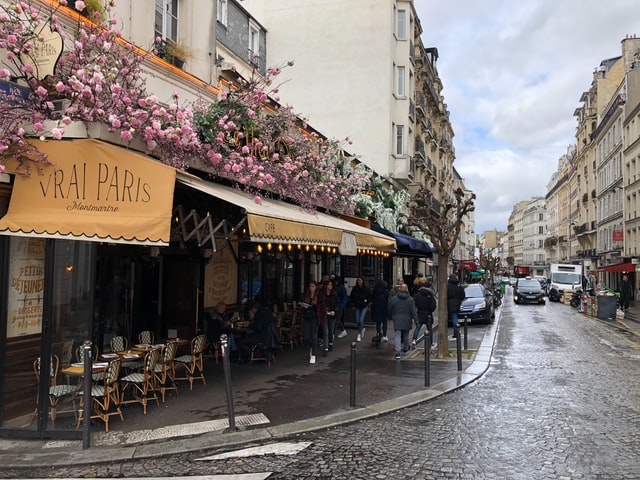 It's safe to say that we've all had at least one bad haircut experience in our lives. And when that happens, it's as if our whole world is turned upside down. A haircut, good or bad, has the ability to affect our entire day, week, or even month. If it's great, then we feel amazing – as if we run the world. But we all know that finding a hairstylist that we can trust isn't always so simple. This is the story of how I found a great salon in my adopted city of Toulouse, France, and of how it started a bit of a snowball effect of truly embracing the idea of self-care – something paramount to leading a French lifestyle.
At the Salon in France: The Art of Bien-Être
The before: Recognizing the need
I'll admit it. I was terrified of getting a haircut in France. There was just something so unknown about it. What if there was a completely different way of doing things in France? What if I went in for a trim and they ended up cutting all of my hair off? I mean, I've seen some pretty chic French women rocking pixie cuts, but I just couldn't see myself being able to handle something like that.
Much like needing to go to the dentist, I was dragging my feet about making a hair appointment here in Toulouse. Even though I was crazy tired of having never-ending knots in my hair and feeling like I had a ten-pound helmet on my head, I was still reluctant. After the countless battles that ensued in the shower with my hair, I realized that enough was enough. Something had to give.
The in-between: Mounting frustrations
The stage is set in my bathroom. Hair tied up in a ponytail sprouting from my forehead like a glorified unicorn. Bending over the trashcan, I trimmed first one layer (the longer one) and then the other. I shook my hair out of its ponytail and ceased being a unicorn. Voilà! I thought, as I turned around to check out my amateur haircut.
Surprise! It wasn't enough. My hair was still a heavy helmet.
The next day, I sent a message to one of my best friends from Paris imploring her to give me tips on finding a hair salon in France. The conversation went a little bit like this:
Me: Do you have any advice for finding a salon here in France?
Friend: Absolumment pas. (Absolutely not)
She didn't have any advice because she never goes to the salon. Great.
She did, however, advise me to do the unicorn thing again but also with an added twist of cutting the hair from two pigtails on either side of my head before the unicorn thing, so as to cut the length. Confused? I was, too.
The Big Day: Nothing (but hair) to lose
Fed up with my heavy hair, scrolling through search results for "best haircuts in Toulouse," I came across a salon with rave reviews. Okay, I thought, I'll just call and see if there are any appointments. There probably won't be, since it's so last minute, so here goes nothing!
Not even five minutes later, I had an appointment booked for just after lunch. I looked at my watch – the appointment was in two hours! It was so easy to make an appointment that I didn't even bother to ask about prices, details, anything like that. But it had been done. The hair needed to be cut.
In the salon: Pampered and spoiled
Upon arriving at the salon, I was pleasantly and warmly welcomed. I was nervous about my French, but I made myself pretty well understood about what I wanted (bringing a photo along with me definitely didn't hurt). After a few moments I knew I was in good hands. I was given a glass of cool water and taken to have my hair washed. It felt so nice, and having my scalp massaged nearly put me to the most blissful of sleeps. My feelings of apprehension quickly turned into those of pleasure and indulgence.
After the shampoo, I was taken to the chair and my hair was promptly cut and styled. I wanted a trim and to have it all thinned out. I got exactly that – no surprises.
The takeaway
At the end of my appointment, I was so happy to have a head of light and flowing hair. Simply having taken care of the hair issue made me feel internally happy, in addition to feeling happy about my appearance. When we take the time and put in the effort of caring for ourselves, it really pays dividends for our overall mental health and self-esteem.
Self-care and bien-être (well-being) is a highly important institution in France. There are pharmacies located on every street corner (much akin to Starbucks' locations in America) for the purpose of staying healthy and taking care of everything from our skin to our hair to our immune systems.
Being balanced in all aspects of life is highly valued in the French lifestyle, and this includes working and being productive paired with relaxing and taking care of one's body and spirit. Too much work and stress add up to a not-so-happy life, as the French understand it.
After my appointment, I did indeed feel on top of the world and I may or may not have thrown a few sweet little smirks to handsome men in passing. It felt so great to have finally gotten this long-overdue cut done. I even asked my stylist for a recommendation for a waxing place (épilation in French). I received a great recommendation, and an even greater addition to the self-care narrative that I've adopted in my current French life.
For anyone nervous to get their hair cut or styled in a foreign country, I would recommend the following things:
Do your homework and search online for salons in your budget and with good reviews. Yelp and other sites can be great for this kind of thing.
Ask the people you know.
Be wary of very, very inexpensive salons. Salons are one of those places where it's worth paying for quality.
Trust your gut. As with all things, our intuition knows better than anything! If you have a good feeling about a salon and its stylists, go with that.`
Photo for At the Salon in France: The Art of Bien-Être by Unsplash.