Disconnect from the World in Morrocoy, Venezuela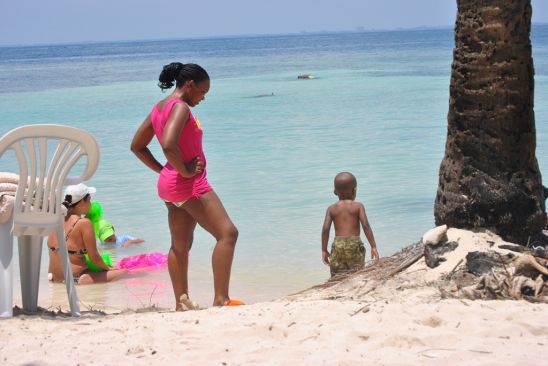 Parque Nacional Morrocoy is located in the northwestern state of Falcon. With little traffic, you can get there from Caracas in about 4 1/2 hours. Upon entering the park, the road is really windy and narrow and at one point I wondered if we were headed in the right direction. There are sprinkles of individual homes and tiny restaurants.
If mangroves were a hot commodity, this place would be filthy rich. There isn't a view of the ocean that doesn't display an abundance of the plant. Before coming here, the only place I ever saw them were at the Ann Kolb Nature Center in South Florida. It really is an interesting plant the way the branches grow downward and then form extensions of the original trunk. I don't know if I'm using all the proper terms, but if you've ever seen mangroves you know what I mean.
Of course the best parts of Morrocoy are the beaches. But, it's not one huge beach where everybody's trying to secure the best spot. There are many small beaches, some of which have been worked on (that's what I call it when they create a shallow area for people to swim) and some of which are in their natural states.
The largest island is called Sombrero and had several restaurants. Even though I prefer the smaller, tranquil beaches, Sombrero's water had warm currents that felt like little jacuzzis in the ocean.
We had unlimited access to all the beaches through our stay at Ardilena, but during our trip to town we were told that there was also a public entrance accessible by car where people could pay a water taxi to take them. About "town," it was tiny – basically one strip of small shops selling beach supplies and some government offices. The nearest larger town is Tucacas (my husband had a blast saying that over and over), which I noticed was where most of the vendors on the beach lived.
Hence, if you're looking to disconnect from the world, this is the place to do it.