Paragliding in Germany: Floating over the Bavarian Alps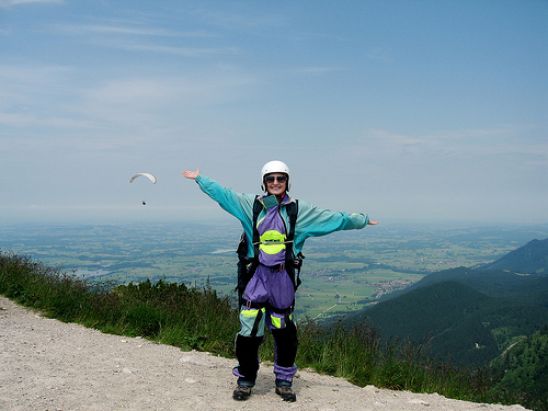 Growing up, I always erred on the side of caution, not unnecessary risk. I didn't see the appeal of roller coasters, sky diving, driving too fast: what was the point of doing something that was not only going to scare you, but could potentially kill you? I'd rather keep my feet on the ground, my seatbelt on, basking peacefully in the knowledge that I am in control.
But as the bus twisted and turned its way through the Bavarian Alps on our way to Neuschwanstein Castle, the cute South African guide's spiel about the paragliding option that afternoon suddenly caught my attention. He swore that no one had ever died (with this particular company, at least) and that it was thrilling, if not addicting-he and his girlfriend went every morning. Pushing the nagging memory of a teacher's husband who had died paragliding out of my mind, I turned to my newfound friend from the hostel: "I'll do it if you will."
Riding high on the adrenaline of just the thought of doing something that would surely render my overprotective boyfriend and safety-first mother speechless, I hastily signed the in-case-of-death-or-dismemberment waiver and handed over my credit card.
After meeting my tandem flier and suiting up in a neon jumpsuit worthy of 80s night, several of us crowded into the gondola on the side of the mountain. My heart was pounding as we headed up, up, up. Heights usually don't bother me, but that's when I'm safely inside an air-conditioned airplane or behind a sturdy fence.
After we reached the top, Fritz, my grey-haired German guide, gave me the basic instructions: run off the side when he tells me to, settle in for the ride when he tells me to, start running for the landing when he tells me to. Since he mentioned he'd been paragliding since 1979-and was still alive-I decided it would be best to listen up and follow directions.
With our multicolored parachute neatly laid out on the mountainside, we strapped into our gear while I watched my newfound friend run off the side of the mountain and start flying a few seconds later. A few deep breaths later, it was our turn. Listening closely to Fritz, I ran as hard as my legs would go-and then, suddenly, simply, we were flying.
It was without a doubt the best view of the gorgeous Neuschwanstein Castle, rumored to be the inspiration for the Sleeping Beauty Castle in Disneyland. We floated above the Bavarian Alps and the fields below, catching a glimpse of the lake we had swam in earlier in the day. My heartbeat slowed down, and I was able to enjoy the experience: it was relaxing and thrilling all at once.
As soon as I started to wonder why, exactly, this was called an extreme sport, Fritz asked me how I felt about roller coasters. I admitted that while they weren't my favorite, I do enjoy rides that spin, like Tilt-a-Whirls or the Spinning Teacups. Before I could calculate why my amusement park preferences would interest Fritz, we were twisting and turning all over the sky with enough speed to make my heart drop.
Sooner than I could get my breath back, we were headed toward the ground with Fritz instructing me to start running in mid-air. As soon as we touched ground, I was wishing I was back in the sky: I immediately understood the attraction. Awe-inspiring views, the rush of flying and just enough adrenaline pumping to keep it interesting: this was my kind of extreme sport.
Because of the expense and location requirements, I've only gone paragliding one more time. While in Maui for Thanksgiving, I floated high above the ocean, volcanoes and lavender fields.
Even so, it's one of those experiences that you can't stop craving. Earning my pilot's license and thus being able to fly solo is officially on my bucket list-and I'm crossing my fingers that it's something I'll be able to starting working toward in 2011.
What bucket list items are you hoping to cross off in 2011?
To read more about Christine's travels, visit: http://www.cestchristine.com/